No Mayo Potato Salad Recipe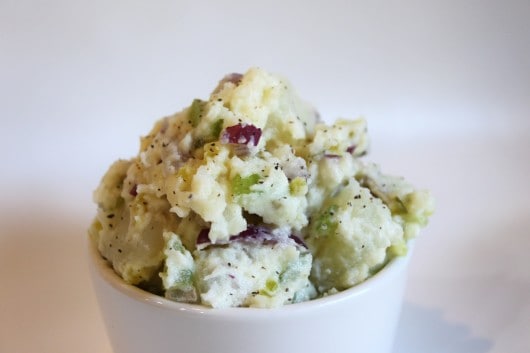 No Mayo Potato Salad Recipe
I love summer, it's my favorite time of year. I love getting together with friends, grilling and enjoying the outdoors. I really like potato salad, but I don't like purchased potato salad and since I prefer to eat dessert I try to keep my meals as healthy as possible and great tasting. I've made potato salad for years and it's interesting, my family wouldn't ever ask for it, mine, others, or purchased. My husband wouldn't even go near it let alone the mayonnaise container in the refrigerator. I still try to hide it so he isn't so grossed out. I was really wanted potato salad since we were grilling up some burgers. I didn't really want to make it just for myself. I was hoping everyone would at least try it.
No Mayo Potato Salad printable Recipe
8-10 potatoes boiled, peeled, when cool diced into pieces
1/2 red onion diced
four stalks celery diced
2-4 Tablespoons relish ( I started with 2 but ended up adding 2 more Tablespoons)
celery salt
Salt/ Pepper to taste
1/2-3/4 cup non fat yogurt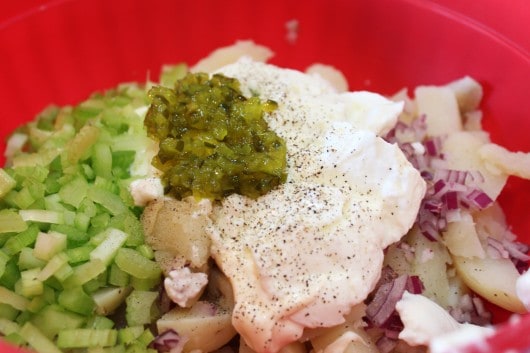 place all ingredients into bowl, then stir to blend everything together.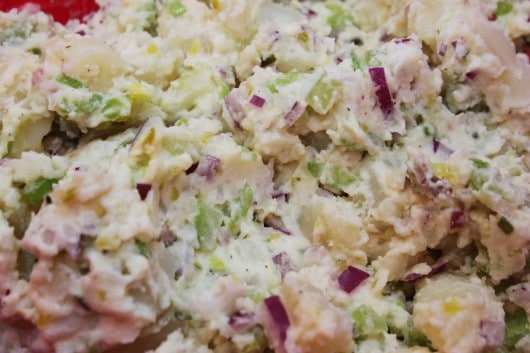 All those colors make for a pretty potato salad!
SUCCESS!!!
I'm so happy, this potato salad was a huge success!!!!
They loved it and so did I.
A delicious fat free potato salad my whole family will eat, and I don't feel bad about feeding to them!