Non-Fried Fried Ice Cream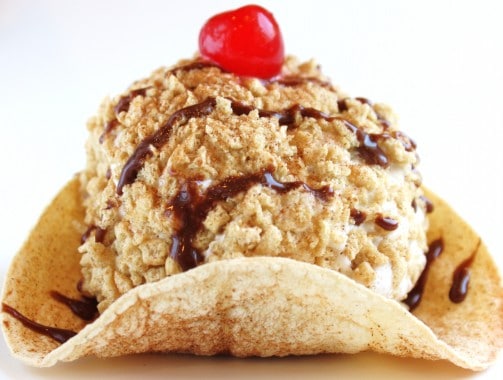 Have you had fried ice cream before?
Isn't it so delicious? Crispy, cool and sweet with a delicious cinnamon flavor.
I set the ice cream on the counter while I assembled the other item I needed and it gave it time to soften nicely.
I have a small shaker jar full of cinnamon and sugar. It's two parts sugar one part cinnamon. I had to tie a ribbon on it as I've grabbed it in a hurry thinking it was the pepper and well….although cinnamon is delicious, it cannot be interchanged for pepper in my opinion. The ribbon is a big help 🙂 to me.
Preheat oven 350 degrees.
I placed 2 1/2 cups of the Honey Nut Cereal in a food processor.
1/4 teaspoon cinnamon sugar mixture
pulsed it until the cereal had broken down to crumbs
I scooped out about a cup of vanilla, with a large spoon and formed it into a ball, then rolled it in the cereal mixture. Placed them on wax paper and froze them while I prepared the tortillas.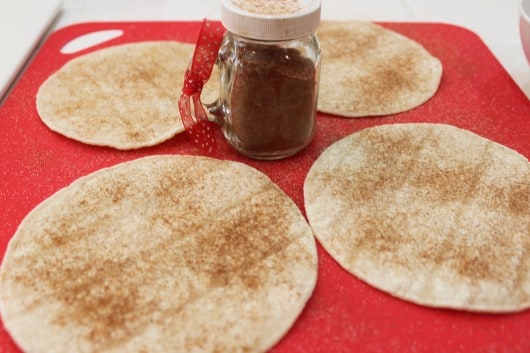 I sprinkled the cinnamon sugar mixture on both sides of the tortillas and placed then on the bottom of an upside-down small bowl to bake them to give them a slight bowl shape. If you bake them in the cup, they stick. I put four small ovenproof cups on a tray upside down, then place the tortillas on the bottoms of the bowls. Bake for about 8-10 minutes.
Take them out and let them cool. You can place them in the freezer for a couple minutes to speed it along.
Once the tortillas are cooled the ice cream has firmed up and you are ready to assemble.
Place the ice cream ball on a tortilla, drizzle with chocolate sauce and top it off with a cherry.
This took 30 minutes to prep and assemble.