Is there anything better than cream cheese frosting? Ummm…no not really.
Well, maybe this strawberry cream cheese frosting. It is made with fresh strawberries and reminds me of fresh strawberries on cheesecake.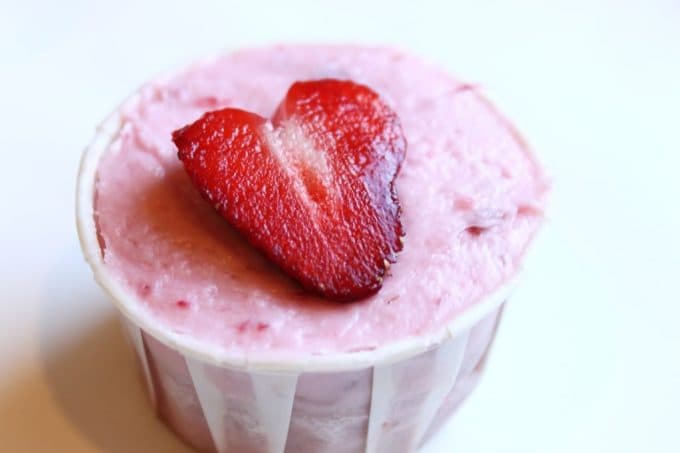 I made the cupcakes with fresh strawberries too.


Strawberry Cupcake Recipe makes 12 cupcakes
1/2 cup salted butter, room temperature
1 1/2 teaspoons baking powder
5 large strawberries pureed/chopped about 2 oz.
Beat butter and sugar, then add one egg at a time followed by vanilla. Blend all together. Blend baking powder with flour then mix in the flour in three additions alternating with the milk. Lastly, stir in the strawberries ( I did not drain the juice off of them)
I love baking in paper nut cups. I filled them just under 1/2 full of batter.
Bake cupcakes at 325 degrees in a lined cupcake pan for 18 minutes.
Strawberry Cream Cheese Frosting
1/2 cup butter (room temp)
1 oz fresh strawberries chopped/pureed (about 3 large ripe strawberries)
If you strawberries don't have produce juice when purred, add a tablespoon or two of milk
Beat butter and cream cheese, add in powdered sugar, vanilla, and strawberries.
This is how I prepared the strawberries
I love my little hand chopper for things like this
works really well.
The strawberries were very ripe and juicy, it's what made these so fresh and delicious tasting. No white strawberries here!
this is the 2 oz I used for the cupcakes.Since I baked the cupcakes less than 1/2 full I was able to put the frosting into the cups and top them off smoothly, then added a strawberry slice on top. I sliced a strawberry and made a V in the top for it to look like a heart.