Pomegranate Cupcakes
These are actually more than just pomegranate cupcakes.
They are
Pomegranate White Chocolate Chip Cupcakes with Pomegranate Cream Cheese Frosting.
The Cream Cheese Frosting put these cupcakes over the top. It was rich and creamy and so delicious.
It all started with a white cake mix. I replaced the water with Pom Wonderful Pomegranate Juice, added in the oil and the eggs (I added the whole eggs not just the whites) then I added in 3/4 cup white chocolate chips
3/4 cup pomegranate arils
4 drops Lorann Pomegranate Oil
then baked as directed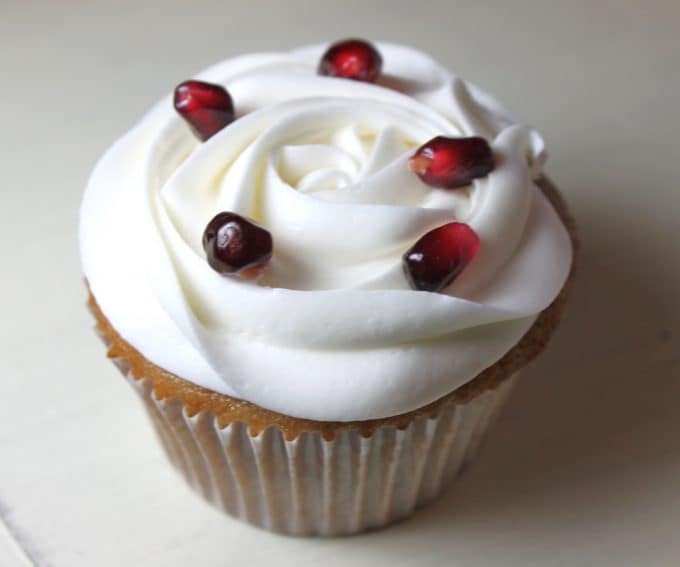 Lorann Oils has a large variety of flavors.I buy them at my local baking store, they are available on Amazon if you are unable to find them near you.Lorann-Pomegranate Flavor
All golden brown and nicely baked.
The frosting!
Pomegranate Cream Cheese Frosting
1/2 cup butter
1/2 cup cream cheese
4 cups powdered sugar
3Tablespoons milk
4 drops Pomegranate oil
I frosted them with a 2D tip in a rose pattern. Just like when I made Lemon Buttercream Frosting and Orange Cupcakes the cupcakes I'll never forget 🙂
then added some Pomegranate Arils on top. They look very festive to me 🙂