Americana Oatmeal Cookie
Thank you to all who have served!
Americana
Oatmeal
Cookies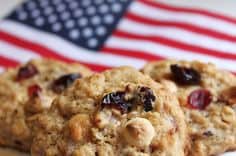 Red, white and blue sweet treats.
I decided to add Pomegranate and
Blueberry Craisins,
along with white chips to oatmeal cookies and
that decision turn out to be a GREAT one!
red white blue oatmeal cookies
2 sticks butter
1 cup brown sugar
1/2 cup sugar
2 eggs
2 tsp vanilla
1 1/2 cups flour
1 tsp baking soda
1 tsp cinnamon
1/2 tsp salt
3 cups Quaker old fashioned oats
mix butter and sugars until creamy, add eggs and vanilla. Combine flour, baking soda, cinnamon, salt. Then add oats and craisins and chips. Bake for 10 minutes at 350
These golden brown cookies were deliciously crunchy and chewy!
Don't forget to THANK a VETERAN today!