Baked Brie with Fig and Walnut Glaze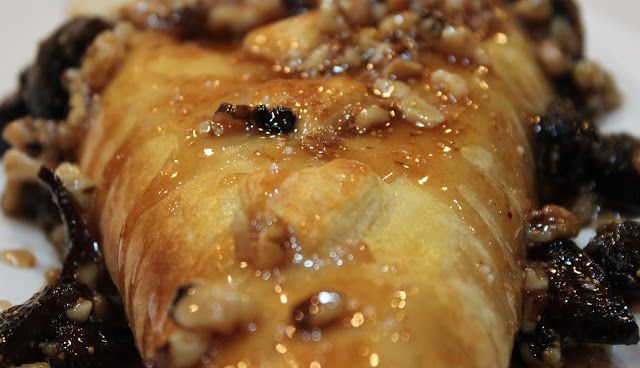 Baked Brie in puff pastry.
I love how simple it is to bake Brie in puff pastry.
it tastes delicious, and is always a huge hit when I serve it Sometimes I use a pie shaped piece of Brie, and sometimes I use a wheel. I wrap it in thawed puff pastry (I cut hearts out of the extra pastry and placed them on top with a bit of water to "glue" them on. Then brushed the top with an egg wash (egg and water) then bake it for 15-20 minutes at 400 degrees, until golden brown.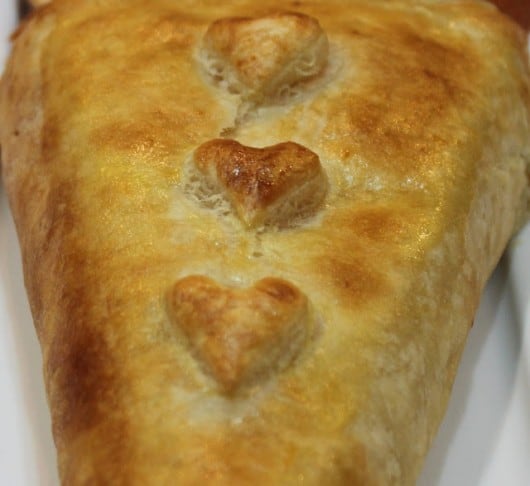 I usually make a raspberry sauce, this time I decided to make it with Dried Black figs and walnuts, the result was delicious. I could barely get the photo taken, because the glaze was deliciously sticky on my fingers 🙂 Needless to say it didn't take long before it was gone, what a wonderful snack we enjoyed.
Black Mission Fig and Walnut Glaze
I made simple syrup (boil one cup water with one cup sugar)
then add dried figs(I used Black Mission Figs) that I quartered, and chopped walnuts. Simmer until it thickens then pour over baked Brie. Funny thing three people said, they don't like figs but they certainly enjoyed the way these had a caramelized taste, they were surprised they liked them and were quick to enjoy another piece.