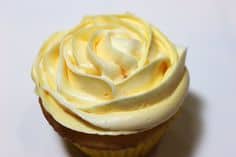 Lemon Buttercream Frosting.
I make quite a bit of frosting and buttercream is very versatile,
The flavors can easily be changed by adding other liquid ingredients (instead of milk)
as well as alternative extracts from the classic Vanilla.
For Lemon Buttercream I used 1 cup shortening, 1 cup butter (room temperature), all butter frosting tends to get very soft, adding shortening helps it to stay firmer. Beat the butter and shortening together until it's well blended and smooth, then add 5-6 cups sifted powdered sugar (so there will be no lumps) I start with four cups of sugar, then add the juice and extract then add up to an additional cup to get the consistency I want.( if it's still need more sugar I keep adding more) I added the juice of a lemon which was 2 Tablespoons and added 2 teaspoons lemon extract.
I added a couple drops of Americolor food coloring #105 Egg Yellow to give it that lemon-y color
I put two colors of yellow in the bag one was lighter than the other, the more cupcakes I frosted the more contrast in colors came out.
I used a 2D tip to create the rose design.
To see a video on How to Frost a Rose Cupcake
HERE
.