Red Pepper and Mushroom Omelet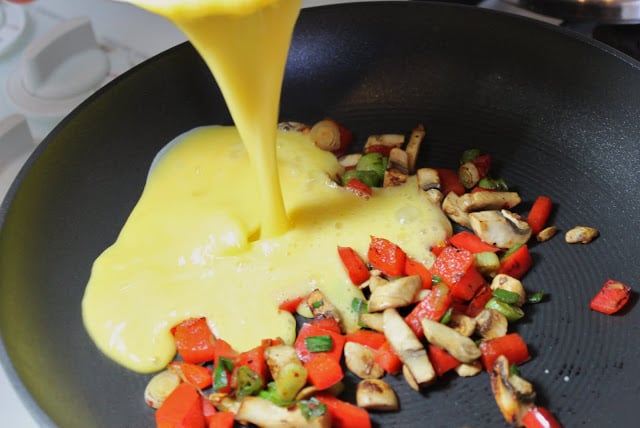 We use lots of eggs in our house.
At this point, I'd say there's a tie between eggs being used to baking and eggs being used for OMELETS.
I thought I'd share with you what I make for my super-coupon of a husband when he is hungry and nothing else seems appealing to him. I go with omelets. He loves them and there are typically some yummy items in the refrigerator that he likes.
(omelet, do you know how to spell it, omelet or omelette?dictionary has both I'm confused!)
I like making omelets, I should remember to watch it a little more closely and not wash the dishes when it's cooking because inevitably I wind up with it getting just the slightest bit golden brown, but really prefer it lighter in color. He doesn't mind, as long as I'm making it he'll eat it either way.
Today's omelet was made with scallions, red pepper, and mushrooms.
I sauté them in a drop of oil, I should take a photo of the silicone brush I use to spread the butter, quick and easy and not a lot of butter is needed.
I mix three eggs with about 3 tablespoons water and pour them on top of the veggies that I lightly cooked.
Before it starts to really set up,
I move the eggs into the center of the pan so that the uncooked portion of the eggs can coat the bottom again. It really helps to cook it all quickly.
I cover it until it's all cooked, by covering it the steam really helps make the eggs fluffy and continues cooking the veggies.
Then just fold over half of it in a pan with a spatula and slide it onto your plate.
You're all set to serve, takes only minutes to make.
The possibilities are really endless to what you can put inside an omelet,
asparagus and feta cheese is one of my favorites.
What's you favorite omelet?