Chicken Alfredo Pasta is a delicious meal with a cheesy creamy sauce that will win you over in one bite.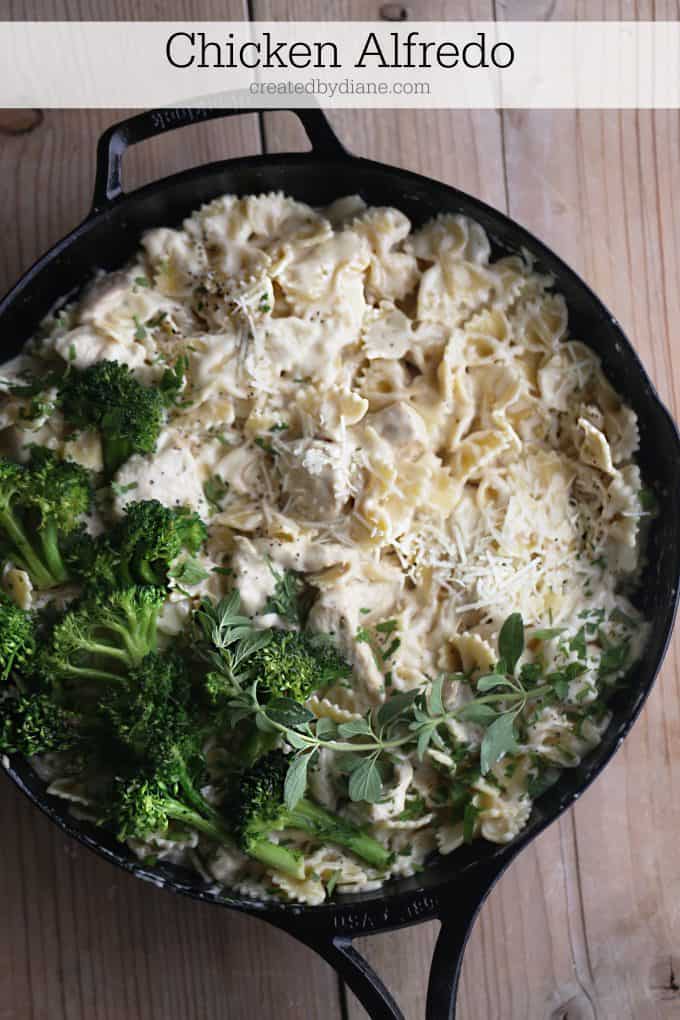 Authentic alfredo sauce is made by adding butter to a heated skillet and allowing it to melt, adding in Parmesan Cheese, then ladling pasta from the pasta water which helps to create the sauce, and adding salt to taste.
American versions add heavy cream to make a richer, creamier sauce, which personally I prefer. 
I'm a huge alfredo sauce fan and can recall a nice Italian restaurant making it so well, that I'd order it every week when I was younger. 
I'll give your options for flavors, to make it without cream, and how to make sure it won't separate especially if you're looking forward to leftover, which as you know if you've ever reheated alfredo from a restaurant it separates easily, and my method is not difficult, it'll make a silky smooth creamy sauce.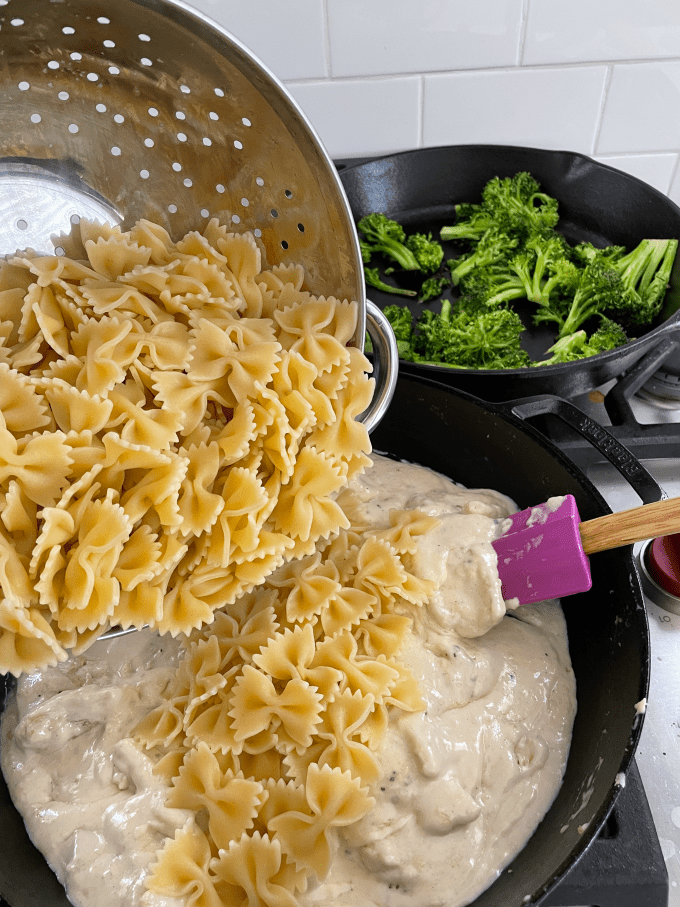 How to make alfredo sauce without cream?
Use all milk, or half chicken broth and half milk, the butter and flour mixture will help create a sauce so be sure not to skip that part or it'll have less flavor and not be smooth and thick.
A quick and easy alfredo sauce option is to use a package of Knorr Alfredo Sauce and use milk to create the sauce. I often use this in a pinch, and it tastes far better than any jar of alfredo sauce I've tried.
What are other flavors to add to alfredo sauce?
To kick up the flavor you can add more fresh garlic for a real garlicky alfredo sauce, a tablespoon or two of pesto will give the sauce a nice herb flavor.
If you want it a little spicy, add a pinch of crushed red pepper flakes.
If you're looking for a fresh zing, add a squeeze of fresh lemon.
If you're a true red sauce fan, add 1/4-1/2 cup marinara sauce for a nice option. Sun-dried tomatoes make a nice tangy alfredo sauce.
I love my sauce with a salty kick, but some like it on the sweet side, so if that appeals to your add in 2 oz cream cheese.
What vegetables go with alfredo sauce?
I like using broccoli, asparagus, or spinach.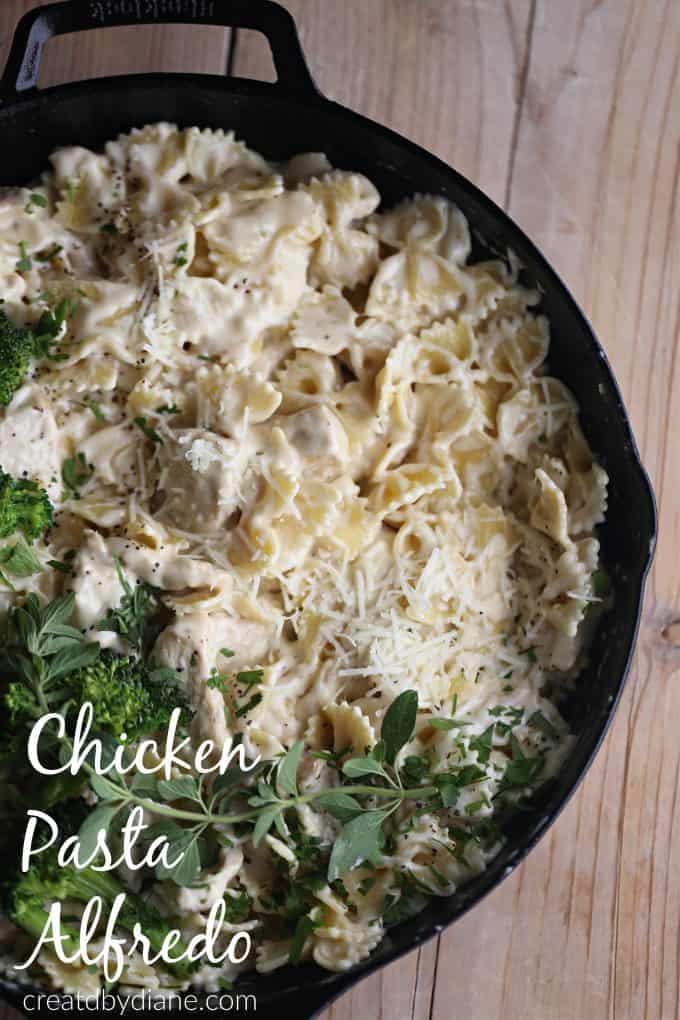 If alfredo sauce separates what should I do?
Starting with a roux of butter and flour will prevent the sauce from separating especially if you plan on reheating it.
How can I make the sauce thicker?
For a thicker alfredo sauce add another half cup of grated parmesan cheese.
How can I make the sauce thinner?
Add in some reserved pasta water, it'll make the sauce smooth as you thin it, instead of watery.
I meal prep every week. I often have Knorr alfredo sauce, you simply add milk to it, which helps if you don't have cream and cheese on hand, but have pasta. But you can easily make homemade alfredo if you have the ingredients, it reheats well.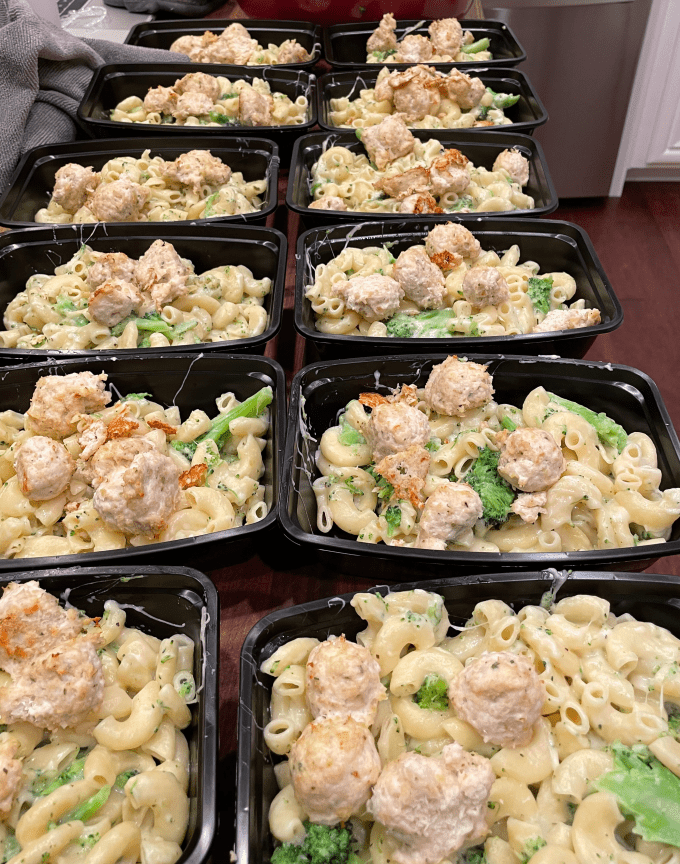 If I need to make meals in a hurry, I often make 2-3 lbs chicken meatballs and use a package of knorr alfredo, I often add garlic, then add in some broccoli and pack up meals so they are ready to go for my family. Everyone leaves with a meal, that is better than takeout!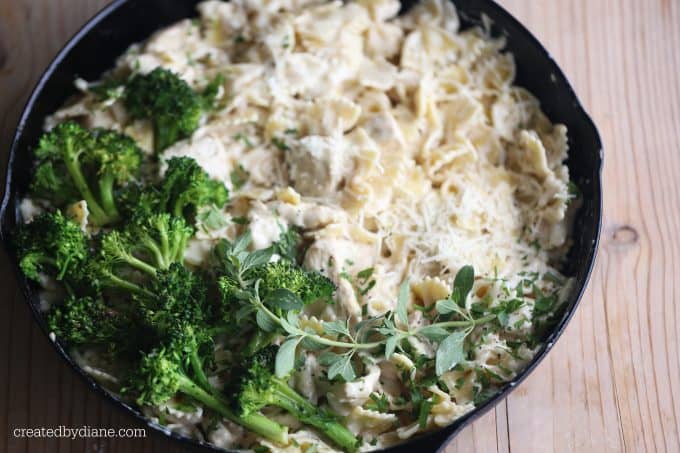 Enjoy this chicken broccoli alfredo and add some garlic bread or a salad and watch the whole meal be devoured!
Chicken Alfredo
Creamy and delicious alfredo sauce with pasta and chicken for a fantastic meal, the sauce won't separate as it's reheated making leftovers more delicious.
Author:
Diane Schmidt, Created by Diane
Recipe type:
Main Dish, Sauce
Cuisine:
American, Italian
Ingredients
1 lb pasta, I used bow ties, but any shape can be used
2 cups heavy cream (or 1 cup heavy cream and 1 cup whole milk)
4 tablespoons butter
3 tablespoons flour
1 clove fresh garlic minced
½ teaspoon salt (coarse kosher salt or sea salt for best flavor)
¼ teaspoon pepper, if desired
1-1 1/2 cups grated parmesan (3-4 oz)
1 1/2 pounds boneless skinless chicken breast (cut into bite-sized pieces)
sauce options
1/4 teaspoon fresh or dry oregano
fresh basil, chopped
pinch crushed red pepper flakes
1-2 tablespoons pesto
3 cups fresh broccoli, sliced into small florets
Instructions
Cook pasta according to package directions.
In a skillet heat the butter and flour and whisk until melted.
Add in the garlic.
Slowly pour in the heavy cream and whisk to create a smooth sauce.
Add the chicken and simmer on low. Alternatively, you can cook the chicken in a separate pan, or brown it first then add it to the sauce.
Add the parmesan cheese and stir until it's blended in well.
When you drain the pasta, you can place the broccoli in a bowl and pour the pasta water over it to cook it for 3 minutes, then drain.
Chicken Alfredo for a crowd
2 lbs pasta
3-4 lbs chicken
Double the sauce recipe above
1 1/2-2 lbs broccoli
serves 20