No matter what time of year it is COOKIES are always the answer! These carrot cookies can be just the perfect cookie for Santa and his reindeer as well as for Easter, a garden party, a carrot lover's birthday and I'm sure you'll come up with more.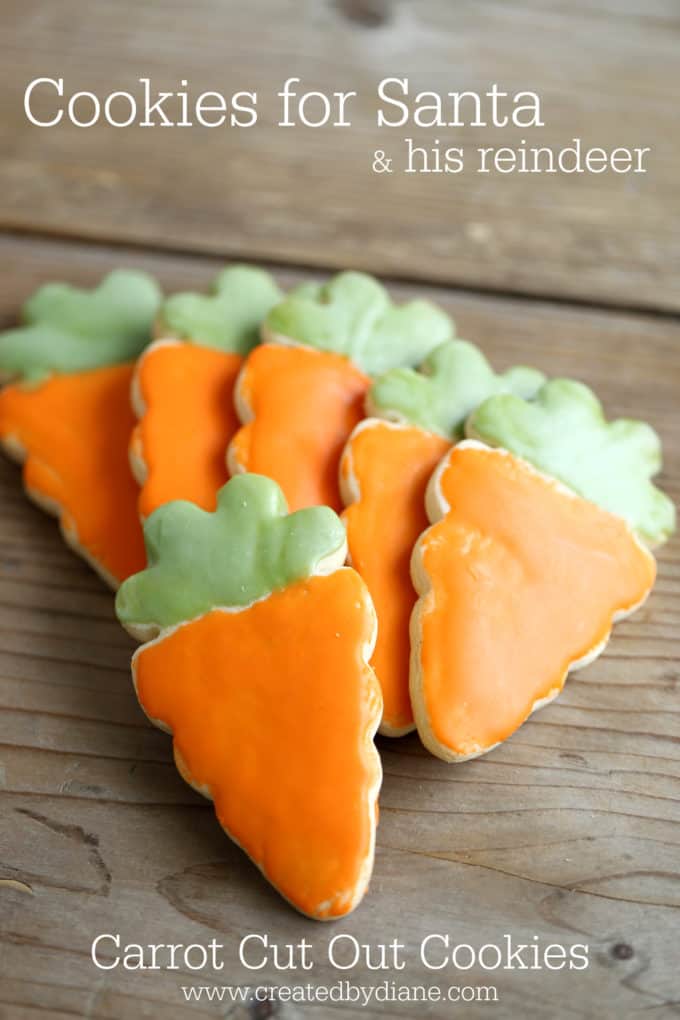 I'm never surprised how many people bake and ice cookies only moments before needing them to be finished.
So to take all the fussiness out of intricate icing techniques and uncommon ingredients
the recipe for the cookies and icing you all common ingredients and minimal ingredients at that.
So… whip up a batch of these, and leave some out for Santa and I know his reindeer will like these more than real carrots, don't you think!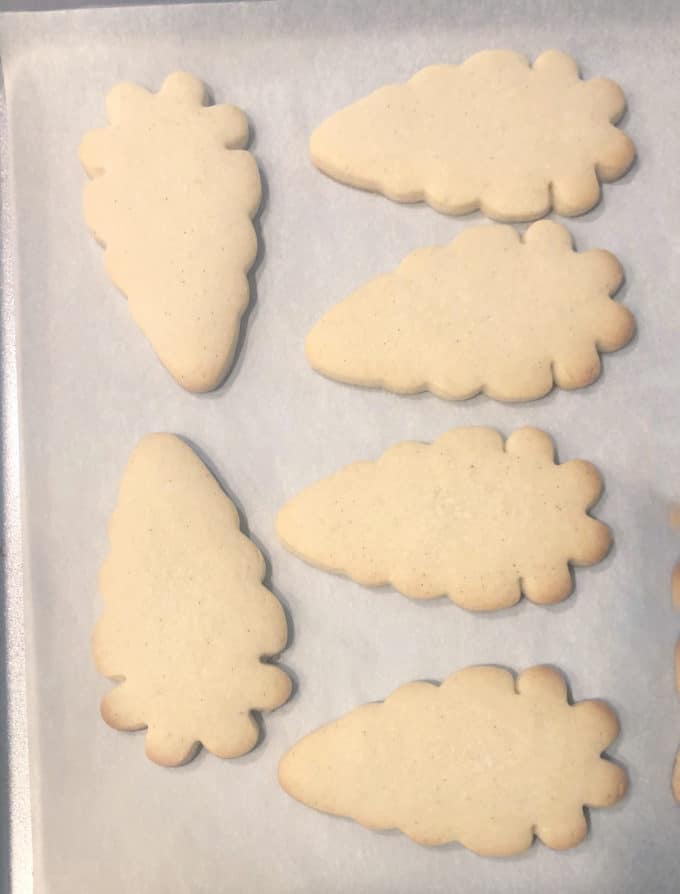 It's no secret cut out cookies can be time-consuming, but this recipe doesn't need refrigeration and holds its shape and…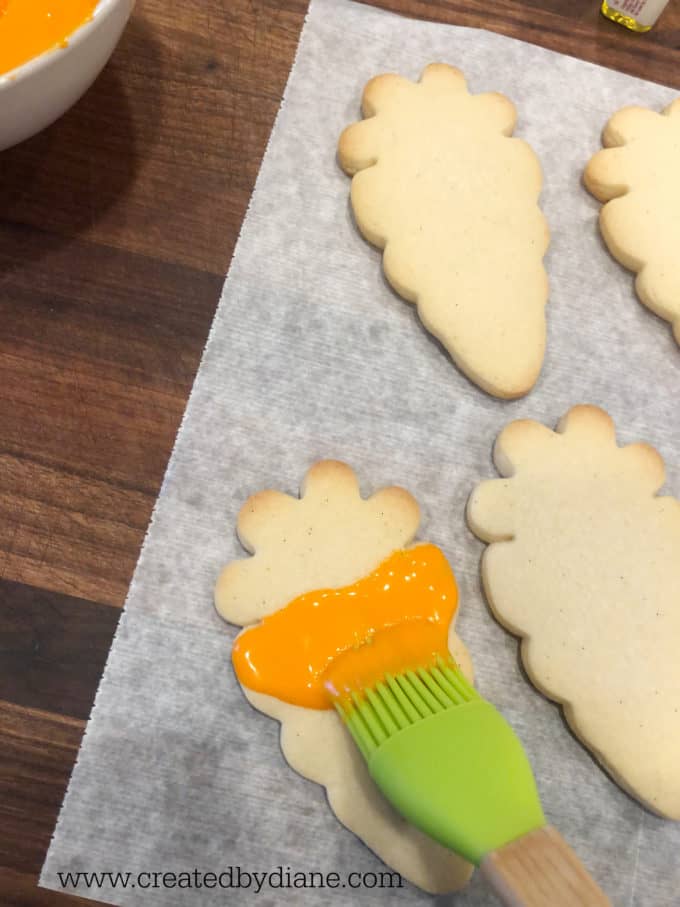 the icing is BRUSHED ON!
Yes, no piping, no fancy items needed just a brush. I use a silicone brush and simply brush the glaze icing over the cooled cookies.
Since the icing is not piped on with a piping bag, piping tips and couples, which saves time and also reduced CLEAN UP!
Which means a batch of these can be ready quickly. If you work fast, they can be all done in an hour.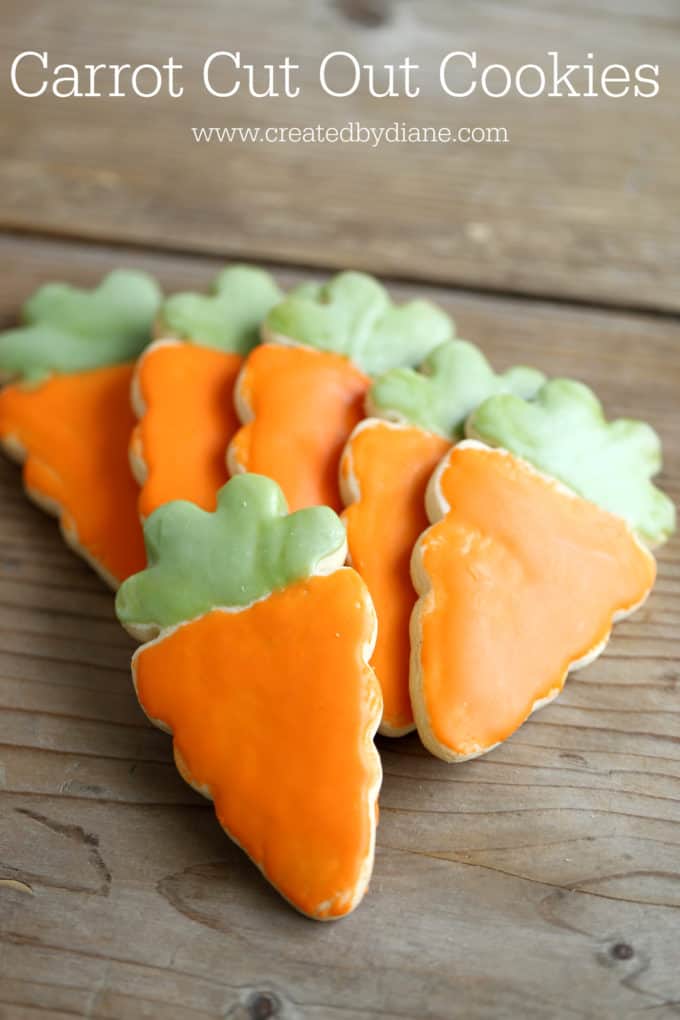 Cut out sugar cookies
small batch, simple, no spread, no chill cut out sugar cookies with glaze icing
Ingredients
½ cup salted butter
¾ cup powdered sugar
1 egg mixed and use 1½ tablespoons of the egg mixture
1 teaspoon vanilla extract or vanilla bean paste
1-1/2cups flour
1 teaspoons baking powder
½ teaspoon salt
icing
1 cup powdered sugar
2-3 tablespoons warm water
food coloring (orange and sage green)
1 tablespoon corn syrup
Instructions
Preheat your oven to 400°
In the large bowl with a mixer (stand mixer or hand mixer) cream together butter and powdered sugar until combined.
Mix in the egg mixture and the vanilla.
Add in flour, baking powder, and salt and mix on medium to combine.
Mix until the dough forms a ball, it will pull away from the sides of the bowl.
Roll out the dough in between two sheets of wax paper.
Place a cookie cutter into a little flour, then into the cookie dough.
Then transfer the cookies to a baking sheet and bake for 7-9 minutes.
Don't overcrowd the cookie sheet.
Check the cookies about a minute before the timer goes off, don't let them brown too much, they will cool and become "dry".
Allow cookies to cool on a baking sheet.
Then mix powdered sugar, water, corn syrup and mix completely smooth.
Separate the icing into two bowls, and use a drop of food coloring into each bowl to create the color you want.
Brush the icing onto completely cooled cookies.
Allow icing to dry before stacking cookies.