the perfect casserole for thanksgiving leftover, but if you want to make it at other times, just use a rotisserie chicken and make some box stuffing, add potatoes if you like too. 
Gravy and broccoli, with cheddar cheese-yum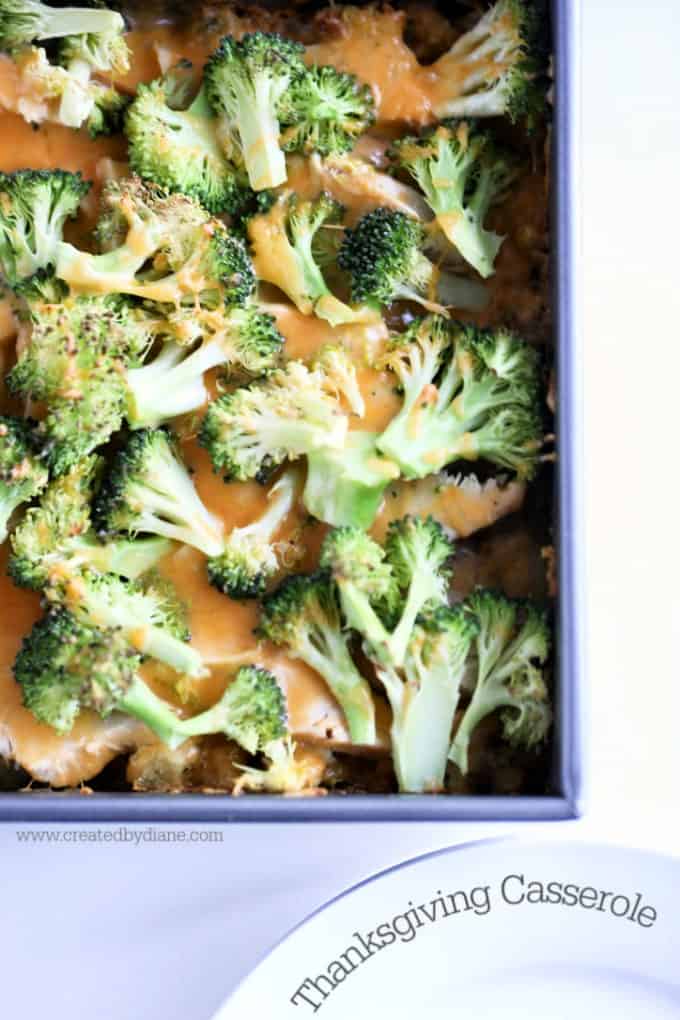 As with every Thanksgiving…
there are plenty of leftovers.
My mom would always make hot open-faced turkey sandwiches, and turkey casserole…
And if you want to make this casserole and it's not Thanksgiving time… I'll tell you some short cuts to make it easy.
As you can see on top of this casserole is cheese and broccoli… so why is it full of things I never see on our Thanksgiving table? That's the GENIUS of this, it won't taste just like any ordinary leftover, it'll be incredible without being a remake of the classic meal.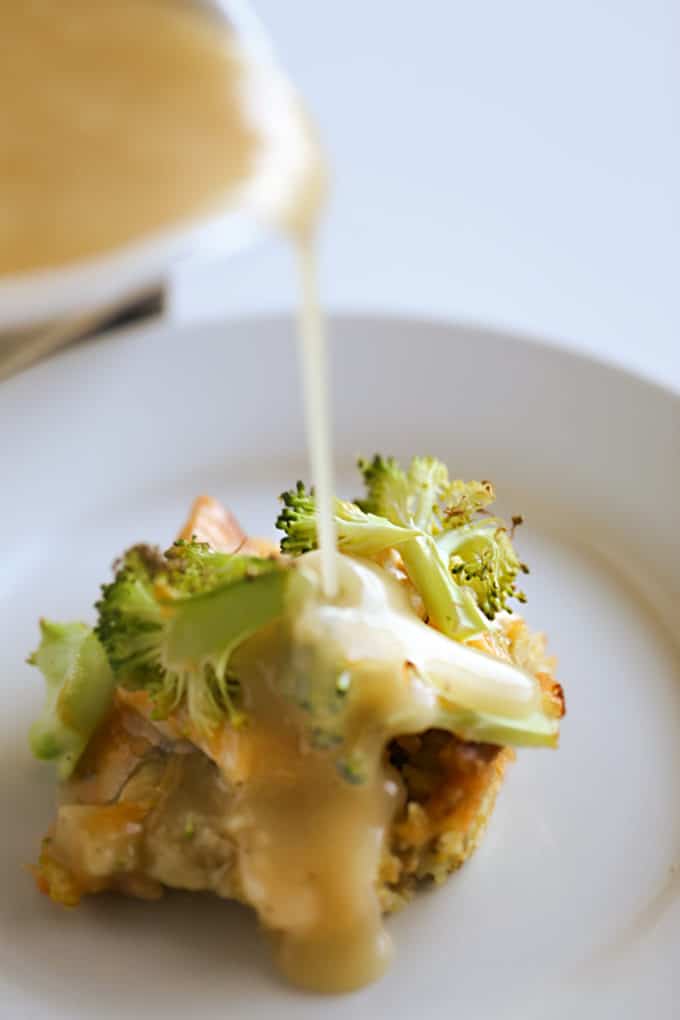 What goes into this casserole?
You'll use turkey, and stuffing, along with gravy and the cheese and broccoli.
You'll layer the items at least twice, if you want the casserole bigger, just use a large casserole dish or an aluminum foil tray.
Use leftover stuffing or make a box of stuffing if you don't have any on hand.
Use leftover turkey or a rotisserie chicken or any cooked chicken will do.
Gravy: homemade gravy is best, get are my tips for great gravy even without making a turkey.
Next, you'll add some cheese. I use cheddar,
then top the dish with some broccoli.
Now repeat the layers.
Cover it with foil for the first 20 minutes.
Then you'll bake it at 350° for 30 minutes or until it's hot on the inside center when you test it with a knife. If your dish is very large it may need extra time.
Add your favorites:
You may notice there are no mashed potatoes in mine, that is because I prefer my mashed potatoes all by themselves….well loaded with butter and gravy but if you want to put them in the casserole, I'd add them first.
Now if green beans are your absolute favorite and you haven't overindulged in green bean casserole go ahead and use green beans and if you have the casserole leftover, so right ahead and add some.
You can top the vegetable no matter what you use with those crunchy onions that kind they put on green bean casserole.
Adding in sautéed onions is a good call, so don't be afraid to try some of those!
I wonder what you'll come up with to add:
Will it be rice, because you prefer rice in your dishes
Will it be pasta, the flavors in this would go really nicely with some pasta… pasta and gravy, yum!
Thanksgiving Casserole
Ingredients
3 cups stuffing
1 cup gravy
1-2 cups cooked turkey (or chicken)
1 cup gravy
1/2 cup cheddar cheese, grated
2 cups broccoli
options
sauteed onions
sauteed mushrooms
crispy fried onions (like French's Fried Onions)
potatoes, mashed potatoes, hash browns, diced cooked potatoes, put them in first if you add them.
Instructions
In a casserole dish (I used a 9x9 square pan) layer the ingredients.
Use 1/2 of all the ingredients listed for a two-layer casserole.
Starting with the "heavy" items first.
Layer stuffing, then turkey, gravy, broccoli and top it with cheese.
Then layer everything one more time (or more if you're making a larger casserole)
Bake at 350° for 30 minutes or until the center is hot and the cheese is melted.