Pumpkins not only make really cute decorations and are fun to carve, but they also taste yummy too!
This post includes a VIDEO on roasting the pumpkin so be sure to take a look!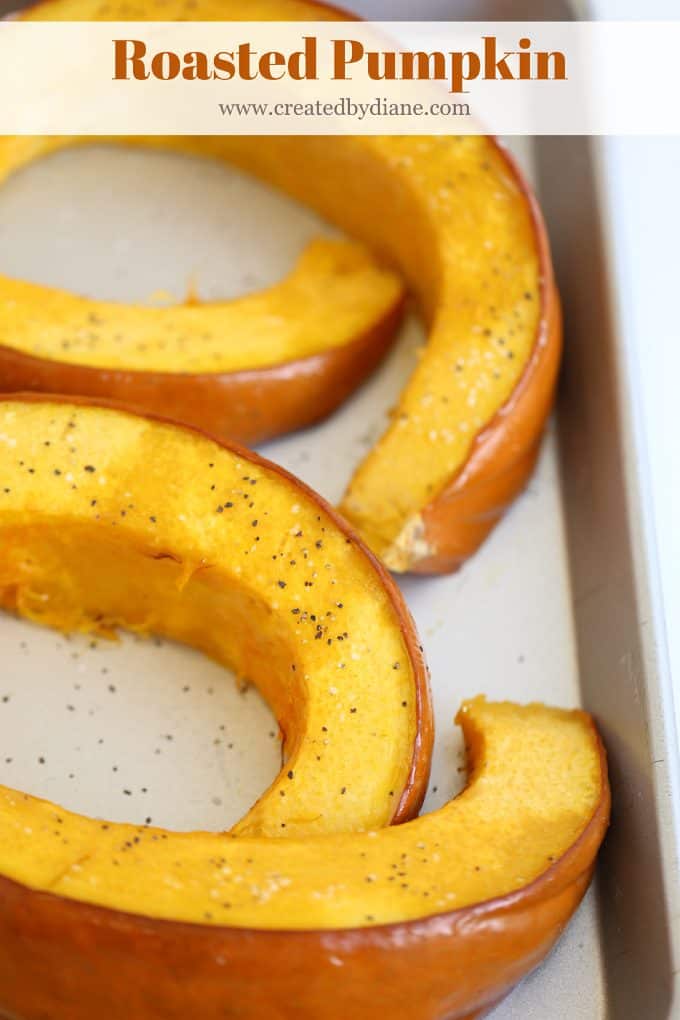 The bright orange pumpkins always catch my eye as soon as the weather starts to change and the leaves begin to turn colors and fall off the trees.
Small sugar baby pumpkins are great for baking, but did you know that the regular "Jack-O-Lantern" pumpkins are really delicious to eat.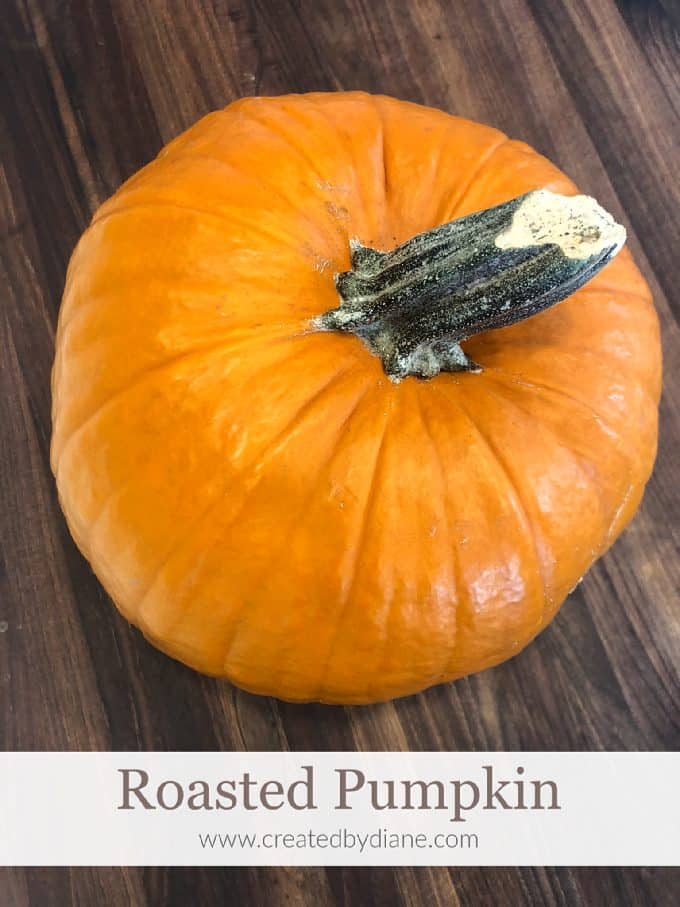 This roasted pumpkin reminds me of spaghetti squash, the texture is not the same, but the taste is similar.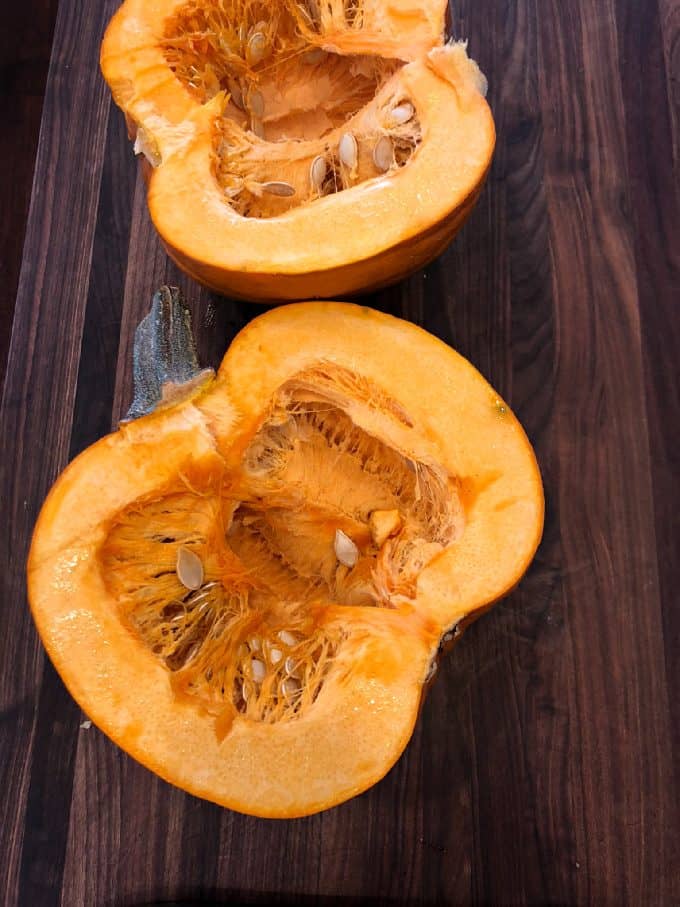 Start with a large sharp knife and be careful slicing the pumpkin open. I slice the pumpkin from the stem down to the bottom of pumpkin then start at the other side of the stem and slice to the bottom, then put the knife down and pull the pumpkin apart.
Be sure to check out my post on how to PERFECTLY ROAST PUMPKIN SEEDS HERE, and there's a video too!
I roasted the pumpkin on two trays, two different flavors.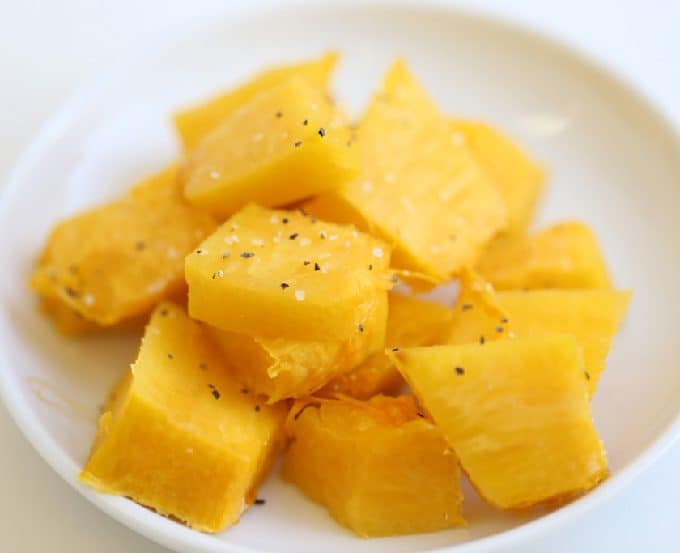 The first tray was simply olive oil, salt, and pepper. When I removed the pumpkin from the oven I brushed on some melted butter it was so yummy.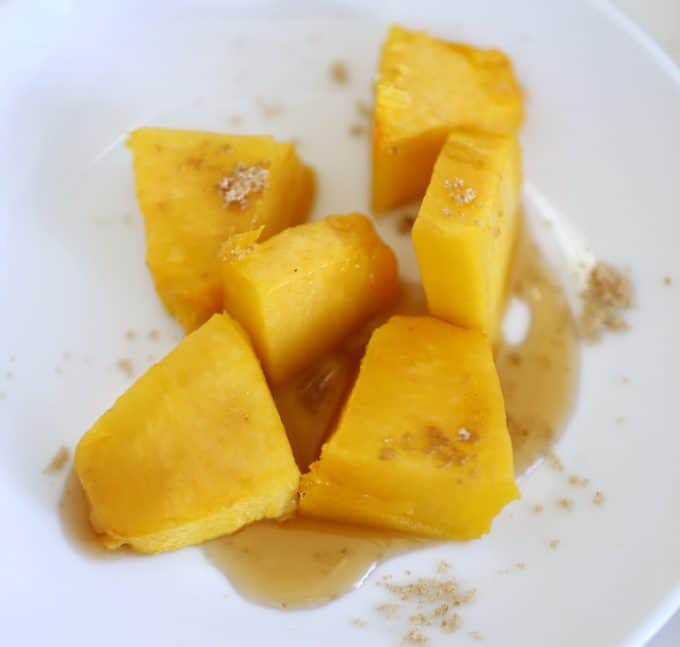 The second tray I coated the pumpkin with olive oil then sprinkled on some brown sugar and drizzled on some maple syrup, oh the aroma of this coming out of the oven is amazing.
Which do you think you will prefer more, sweet or savory?
You can roast the pumpkin with just oil and add the flavor you prefer when it comes out of the oven.
Roasted Pumpkin
Ingredients
Pumpkin (any size, under 5-10 lbs will be easier to handle than larger pumpkins)
olive oil
salt and pepper
brown sugar
maple syrup
Instructions
The exact portions of toppings are easy to estimate depending on how large your pumpkin is.
You'll need a few tablespoons olive oil, salt, and pepper to taste.
Same with the brown sugar and syrup, use as much as you like but there is no need to over apply, I found that I liked the sweet version roasted with some brown sugar and syrup, then I added a little more after the tray came out of the oven.
Slice the pumpkin off the shell.
Working with the pumpkin reminds me of slicing a cantaloupe.
Roast the pumpkin slices at 400° for 30 minutes or until tender when checked with a knife.
Notes
You can roast the pumpkin with just oil, then add the toppings you prefer when it comes out of the oven if you prefer.