Sprinkled full of colorful fun these cookies are sure to be enjoyed any day of the year!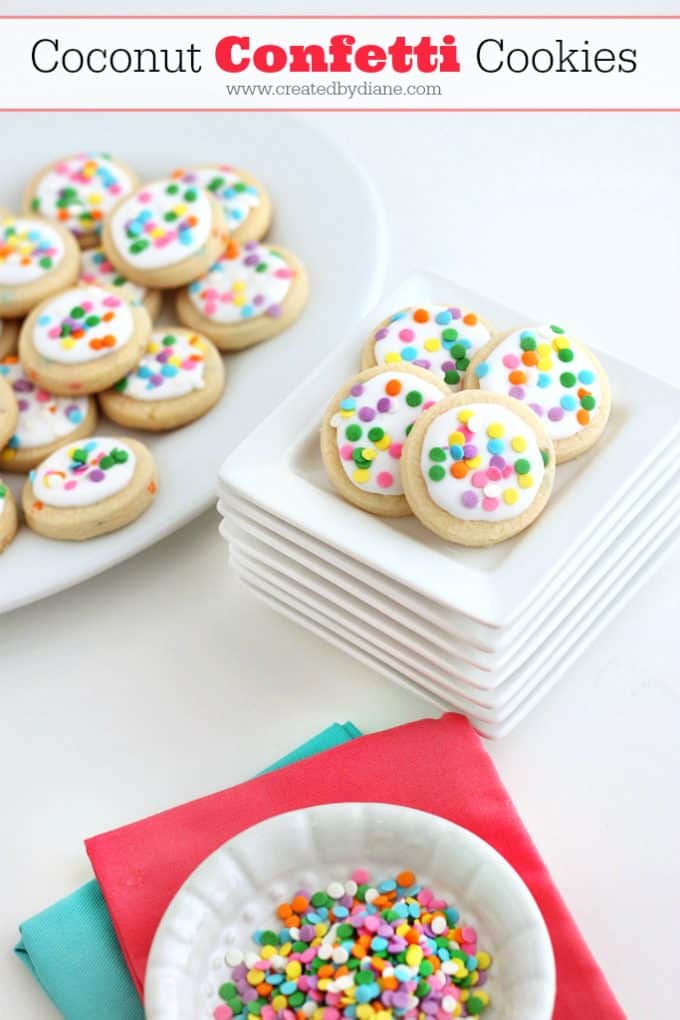 One glance at these and you'll think P-A-R-T-Y!!!
You'll be right, even if it's the middle of the week and that party is all for you.
These cookies are easy to make and no real decorating expertise is needed.
Confetti sprinkles make them over the top cute and cute is what we all need in cookies.
I flavored these with coconut extract, you can use any flavor you prefer, I just happen to LOVE coconut and so does everyone in my family so it's always a winning flavor around here.
These would be great with vanilla, almond as well as lemon.
There are so many flavor options so be sure to keep your eyes out for new flavors, you may just find a new one you love. I often see raspberry, cherry, orange, and maple at Walmart. Extracts can be found in so many stores nowadays  They have them in specialty shops, baking supply stores, online at Amazon (which is where I tend to order some if I don't want to drive all over town) I love Amazon… it makes it so easy to find things. I do love BANANA extract which
isn't the most common to find… and it's so yummy I add it to lots of banana baked goods like in this Banana Split Cake!
One of my latest Amazon purchases that I am just CRAZY over is this great toaster, yes toaster. The toaster I had previously was not working for a while, I would yell at it all the time, it burnt more than it toasted and wouldn't pop up. I would have to stand over it and watch each piece of toast carefully and it still wasn't even good.
Now with my new toaster, EVERY thing I toast comes out perfect! Best toaster ever.
Tell me I'm not the only one who loves Amazon so much.
I've been an Amazon Prime Member for a few years and just love how convenient it is and the 2-day shipping!
I love watching shows it's so simple, we stream stuff all the time and don't even have satellite/cable/digital TV or whatever they call it anymore. We hadn't watched is so long we finally decided to have it shut off.
Ok back to the cookies…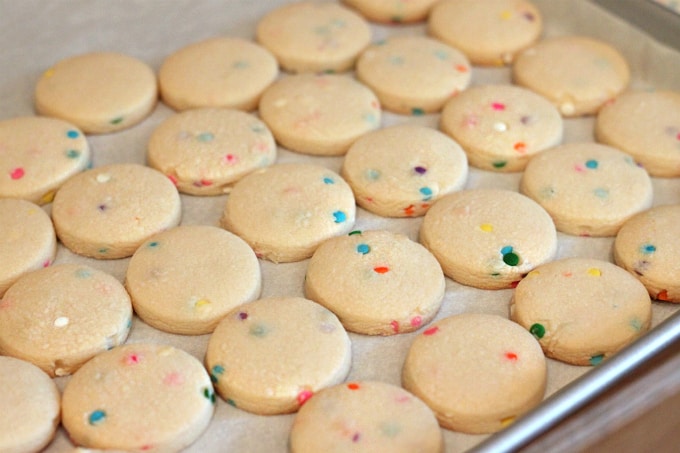 These cookies are not just topped with confetti sprinkles they have them inside the cookie dough too. CLICK here to easily find Confetti Sprinkles.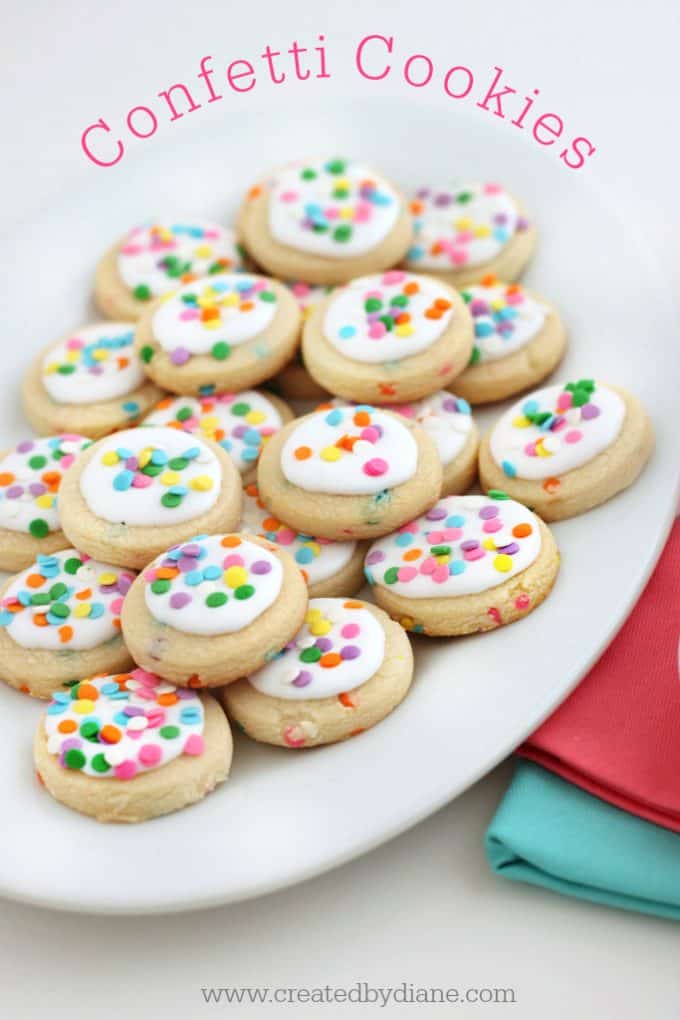 I used a GLAZE ICING on these cookies and added some coconut extract to the icing too. As soon as the icing goes on the cookies drop some sprinkles on before the icing starts to firm up.
Coconut Glaze Icing
Ingredients
1 cup powdered sugar
1 tablespoon corn syrup
1/2 teaspoon coconut extract ( or coconut baking emulsion)
1 tablespoon water
*confetti sprinkles for decorating cookies
Instructions
Mix all ingredients together until smooth.
You can add a few drops of water if it's too thin or a teaspoon at a time of powdered sugar to thicken the icing.
Place sprinkles on wet icing so they "stick".
The glaze will harden if you'd like to stack the cookies.
Allow the icing to dry overnight at room temperature uncovered.
Coconut Confetti Cookies
Ingredients
1 cup butter
1-1/2 cups powdered sugar
1 large egg
1 teaspoon coconut extract (or coconut baking emulsion)
1/2 teaspoon vanilla extract
3 cups all-purpose flour
2 teaspoons baking powder
1 teaspoon salt (don't add if you use salted butter)
2-3 tablespoons confetti sprinkles
Instructions
In the bowl of a mixer beat butter with powdered sugar.
Add the egg and extracts.
On low add in flour with baking powder, salt, and sprinkles.
Mix on medium until well blended.
The dough will pull away from the sides of the bowl when being mixed.
Remove the cookie dough from the bowl and roll it into a ball.
Roll the dough out between wax paper and cut into the desired shape.
Bake cookies on parchment lined baking sheets at 400° for 7-9 minutes.
Let cookies cool on baking sheet until completely cooled before icing.

*this post contains affiliatee links