I love how FRESH tasting this dish is. It's made with a quick pesto and tossed over hot pasta with some quickly heated tomatoes.
This dish can also be served cold if you are looking for a new pasta salad recipe. It sure is a crowd pleaser!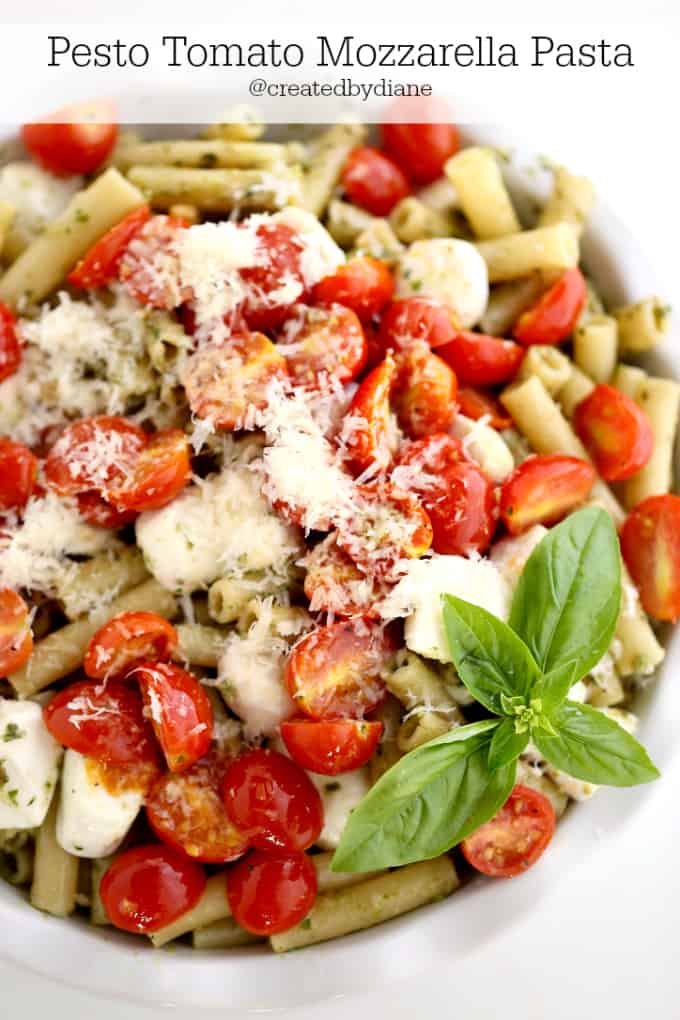 I just love fresh basil and apparently, it likes me too, it's one of the only things I can seem to grow.
I don't really have a green thumb, but I can grow herbs. I'm sure the extreme heat we get here is just one of the culprits I face when trying to grow things, even plants that are ok in full sun don't do well here!
But I can manage basil. If you don't happen to have a plant growing just pick some up in the grocery section of your store.
If you can't locate fresh basil or would rather use purchased pesto, there are so many options. I prefer the taste of refrigerated pesto, you can typically locate it where fresh refrigerated pasta is located in the grocery store.
I made this pesto with walnuts, although it's usually made with pine nuts, I don't' always have them on hand and I love walnuts and often have plenty of them.
I used fresh mozzarella balls, they soften and melt when the pasta is hot. If you are making this for a cold pasta salad, you can use fresh mozzarella or cut up some string cheese sticks for a similar shape so they get evenly distributed over the pasta.
I quickly sauteed the grape tomatoes in a little olive oil with some salt and pepper with some dry oregano. If you're making this cold, no need to saute the tomatoes just cut them and they will mix in nicely.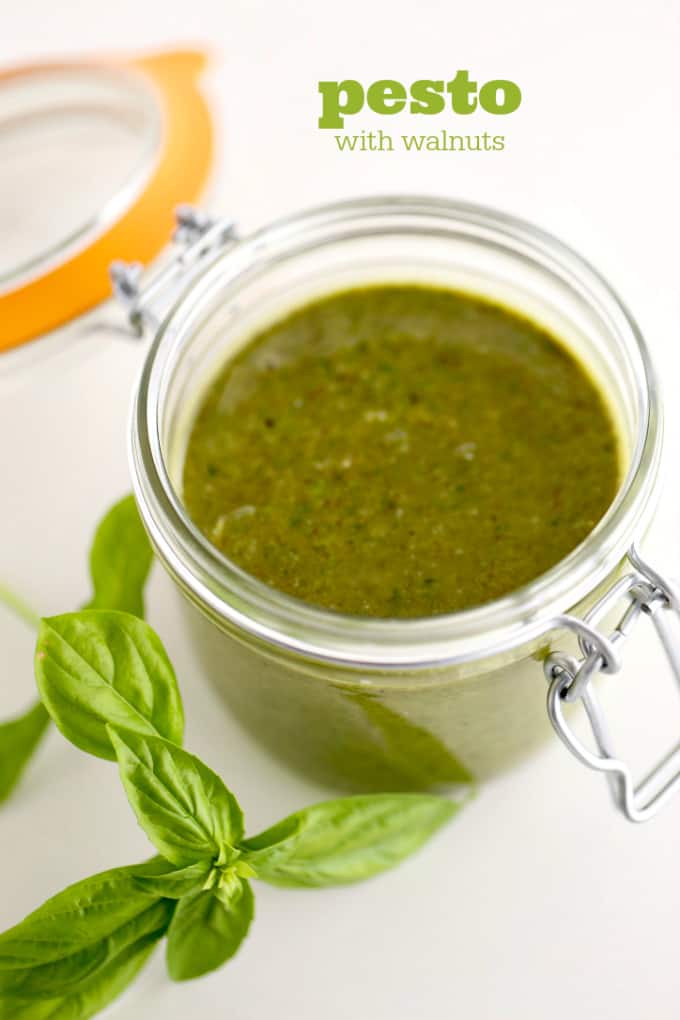 I start by adding 1/2 a batch of this pesto to the pasta, then add more if needed.  If you have any leftover place it in a glass jar and put it in the fridge for a couple days. Add some olive oil to the top of the pesto sauce so it doesn't turn brown. Slather it on toasted bread and enjoy!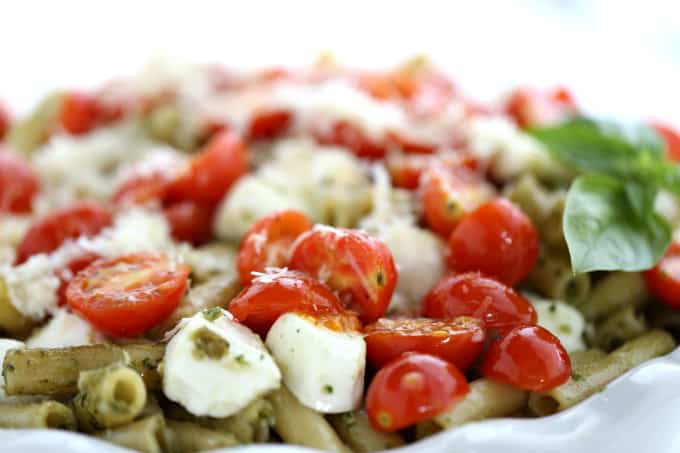 Pesto Sauce with Walnuts
Ingredients
1 cup basil
1/4 cup Romano Cheese (or Parmesan)
1/2 cup chopped walnuts
1 teaspoon minced garlic
1/4 cup olive oil
1/4 teaspoon coarse kosher salt (if desired)
Instructions
In a glass with an immersion blender or food processor add basil, cheese, walnuts, and garlic start blending and drizzle in olive oil.
Taste then add salt if desired.
Pesto Tomato Mozzarella Pasta
Ingredients
1 pound bow tie pasta (cooked to package directions and rinsed)
1 1/2 cups sliced grape tomatoes
1 8 oz. fresh mini mozzarella balls
1 tablespoon olive oil
1 teaspoon minced garlic
1 teaspoon dry oregano
salt and pepper to taste
Instructions
In a saucepan heat, oil and garlic with tomatoes until the tomatoes begin to blister stir in oregano.
In a large bowl toss the pasta with 1/2 the pesto recipe, then add in tomatoes.
Add more pesto if desired and salt and pepper. Mix well.
Add in mozzarella and serve hot.
COLD Pasta Salad Instructions
In a large bowl mix rinsed cold pasta with 1/2 the portion of the pesto recipe.
Add in sliced tomatoes, mozzarella cheese (or sliced cheese sticks)
Add more pesto if desired and salt and pepper to taste.
Chill in the fridge for an hour.