My all time favorite recipe for a quick and easy appetizer smoked salmon mousse….
I can't wait to tell you the "STORY" behind this recipe.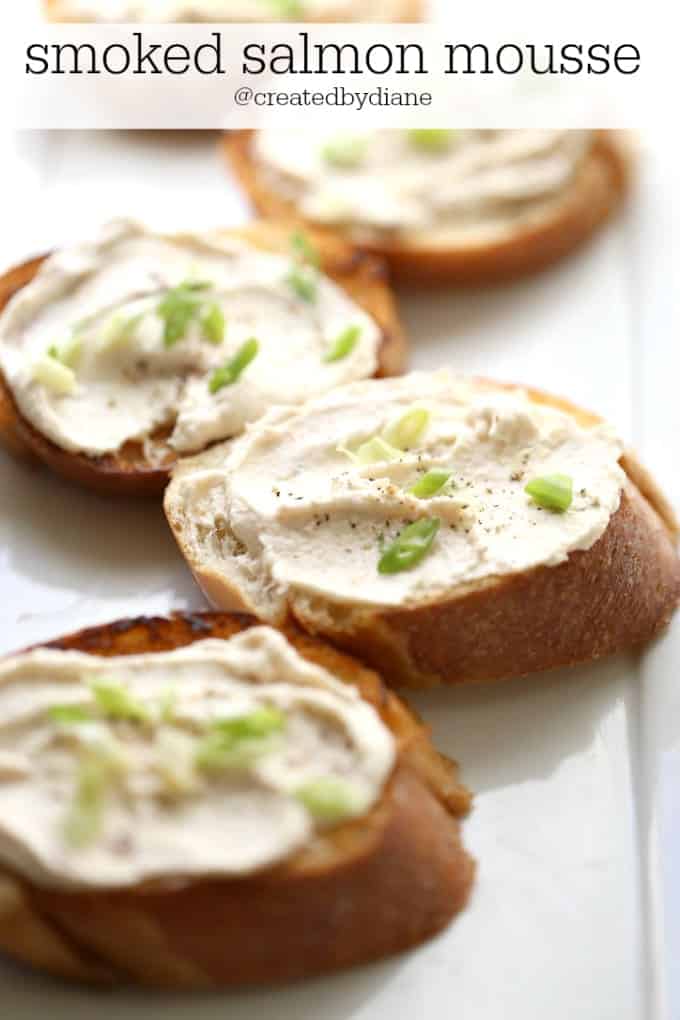 Summer party invitations are coming in now, and this smoked salmon mousse appetizer is a hit at every party and picnic!
Of course, this appetizer is wonderful ANY time of the year.
Graduations, birthdays, barbecues, beach outings… the event calendar is filling up fast.
If you're racking your brain about an appetizer to bring that is simple to make, loaded with flavor and is a bit unexpected (different than the rest), look no further.
Smoked salmon reminds me of summer for some reason… probably because I live in Southern California, and we enjoy taking frequent trips to the beach. Just tastes like summer!
Ok, here is the STORY…
over 20 years ago, I had a year of eating unique recipes. I wouldn't order my "ordinary" items no matter where I went. And it proved to be VERY interesting and that year I can remember so many items I tried for the first time, duck, escargot to mention a couple. Smoked trout mousse was the other…
Since trout is really nothing special and not as easy to find, I use smoked salmon.
I ordered the smoked trout mousse and IT WAS FANTASTIC! I went back to the same restaurant a few months later and…
did you guess it…
it was OFF the menu.
Those crazy people took it off the menu, so for years I dreamt about the smoked trout mousse, and I'm happy to say I have successfully made the recipe that tastes JUST LIKE the recipe I had, except I make it with salmon like I mentioned.
Feel free to use any smoked fish.
I buy a really small package of smoked salmon and can't believe the FLAVOR and how you really don't need a ton to make a lot of appetizers.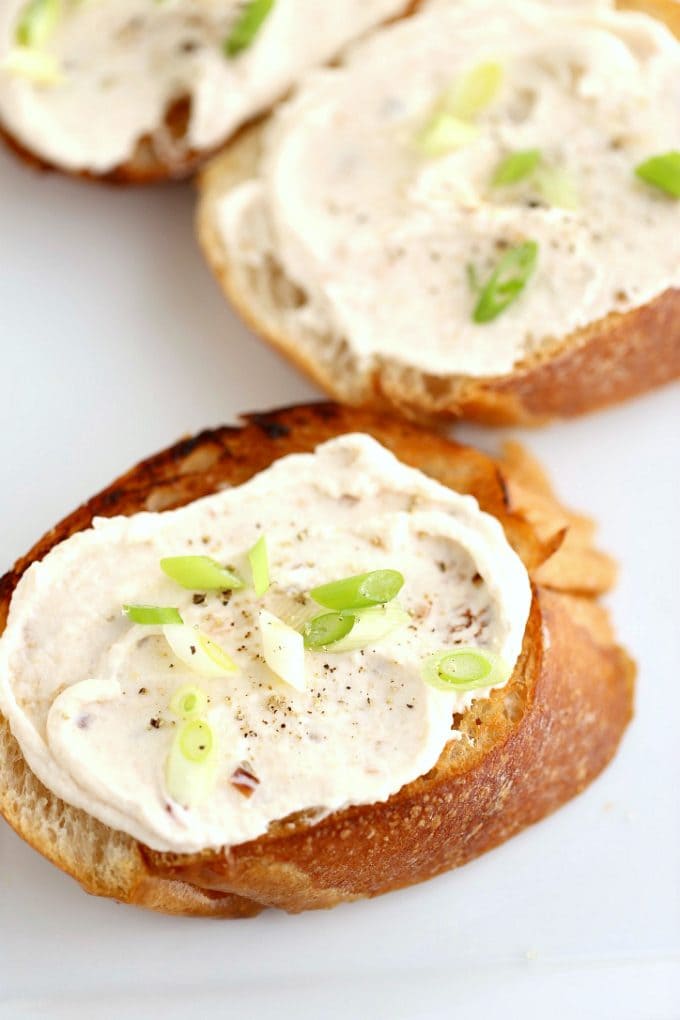 I love the smoked salmon mousse served crostini style, but it's also delicious on sliced cucumber, it's also great served as a dip with fresh veggies, crackers, and pretzels.
This is a great party item, you can toast the bread ahead of time and then just spread on the smoked salmon mousse before guests arrive to ensure the bread stays crisp.
This mousse is so easy to prepare in a food processor or with an immersion blender. It's ready in minutes, but tastes best when refrigerated for at least a couple of hours to allow the flavors to blend and brighten.
Smoked Salmon Mousse
Ingredients
4 oz Smoked Salmon
4 oz Cream Cheese
1/4 cup Heavy Cream
1/4 cup diced green onion
1 tablespoon lime juice
1/2 teaspoon chopped fresh or dry dill
salt and pepper to taste
*additional spice options smoked paprika
sliced baguette
Instructions
Place all ingredients in a food processor or jar with an immersion blender. If the mouse is too thick, add additional heavy cream by the tablespoon. You'll want it thinner for dipping but it'll be great thicker for spreading.
Using a brush and olive oil brush each side of the sliced baguette pieces and toast them on a hot skillet or grill pan until golden. Then spread the smoked salmon mousse over crostini once they have cooled so the mousse does not melt.