There is nothing like a quick easy delicious dinner and this is JUST that dinner. Full of flavor this Greek Chicken Recipe is a crowd pleaser!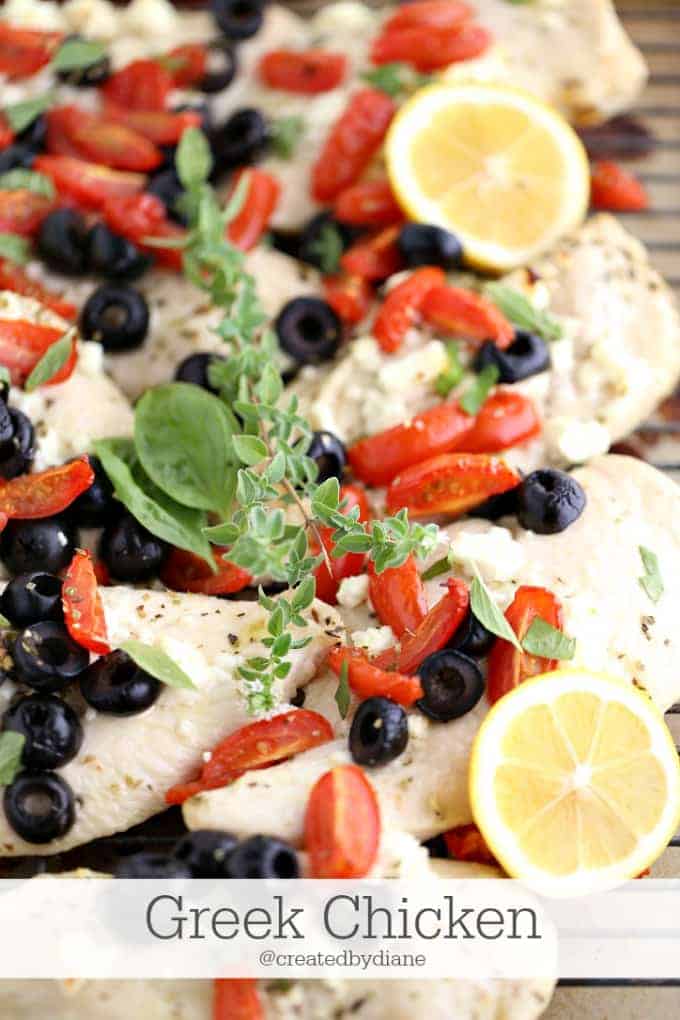 I just love the Mediterranean flavors in cooking,
olive oil, feta cheese, oregano, lemon, and olives… I love all those yummy flavors.
This recipe is full of flavor, it bakes up quickly which means dinner will be ready in no time. In just over a half hour you can be enjoying this meal with all its fresh tangy flavors.
This is great served with a salad, rice or pasta. Which makes this a perfect meal anytime!
Filleted boneless, skinless chicken breasts, cook quickly you can either put them directly on a sheet pan, or on a rack on a sheet pan and bake them at 350 degrees or cook them in a skillet if you prefer another option is to put the chicken on the grill, if you are going to finish off the chicken with the items baking onto the chicken, you may want to put a veggie type of tray or foil under the chicken to catch any small topping that may fall off the chicken.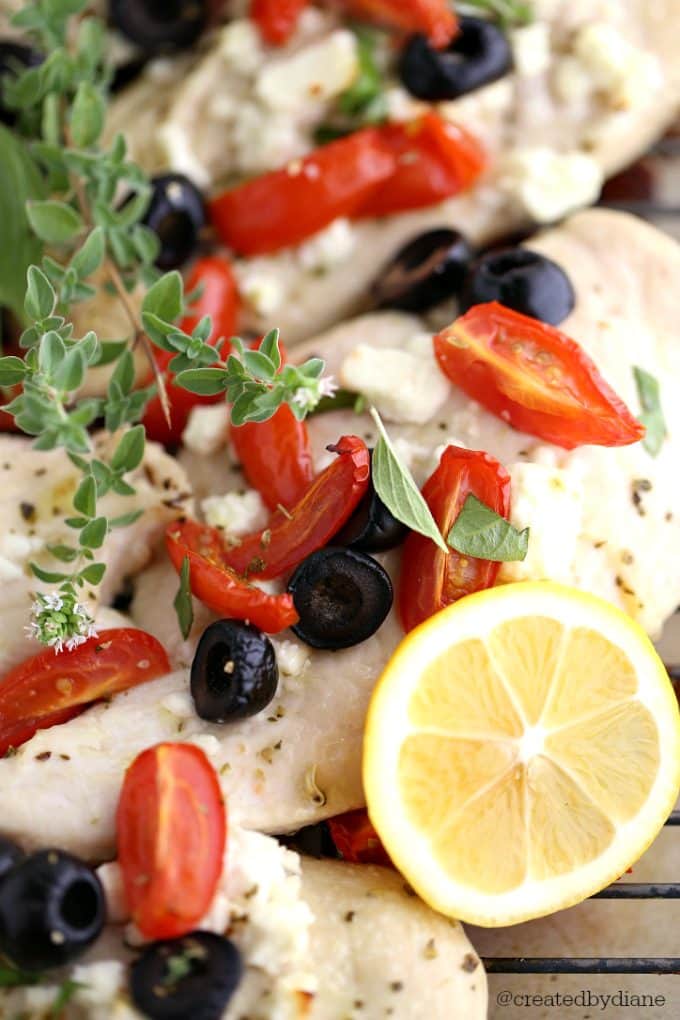 There are items you may want to swap out or add due to preference.
If you don't prefer feta cheese, use something like Monterey jack cheese, if you don't prefer oregano, swap it out for some garlic, if you don't like tomatoes or love them and want to add some more toppings try green bell peppers, pepperoncini and if you like Kalamata Olives use those, this recipe is flexible, which is great especially if one of your eaters is fussier, or won't touch a tomato!
Another fun item to add would be artichoke hearts!
Enjoy and have fun with this recipe, I sure did.
I added lemon to the rice I served it with and the meal was delicious.
An easy additional vegetable to serve with this is a cold cucumber and red onion salad with a Greek or Lemon Salad Dressing (Click HERE for my Greek Tomato Dressing Recipe) some zucchini is delicious.
This recipe is great all year long and perfect for a dinner party!
Greek Chicken
Ingredients
4 boneless, skinless, chicken breasts (about 3 lbs) adjust the topping accordingly if you have more or less chicken.
2 tablespoon olive oil
2 lemons
1/2 teaspoon dry oregano
1/2 cup crumbled feta cheese
1 cup grape tomatoes, quartered
1 cup olives, cut in half
*optional fresh oregano and basil
S&P to taste
Instructions
Filet chicken.
In a medium bowl combine olive oil, juice of 1 lemon, and dry oregano.
Dip chicken into the mixture then put the chicken on a rack or on a sheet pan. ( or marinade it for an hour or more)
Bake at 350 degrees for 20 minutes (or grill the chicken until the internal temperature reaches 165° then top the chicken on the grill or on a baking sheet and cover to just melt the cheese a bit).
r top the chicken with the feta cheese, olives, and tomatoes, and bake for 10 more minutes or until chicken is fully cooked. (check with a thermometer)
I love adding fresh herbs to dishes and use fresh oregano and basil on the top of the chicken and use the second lemon to squeeze over the chicken.
This will go great with a salad with a lemon dressing, rice or pasta dressed in olive oil, lemon, and more oregano and salt and pepper to taste.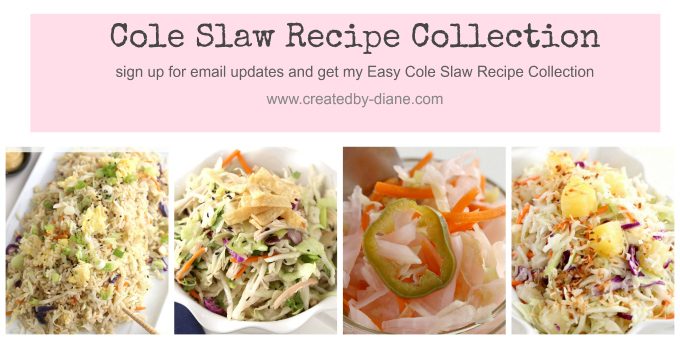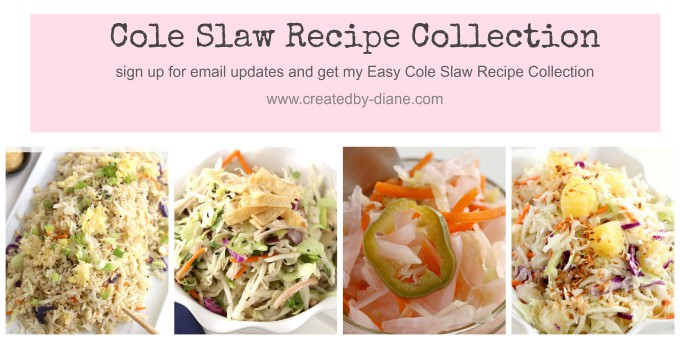 Sign up for email updates from Created by Diane and receive this Cole Slaw Recipe Collection!