If you're looking for a cake with that visual WOW factor for the holidays, you're going to love this Candy Cane Cake!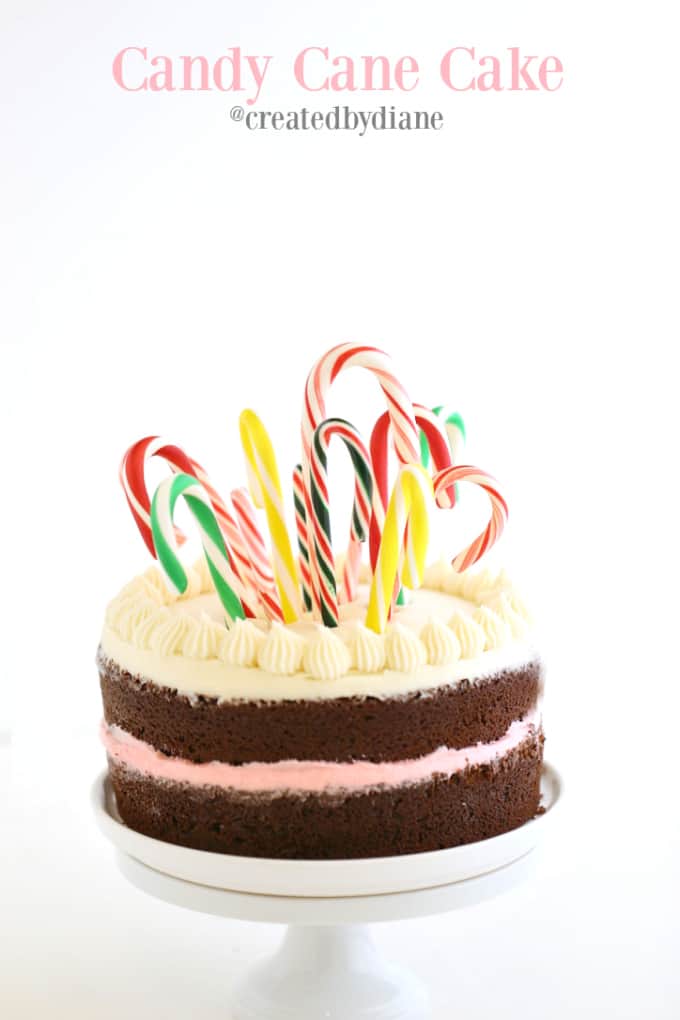 I have such great memories of heading to see Santa each year when I was a kid.
I'd come home with my coat pocket full of miniature wrapped candy canes given by all the elves and Santa himself.
Good thing I had sense enough not to eat them all at once!
I've loved candy canes ever since,
I wanted to create a cake that's not only delicious but really stunning…
something that could be the centerpiece of any beautiful holiday buffet.
This is an easy-to-make cake, too, just two round layers frosted together with the same icing in the middle and the top.
I just added a small amount of pink food coloring to the icing in the middle to create the pretty contrast to the layers of chocolate cake, but you could leave it white if you wish.
I chose to put all different color candy canes on top of the cake, you can do the same or put all one type either way, it's bound to be a pleaser.
Be careful unwrapping the candy canes, they can be fragile!
You're sure to have one or two break like I did, but then again who doesn't like snacking on the pieces.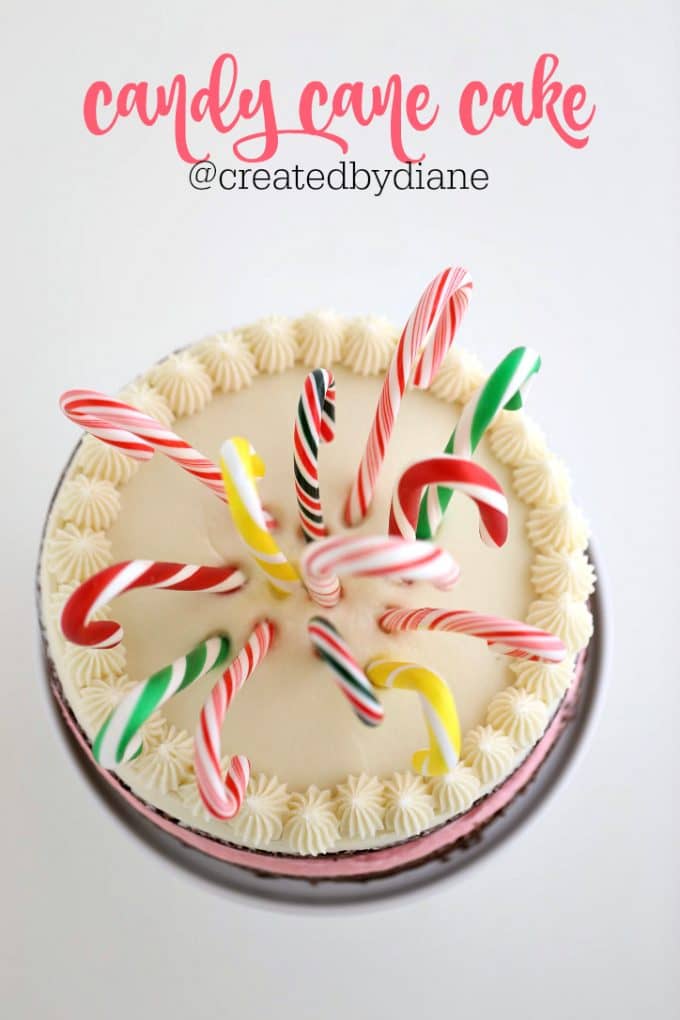 If you love candy canes in your desserts, go right ahead and use the broken pieces or crush up candy cakes and add them to the frosting, me personally I don't care for candy canes in my desserts. I like to eat them all by themselves.
You can get creative with your flavorings here, too.
My frosting is vanilla, which is always a favorite, but you can add a bit of peppermint extract for a little extra yumminess and holiday flavor.
You could choose to add the peppermint flavoring to the chocolate cake instead of the icing.
It's up to you, this is a really versatile cake.
My FAVORITE part of this cake is the candy cane "bouquet" on top.
Isn't this gorgeous?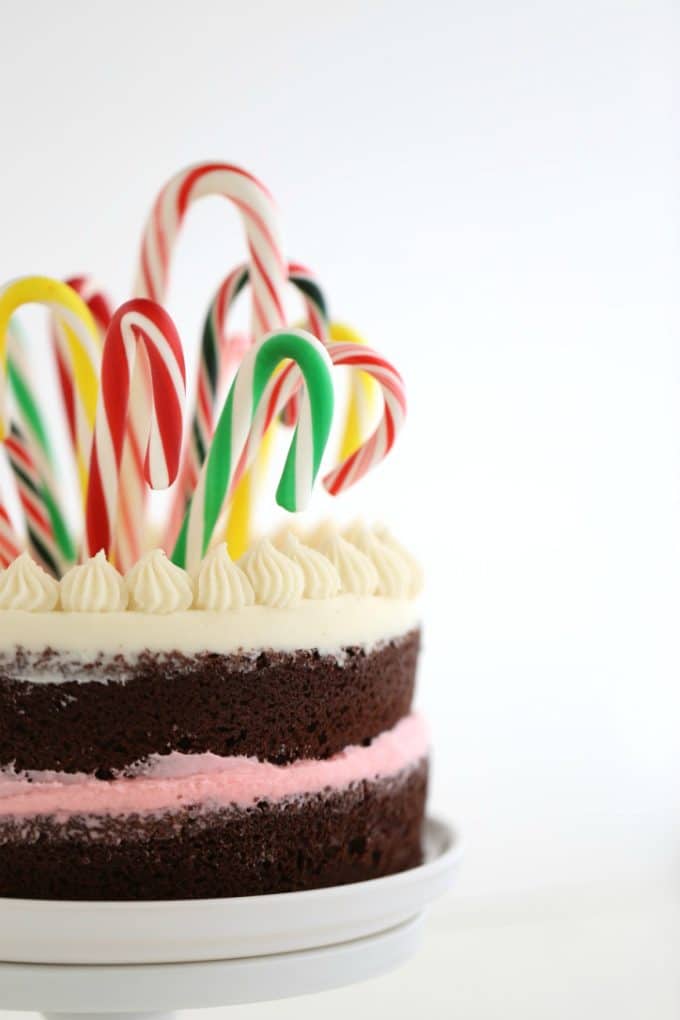 Who knew that something as simple as placing a bunch of brightly colored candy canes on top of the cake would make this such a dazzler!
Place the canes fairly straight in the center and more on an angle as you work your way toward the outside of the "bouquet."
Slightly varying the height and angle of each cane for the best effect.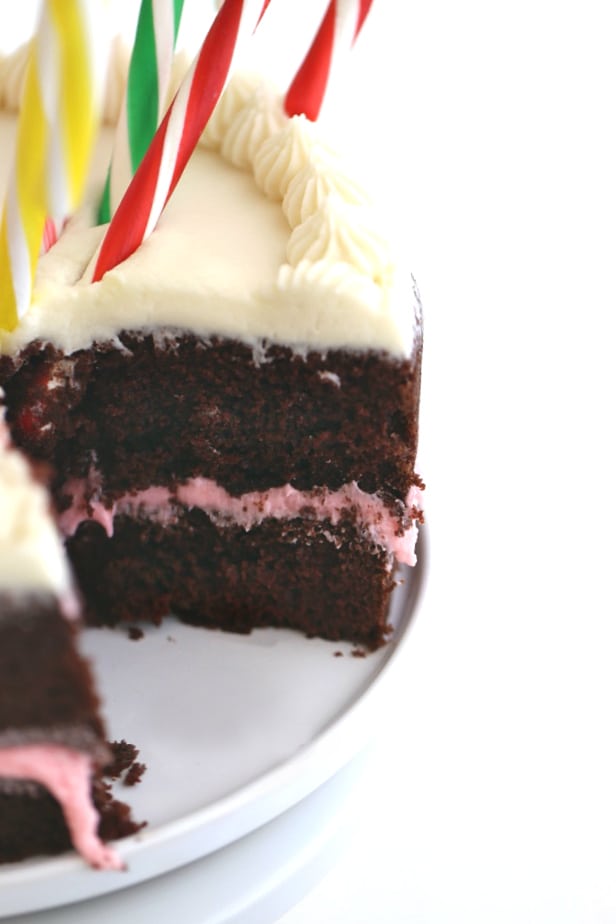 Candy Cane Cake
Ingredients
3/4 cup butter softened
1 1/2 cups sugar
2 teaspoons vanilla
2 eggs
1 3/4 cups flour
1/2 cup dutch process cocoa
1/2 teaspoon salt
1/2 cup milk
2 teaspoons vinegar
1/2 cup boiling water
Instructions
prepare 2-8" baking pans by spraying them with a baking spray and wrap them in water soaked leveling strips if you like your cakes baked evenly. I love the nonstick strips by Wilton, or I pin old strips of towels that I've soaked in water.
In a large mixer bowl beat butter and sugar until fluffy.
Add in vanilla and mix in each egg in one at a time.
Mix in flour, cocoa, baking soda and salt.
Add milk and vinegar and mix, then pour in boiling water and mix until combined.
Separate batter evenly into the two pans.
Bake at 350 degrees for 35 minutes or until toothpick comes out clean.
Notes
you can use buttermilk in place of the milk and vinegar if you prefer.
Buttercream Frosting
Ingredients
1 cup butter (room temperature)
4 cups powdered sugar
2-3 tablespoons heavy cream
1 teaspoon vanilla extract
2 drops pink food coloring
Instructions
In large mixer bowl beat butter with sugar and add in heavy cream, vanilla until mixed smooth.
place 1/2-3/4 cup frosting to be tinted pink in a separate bowl, you can add additional flavors as well, such as peppermint extract 1/4 teaspoon.
Spread the pink frosting on the first layer of cake, add the second layer, top that layer with white frosting and then pipe the edge with a star tip and add the candy canes on top.
It is best to add the candy canes to a chilled cake if you are not going to be eating it immediately as the weight of the candy canes will slide on room temperature cake that has not been chilled.