I just love the how the depth of flavor in this dish of pumpkin and spices are so alluring!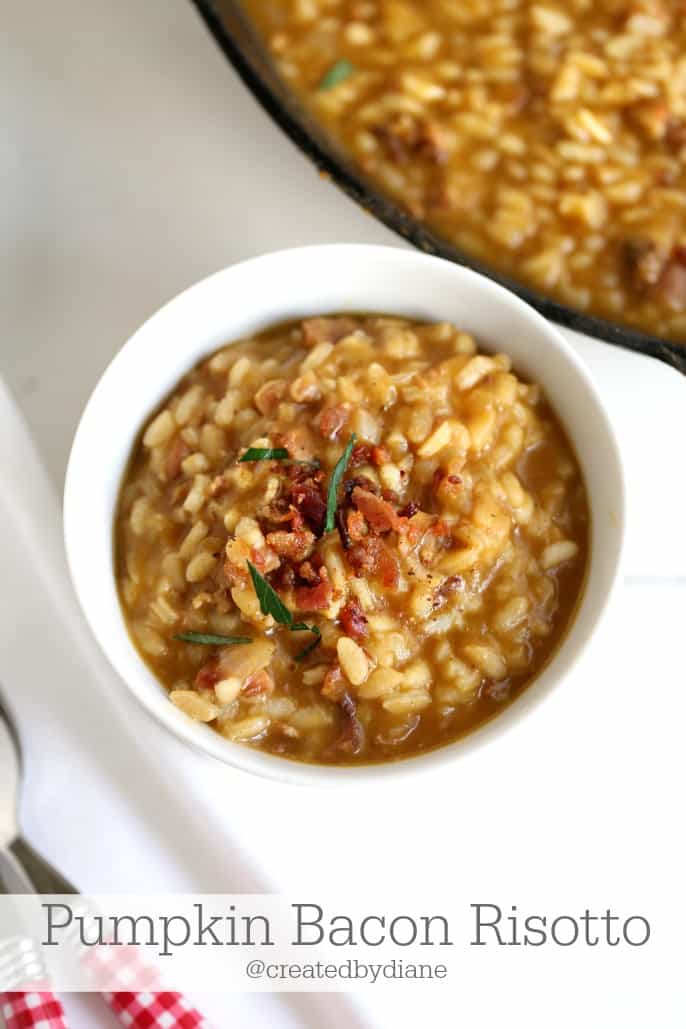 Pumpkin Bacon Risotto
Don't miss a single recipe created by Diane, sign up for email updates
and get every delicious recipe delivered to your inbox. Plus get my FREE e-cookbook. Click here!
They ate spoonful after spoonful and I still hadn't really told them what they were eating.
It's funny how sometimes I keep it a secret until they tell me how much they like it.
This was one of those dishes,
I wasn't sure how it would go over with everyone that I mixed pumpkin and bacon together.
For me it's a perfect pair.
I was happy to hear they loved it too.
This dish makes a large amount, but you would have been able to tell by how quickly it was consumed.
I think fall is finally upon us!
The clocks have changed and there was a slightly cool breeze in the air.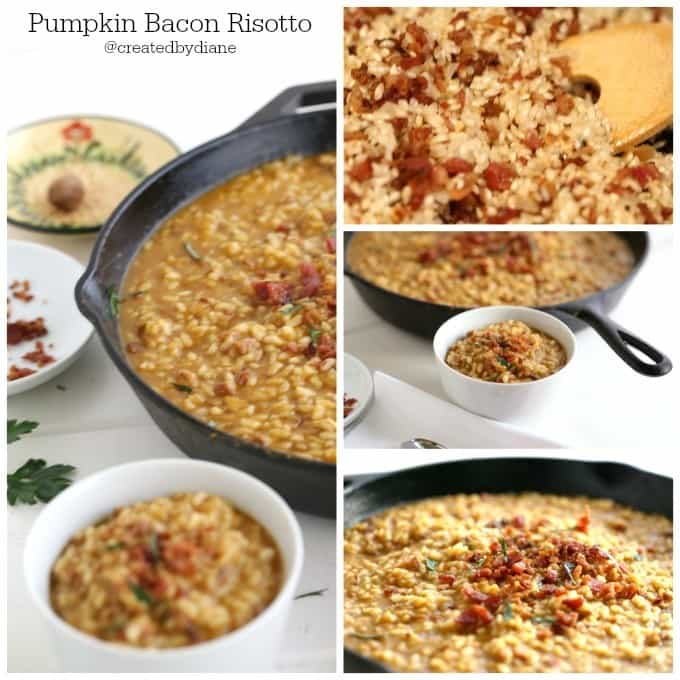 Risotto is not difficult to make,
and the time it takes is well worth it.
It's creamy and delicious and one of the most delicious comfort foods.
One of the best parts about this recipe is I typically have the needed items on hand.
I always have bacon in my fridge. Cooked, uncooked a fridge is not complete without bacon in it!
I stock up on canned pumpkin each fall to have enough just in case there is the dreaded "shortage" which I heard there was this year, so I stocked up plenty.
This recipe is one of the reasons. It will be making its way into our menu plans regularly.
Pumpkin Risotto with Bacon
Ingredients
3 tablespoons butter
1 onion chopped
2 cloves garlic minced
1 1/2 cups arborio rice
1/2 cup bacon (I used cooked crumbled bacon)
8 cups chicken broth
1 cup pumpkin puree
1/4 teaspoon clove
1/2 teaspoon dry ginger
1/2-1 teaspoon salt (according to taste)
additional 1/4 cup bacon for topping when finished cooking.
Instructions
I cooked this risotto in a cast iron skillet. And didn't need to heat the broth as cast iron won't cool down as the liquid is added. If you are using a metal pan, heat the chicken broth first so the mixture does not cool down each time you add broth.
Begin by heating skillet, add butter, onion garlic and bacon.
Heat until bacon is crisp and onions are lightly golden.
Add garlic and cook one minute.
Add rice.
Begin adding the broth a cup at a time, stirring and allowing it to be mostly absorbed before adding the next cup of broth.
Add the pumpkin after the first cup of broth is added.
This will take some time, but is well worth the time for the delicious slow cooked flavor and richness risotto has.
When all the liquid is added and a thick sauce if formed, test the risotto to be sure it's tender. If it's still slightly firm, place a lid on top and heat on low for 5 more minutes and test until it's tender.
Stir in clove, ginger and salt.
Top with additional bacon and serve.
If you love pumpkin as much as I do, you may want my PUMPKIN EBOOK, it's filled with lots of delicious pumpkin recipes. CLICK HERE!