If you like the cool creamy taste of a banana split you are going to LOVE these Banana Split Cream Puffs.
I'm happy to announce that Betty Crocker is re-releasing their Rainbow Chip Frosting, yes that fun favorite will be back on the shelves for you to purchase.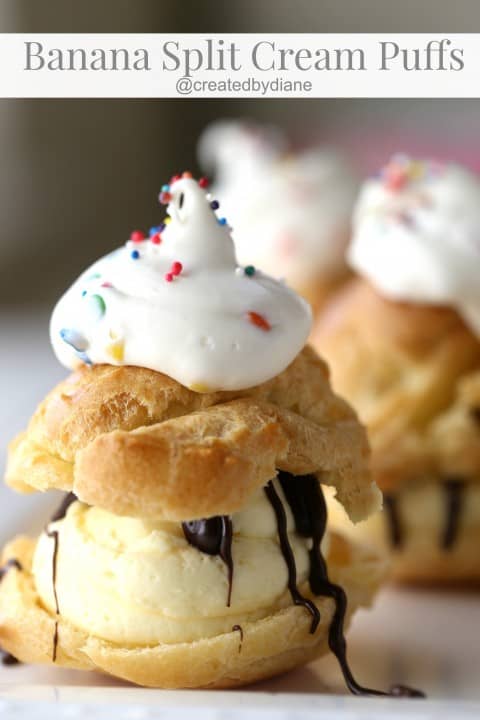 I have loved cream puffs for as long as I can remember, and had a friend who used to make me a whole batch just for me. She would bring them to me in a t-shirt box, the type you see at the holidays that clothes gets gifted in. Yes, the first time she handed me the box…I remember thinking what on earth could be in here? It was just an ordinary day…
Little did I know she was treating me to one of the best gifts I could receive.
I love food as a gift and she knew me WELL!
I loved that there was so many of them, and I didn't have to share. She told me so.
I was reminded of cream puffs the other day and I thought how fun it would be to make them and fill them and make them remind everyone of banana splits.
Best part is these won't melt!
I filled them with an easy to make banana cream filling,
then drizzled melted chocolate placed the lids on the cream puffs and topped them off with rainbow chip frosting and some sprinkles.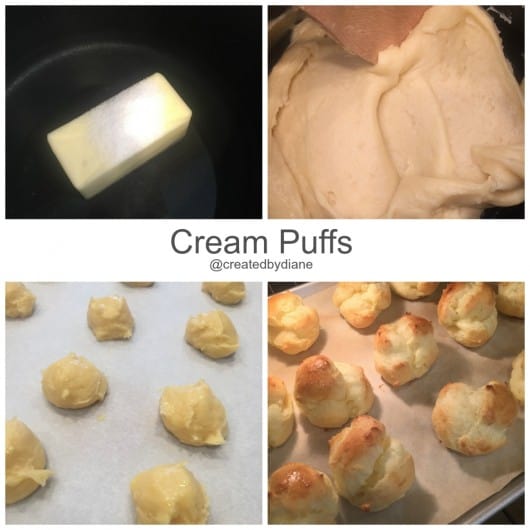 Cream Puffs are made by a mixture of butter, flour and eggs. Absolutely nothing complicated, right? If you haven't made them before, here is the perfect opportunity. The other name for the mixture to make cream puffs is called Choux Paste. Yes it does remind you of paste while you are prepare it, so it's a great little name that correctly describes the mixture.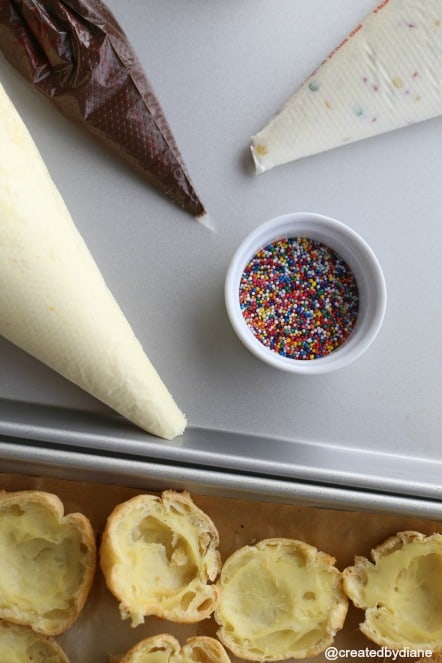 Have everything ready before you being filling the cream puffs so they all look similar. Disposable pastry bags work really well for the filling , melted chocolate and to add the frosting on top of the cream puffs.
Cream Puffs (Choux Paste)
Ingredients
1 cup water
1/4 cup unsalted butter
1/4 teaspoon salt
1 teaspoon sugar
1 cup flour
5 eggs (4 eggs for batter and 1 egg for egg wash)
Instructions
In medium saucepan, bring water, butter salt and sugar to a boil on medium heat.
When butter is all melted, remove pan from heat and add flour and mix vigorously with a wooden spoon until well blended.
Return pan to medium heat and stir until the mixture pulls away from the sides of the pan and forms a ball.
Remove pan from heat and allow it to cool 5 minutes.
Add (4) eggs, one a at a time beating with wooden spoon after each egg is added.
Let batter cool another 10 minutes
Use a two tablespoon scoop to share the batter into balls and place them on a parchment lined baking sheet separated evenly so they bake up nice about 2 inches apart.
In a small dish mix remaining egg and a one teaspoon water and brush over ONLY the TOPS of the cream puffs (be sure it does not drip down the sides or the puffs won't rise properly.
*Just a small amount is all that is needed to get a crisp top.
Bake at preheated 425 degreees oven.
Bake for 15 minutes, then reduce the heat to 375 degrees and cut a small slash in the sides of each cream puff to let out the steam as they finish cooking and dry out the insides a bit more. Continue baking until they are golden brown.
Remove from oven, test one by cutting it open and being sure the inside is not too moist or the cream puffs will be soggy. (Put them back in the oven if they need another minute or two)
You can slice them in half and put them in the oven as well.
Once they are all sliced in half and cooled completely they are ready to be filled. (prepare filling while the cream puffs are baking)
Use cream puffs within 24 hours. Makes about 30 cream puffs.
Notes
recipe source: Sunset Easy Basics for Cooking Book
Banana Cream Filling & topping cream puffs
Ingredients
1 small box (4oz) instant banana pudding
16 oz heavy cream ( additionally add 1 tablespoon milk if it's too thick)
3/4 cup chocolate candy melts
Betty Crocker Rainbow Chip Frosting
1 cup powdered sugar for thicker frosting
Instructions
Mix both pudding powder and heavy cream together until it's smooth and creamy.
Place the filling in a piping bag (with a dime size hole) to fill the cream puffs neatly and easily.
Place a small glass bowl with the candy melts in the microwave for 30 seconds mixing to be sure it fully melted.
Place the Rainbow Chip Frosting in a piping bag to neatly dollop the tops of the cream puff with frosting. ( cut a smaller than dime size hole to allow the frosting and chips to come out)
Fill each cream puff with about two tablespoons of filling
Place melted chocolate in a piping bag with a small hole cut in the end
Drizzle chocolate over filling
Place cream puffs lids on top and then add a dollop of Rainbow Chip Frosting and add a few sprinkles.
*If you want the frosting to stand up ofter it's piped on the cream puffs, mix 1 cup powdered sugar with the frosting, it will make it thicker.
The creamy filling and super fun frosting on these made these a huge hit with everyone.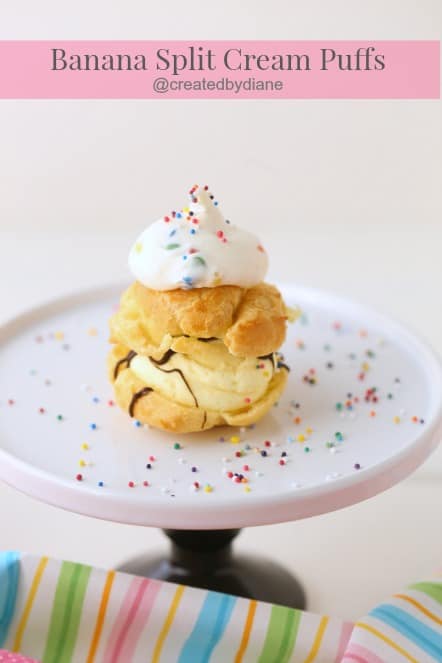 I just LOVE how cute these cream puffs are.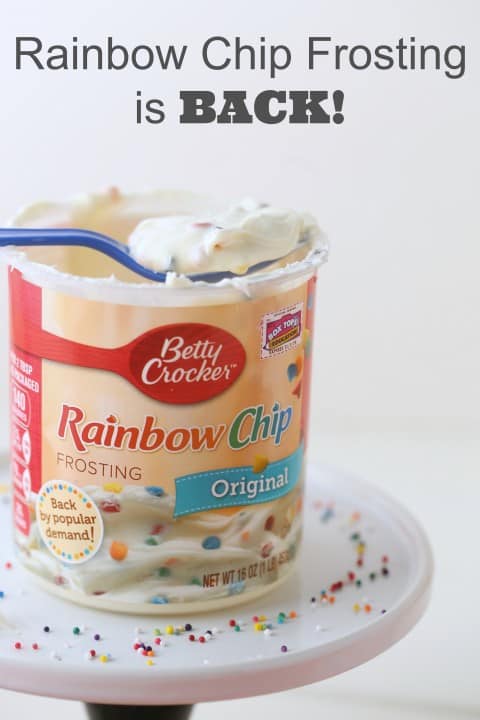 Rainbow Chip Frosting it's coming back!  There are many, many people happy about that. There have been TWEETS, Petitions, and even a facebook group that has convinced Betty Crocker to bring back Rainbow Chip Frosting. The power of the internet is amazing!

This is a sponsored post for Betty Crocker, as always all opinions are my own.