It seems everyone has memories of Girl Scout Cookies and each and every year people go crazy over them. Stocking up on dozens of  boxes even. Well, I you are quickly missing the great taste of toasted coconut and chocolate this fun toffee will help tide you over until they start selling them again.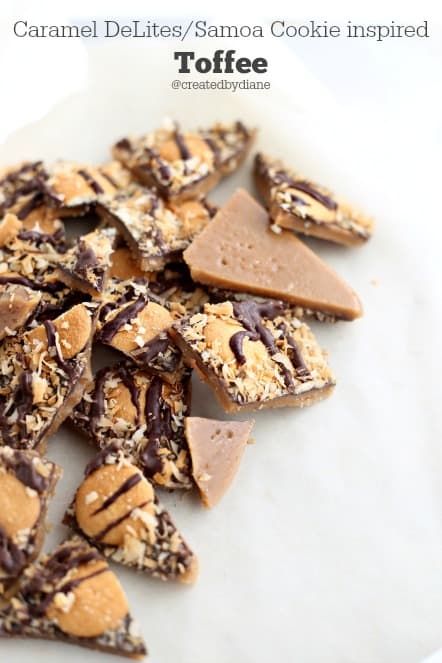 They have changed the name of some of cookies over the years and I don't even want to get into that BIG debate,
I just LOVE coconut,
I recently shared how to make toasted coconut in the oven, take a look at that post here.
Ever since I can remember toasted coconut has been one of my favorites!
Of course enjoying it in those Caramel DeLites/Samoas are what makes me devour an entire BOX!
So as Girl Scout Cookie sales come to an end,
the cravings for that delicious flavor combo doesn't have to,
now you can make this incredible toffee anytime you want.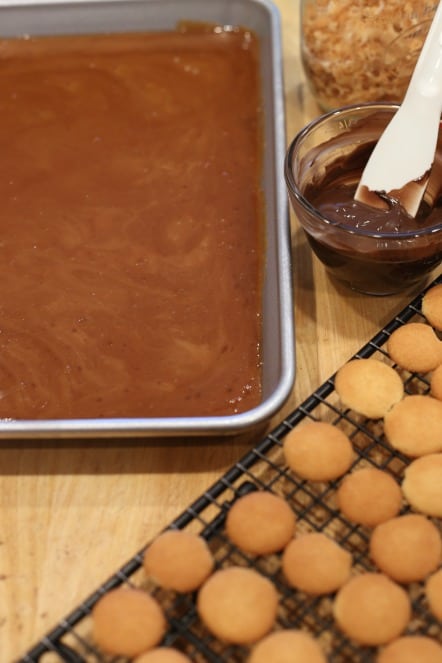 Bring the butter, sugar and water to a boil until it's a medium brown color (like a paper bag) or 300 degrees on a candy thermometer.
Pour the toffee onto a baking sheet, allow it to cool for 3 minutes and set up slightly.
Add on the dark chocolate, vanilla cookies and toasted coconut.
Then drizzle on a little dark chocolate to top it off with.
Place the toffee in the fridge to cool,
then break into pieces and enjoy!
Caramel DeLites/Samoa Inspired TOFFEE
Ingredients
1 cup butter
1 cup sugar
1/4 cup water
3/4 cup dark chocolate (split into 1/2 cup and 1/4 cup)
1 cup toasted coconut
2.5 oz mini Nilla wafer cookies (there will be some leftover)
Instructions
in medium saucepan bring butter water and sugar to a boil until it reaches 300 degrees (or is a medium brown color, like a paper bag)
spread toffee on 9x13 baking sheet
let cool 3 minutes, it will set up a little
melt chocolate and pour over top, or chop into small pieces and then sprinkle over warm toffee and when it melts spread with an offset spatula
top with about 30 mini Nilla wafter cookies
then sprinkle on toasted coconut
melt remaining 1/4 cup chocolate and drizzle over the top in stripes
Place baking sheet in refrigerator 20-30 minutes or until toffee is fully set.
cut into pieces and enjoy!
*you can add more chocolate to the toffee if you like, even an additional cup depending oh how much chocolate you prefer
Notes
Here is my post on how to toast coconut in the oven https://www.createdby-diane.com/2015/02/how-to-toast-coconut-in-the-oven.html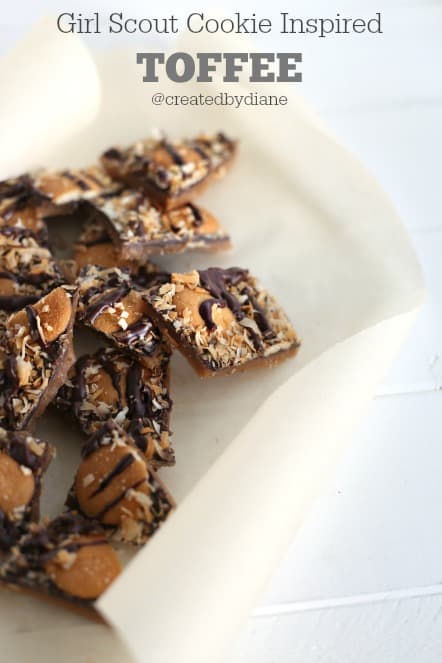 I think I may need some counseling if I end up eating the whole tray…I think I'm already half way there.
It's IRRESISTIBLE!
This recipe can be doubled to make a large batch,
but PLEASE make sure you have people to share it with, I wouldn't want you to need counseling too 🙂