Peppermint is a classic Christmas Candy, shaped like candy canes and round mints that have an irresistible cool taste.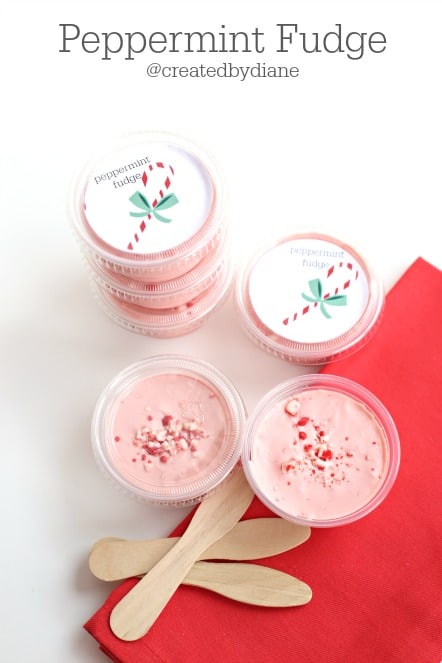 This fudge turned out such a pretty pink color,
and the minty goodness is obvious as soon as you take the lid off one of these cuties.
The individual sized fudge is perfect for gift giving, parties or while watching your favorite Christmas Movie.
Do you have a favorite Christmas movie?
I like so many of them, the older cartoons are so fun to watch again and again. Wow have things changed in TV land since claymation cartoons,like Rudolph and Santa Claus is coming to town. but they are still wonderful.
There are so many Christmas and Christmas time, wintery movies out now, The Polar Express and Narnia and I know there was a penguin movie a few years back that makes me think of winter….not sure it was Christmasy but it goes along with the COLD weather. Happy Feet, that's the one. Some I've seen and well, some I've fallen asleep watching. My kids are older now, so I have heard the song but never seen Frozen…by the title I think it's wintery….right?!?
Tell me what I shouldn't miss seeing while I sit all wrapped up eating fudge…..
I have still yet to see some of the real classics and although they are on TV over and over at the Holidays there are some I have never seen from beginning to end. I guess they seem to long to me. Maybe because I seem to always be in a hurry, especially this time of year.
Well, I think that is going to change.
I am going to simplify a little, like this fudge.
Peppermint Fudge
Ingredients
2 cups (12 oz ) white chocolate
1 14 oz can sweetened condensed milk
1 cup peppermint chips (I used Andies Peppermint Crunch Baking Chips)
2 teaspoons peppermint extract
7oz marshmallow cream
Instructions
In medium saucepan
pour sweetened condensed milk and add in white chocolate chips
heat on medium until candy if fully melted
remove from heat
add in peppermint chips and peppermint extract
stir in marshmallow cream until it's smooth and creamy
pour into individual 2 oz cups like I did or in a parchment lined 8x8 pan
put in refrigerator until cold an set firm
It's so easy, you can whip up a batch and have it chilling before you know it.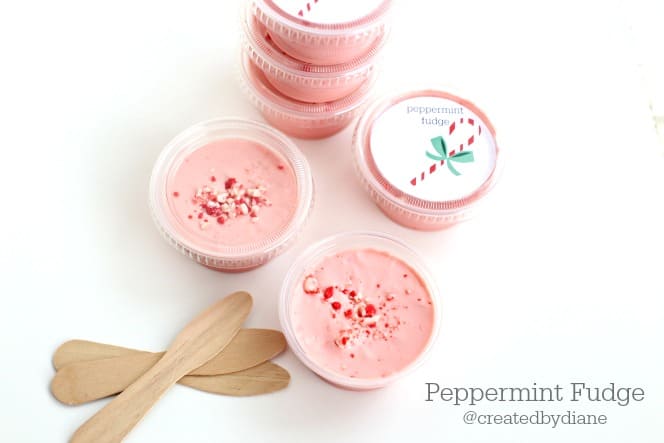 Here is the printout I used to make the labels.
Peppermint Fudge Labels, you can print them full size or at 80% for smaller labels