Eggnog isn't just for drinking, it's makes delicious baked goods too. When it's cold outside there will be nothing like a piece of warm bread Eggnog Bread Pudding to warm your heart!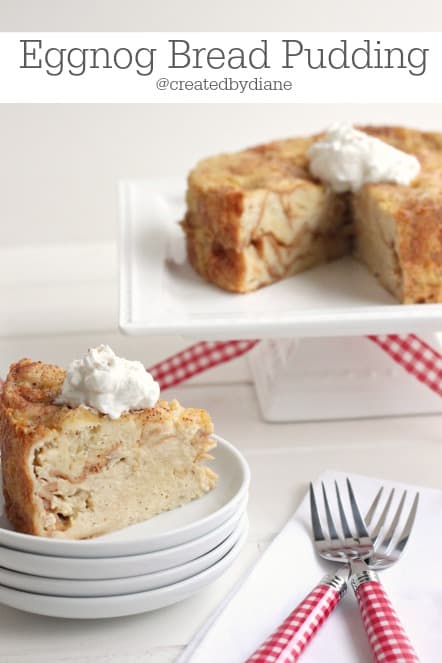 This time of year always reminds me of eggnog,
I think it was the first thing I learned to make when I was a kid.
I loved the hand held beater!
That was one of the best parts about getting to make things in the kitchen.
That and licking the beaters to chocolate batter.
I am all about warm and cozy desserts this time of year,
and this bread pudding has me thinking it could be snowing outside and I'm sitting by the fire place enjoying it, on the first bite!
But really it is cold here…. it's in the 40's now, that may not be cold for most. But apparently my blood has thinned so much, that as soon as we hit 50 degrees, I think it's freezing. And I don't really own a winter coat.
You should see me right now, I'm all bundled up writing this. I have a fuzzy zip up hoodie on and the hood is ON!
Pathetic, yes.
But I am enjoying a slice of this, so I'm beginning to warm up!
[rss-cut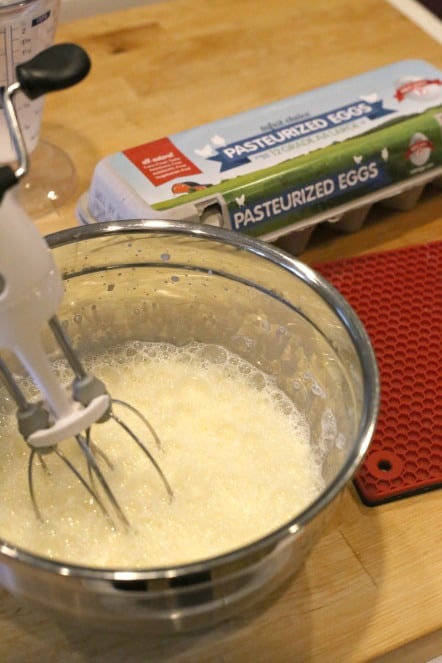 You can make this with rum or without, your preference. If you don't use rum, but want the taste rum offers, using rum extract will help.
Beat the eggs, rum, vanilla, milk, cream and sugar.
Then add in the cinnamon and nutmeg.
Pour this mixture over the the bread.
You can use any bread you like, I love croissants in bread pudding. It gives an extra buttery taste.
But the best thing about bread pudding is you can use up all your leftover bread! So use what you have. I always seem to have 4 bags of random bread items lying around, and those would be good too.
I baked this in a nonstick round pan that has a removable bottom, so it was easy to remove it from the pan. You don't have to remove it, you can bake it in a casserole dish and just scoop it out if you prefer.
A springform pan will work too. So will individual dishes.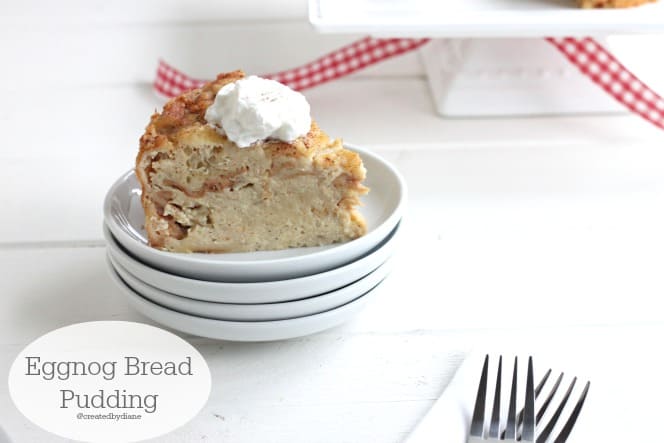 Eggnog Bread Pudding
Ingredients
6 croissants (about 7 cups) cut into cubes
5 Davidson's Safest Choice Eggs
1/2 cup rum (if you don't want to use alcohol substitute 1-2 teaspoon rum extract)
1 cup heavy cream
1 cup milk
2 tablespoons sugar
1 teaspoon vanilla extract
1 teaspoon nutmeg
1/4 teaspoon cinnamon
Instructions
Place bread into baking pan (I used a 7cinch round pan with removable bottom) 8 inch square pan or loaf pan will work well too.
In large bowl mix eggs, rum, cream, and milk along with nutmeg and cinnamon with an egg beater until it's well blended
Pour mixture over the bread and allow it to soak in for 15 minutes
Bake at 325 degrees for 30-35 minutes
Notes
Whip 1 cup heavy cream in mixer bowl with 1/8 teaspoon nutmeg and 1/4 teaspoon rum extract for topping.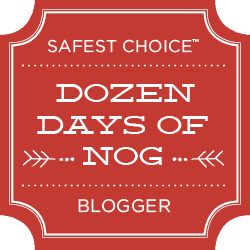 Safest Choice is celebrating this time of year with the Dozen Days Of Nog and oh how yummy it will be!
I have a couple other eggnog recipes planned to share with you too!
There will be lots of chatter going on over at the Dozen Days of Nog about baking, recipes, holiday prep and more, so stop on by and get your NOG on!
Click on the red Dozen Days of Nog badge above or click HERE and don't miss all the fun. The Dozen Days of Nog is running Dec 13-24, but it looks like everyone is already gearing up over there, so join the party!
If you have a great Eggnog item you can't wait to make this time of year, I'd love to hear about it. Leave me the info in the comments!
I'm sure everyone will love to see it too.
Safest Choice Eggs are pasteurized, making them safe to eat saw, these are a must in cookie dough….after all it is cookie season.
They pasteurize their eggs in a warm water bath, that doesn't change the nutrition or taste of the eggs.
So let the celebrating of #SafeNog begin or we can wait until the 13 for the official beginning, apparently I anticipating needed more nog in my life that the 12 days!
When I was over at Safest Choice's Facebook Page I noticed a COUPON too, so be sure to stop by and print out your coupon also.
I'm partnering with Davidson's Safest Choice Eggs to bring you this post. All opinions are my own.