Strawberry Chocolate Chip Bread Pudding, bite sized and perfect to snack on.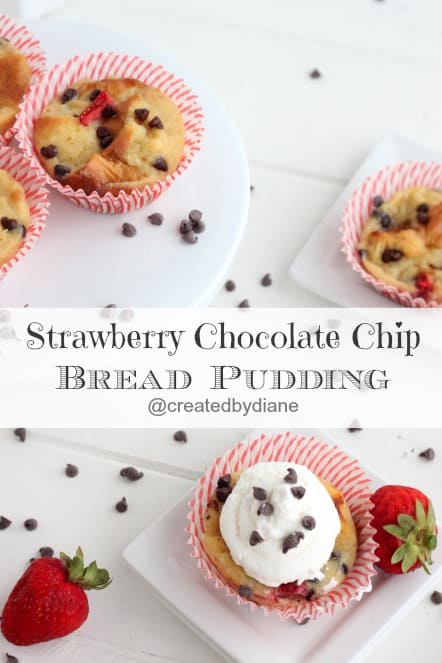 If you think chocolate covered strawberries are good,
just wait until you get a load of this Strawberry Chocolate Chip Bread Pudding,
it's warm and delicious and reminds me of chocolate covered strawberries, but different all at the same time.
It's  easy to make and great when you have extra strawberries!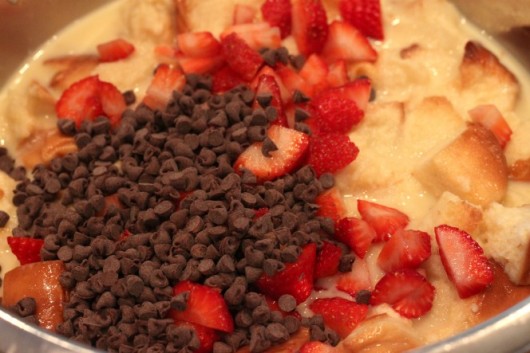 This only take minutes to mix up.
I used a dozen soft dinner rolls,
I toasted them in the oven for a few minutes after I cut them into pieces, otherwise the bread would break apart and the finished dessert wouldn't have such great texture.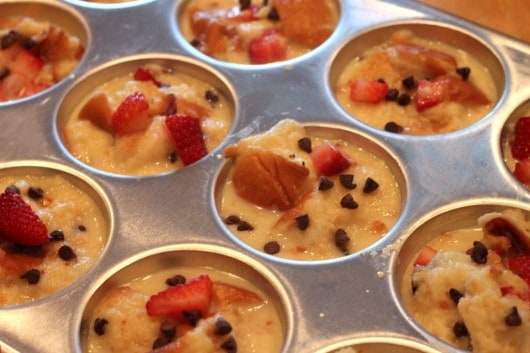 Pile the batter in a prepared cupcake pan, and if you want to be sure to have lots of strawberries and chocolate chips on top, mix 3/4 of the amount int eh recipe and top with remaining strawberries and chocolate chips after filling the cups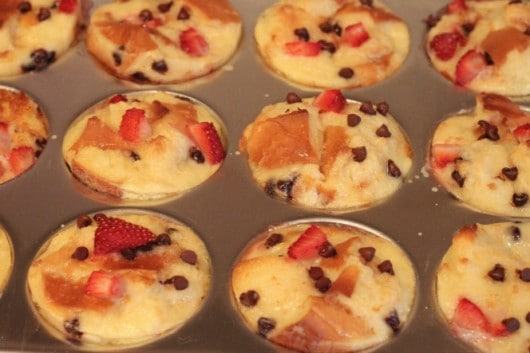 They bake up nicely. Let them cool 5 minutes then remove them with a plastic spatula.
Serve warm and add some whipped cream. if you'd like. I did!
I placed them in cupcake liners to serve.
These are great for weekend breakfasts or brunches or anytime you'd like a sweet little treat!
Strawberry Chocolate Chip Bread Pudding
Ingredients
8 cups bread (I used 12 kings hawaiian rolls)
3 cups whole milk
4 eggs
1 teaspoon vanilla
3 tablespoons melted butter
1 cup sugar
1 cup strawberries (diced) measured after dicing
3/4 cup mini chocolate chips
Instructions
prepare a cupcake pan with baking spray
In large bowl, cut rolls into 1 inch squares and toast them in a 350 degree oven for a 3-5 minutes until they are nicely toasted
In medium bowl combine milk, eggs, vanilla, butter, sugar. whisk until mixture is well blended.
Stir in strawberries and chocolate chips
place 3 tabespoons of batter into each compartment of the pan
Bake at 350 for 30 minutes
Allow to cool in pan 5 minutes.
Serve warm with whipped cream