These zucchini cakes will have you eating your veggies and you won't ever complain about it! This recipe is so simple and delicious, and leftovers reheat well too. So grab all your zucchini and let's get cooking! Also known as zucchini fritters or zucchini patties. Whatever you call them, they are so tasty. I top mine with sour cream!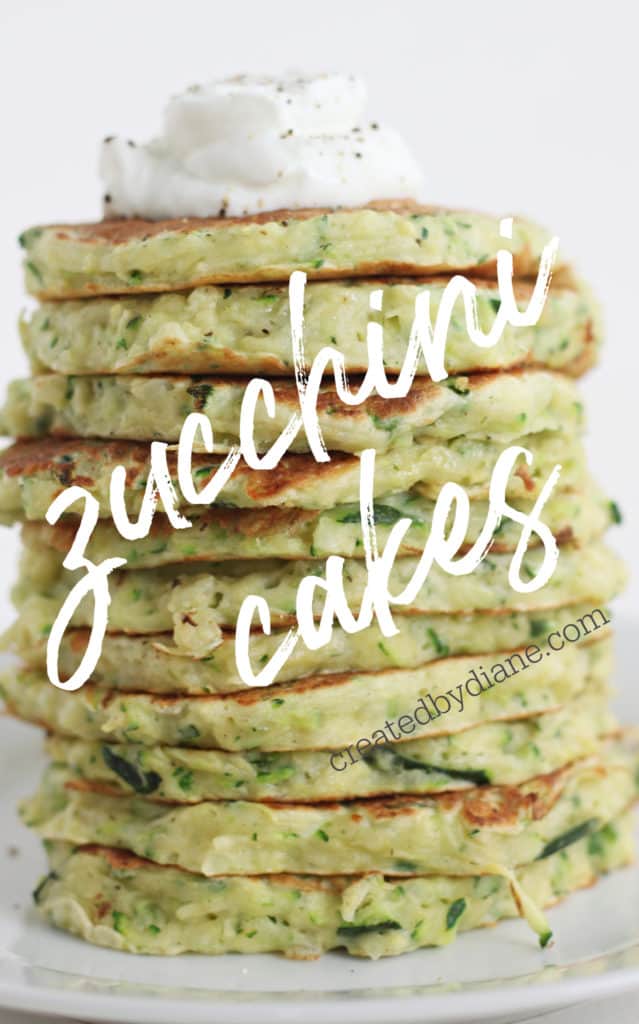 This recipe is for all the zucchini lovers out there, or better yet…  this recipe is great for people who have zucchini overflowing their gardens and have made all the zucchini bread they can handle.
This recipe is perfect for the person who doesn't even like zucchini. Really, I have one of those in my house and this was a huge hit for them. I think I jumped up and down in the kitchen for a full minute. YEAH!!! I finally convinced another one to move over to the ZUCCHINI side!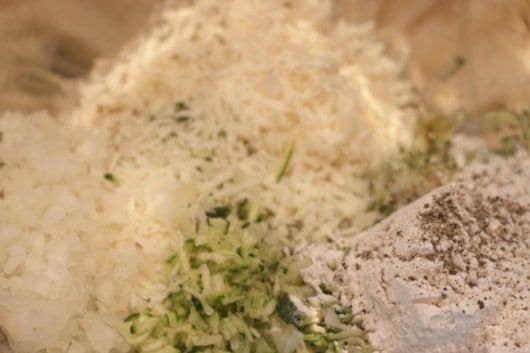 Grate up the zucchini and place it in cheese cloth and twist or a fine strainer and press down with the back of a large spoon to remove excess liquid. Get as much out as you can for crispier zucchini cakes.
In a medium bowl add zucchini, flour, baking powder, onion, cheese and salt and pepper.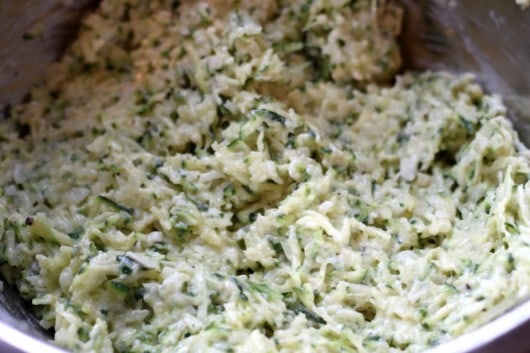 The batter should be slightly thick, it will spread as it's heated.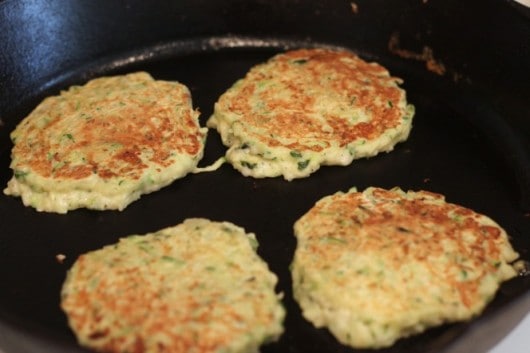 Once the edges firm up they are ready to flip over and cook on the other side.
These can be pan baked zucchini fritters, just place the batter onto a grease or parchment-lined baking sheet and flatten them slightly so they are all the same thickness, like pancake shapes, and bake them at 375° for 5 minutes, then flip them over with a spatula…after 1 more minute, test to see the internal temperature is 165° the centers will then be firm and cooked through.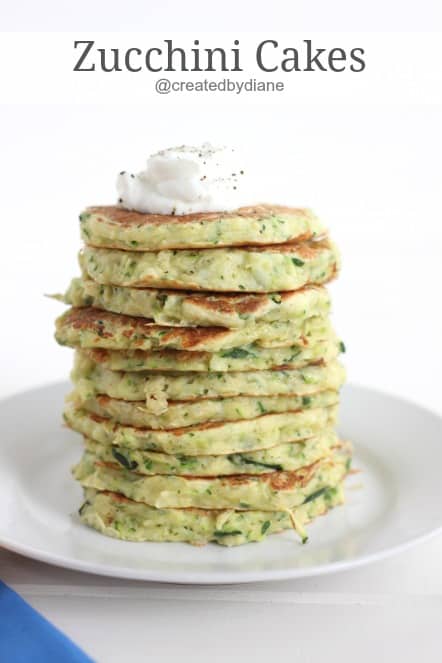 Zucchini Cakes
Ingredients
4 small-medium (zucchini) about 3-4 cups
3/4 cup flour
1 teaspoon baking powder
1/2 cup onion (diced)
1/2 cup grated Romano Cheese (or Parmesan)
1 egg
1/2 teaspoon salt
1/8 teaspoon black pepper
Instructions
Grate zucchini (fine), then squeeze out excess liquid from zucchini either in cheese cloth or strainer. Until no liquid comes out of zucchini.
In medium bowl mix zucchini, flour, baking powder, onion, cheese and salt and pepper.
Mix one egg in small bowl and stir it into the mixture.
The batter should be thick. If you didn't get enough liquid out of zucchini you may need a couple more tablespoons flour, add that accordingly.
Heat skillet to medium, to medium-high and place 2 tablespoons of batter on greased heated skillet and cook like you do pancakes. Until edges are firm, then flip them over and cook on other side until they are firm and fully cooked. About 2 minutes per side.
Serve with sour cream, greek yogurt, syrup, jam, or applesauce.
Notes
You can add in a tablespoon at a time of milk if needed to make the batter smooth enough to flatten.
*note I've updated the recipe to add an egg. I made the recipe a few times with no egg and grated the zucchini fine, then I recently made the recipe and the zucchini must have been much dryer than the previous times, so to have the mixture stick together I added and egg and they were perfect.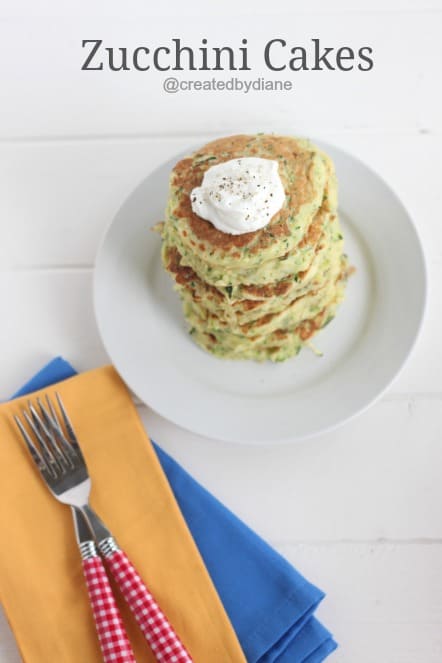 I topped my zucchini cakes with Plain Greek Yogurt, they are very tasty with sour cream, jam, apple sauce or syrup.
If you like zucchini, this Zucchini Pizza is great too.