Cute and Easy Chocolate Peanut Butter Cookie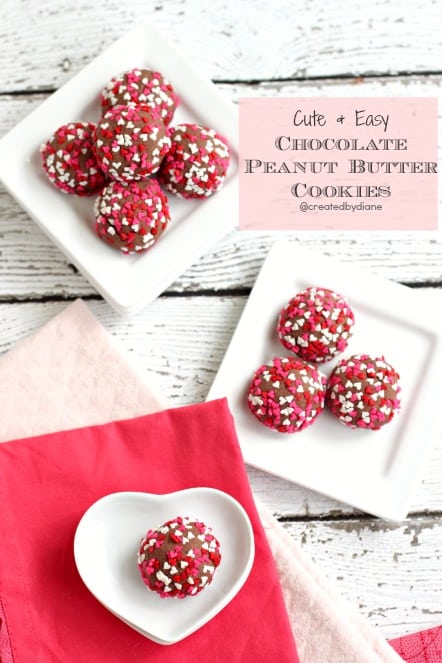 I'm gearing up for Valentine's Day with this EASY cookie,
really these are the type that are in the oven before you know it and well, you'll be glad this makes a lot.
They will be devoured!
Because,
they are chocolate and peanut butter and well when those two get together…
no one can seem to resist them!
Ok, I CAN'T resist them!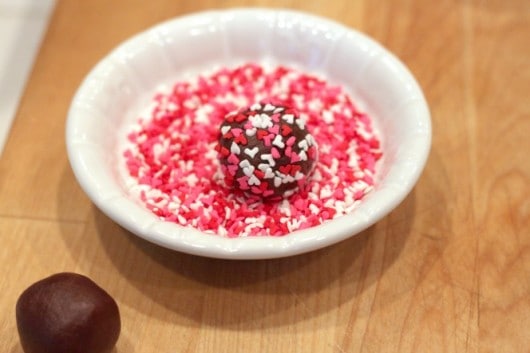 Once you have your dough made, scoop the dough into tablespoon size portions and roll them into balls.
Pour your sprinkles into a dish, any type will be pretty. i used tiny heart in red pink and white for Valentine's Day, but really if you'd like easy and delicious cookies for another occasion, use coordinating sprinkle.
Roll each cookie into the sprinkles and then place the cookies on parchment lined baking sheets.
This will make about 6 dozen cookies.
Which is great in so many ways. You can wrap them all cute and give some as gifts, they are super-cute!
They are bite sized and well, that makes them perfect for enjoying anytime, no crumbs means no evidence….
Who me, I wouldn't eat all the cookies and not share!
You will find my printable Chocolate Peanut Butter Cookie Recipe Here, so if you'd like to roll the dough out and use a cookie cutter on them, that will work too.
This is just a super easy and quick way to make cute cookies.
Some days it's all about EASY!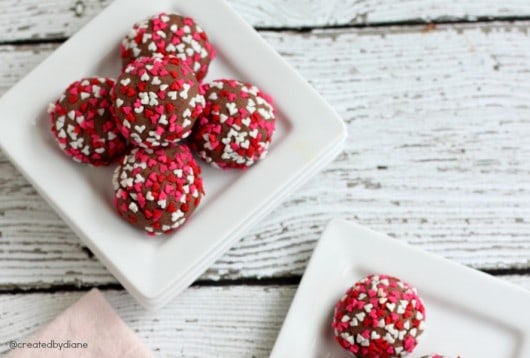 I have a few more Valentine's ideas in the works and look forward to sharing them with you.
Don't forget to sign up for email updates it's the easiest way to make sure you don't miss one recipe.