If eating the cookie dough out of the bowl has always been a favorite of yours, you will LOVE these Chocolate Chip Cookie Dough Cones.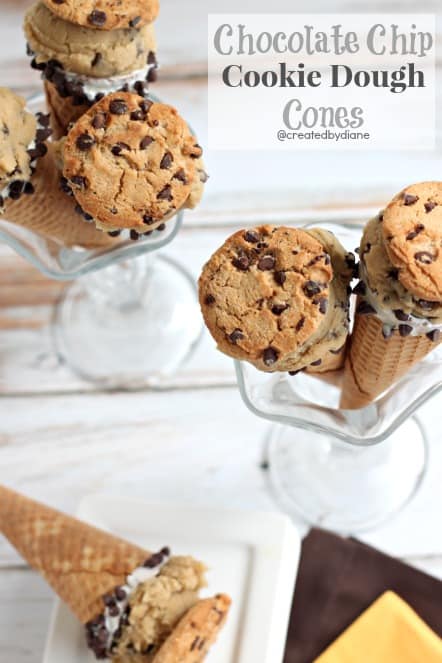 These are an easy no bake treat that you can whip up in minutes.
I dipped the cones in melted white chocolate then rolled the edges in mini chocolate chips,
then came the cookie dough….it's super-delicious as you would expect
then these cones are topped off with chocolate chip cookies. I used purchased cookies for this part, you could bake a batch or just top the cookie dough with a big chocolate chip, it's all good here, the more chips the merrier.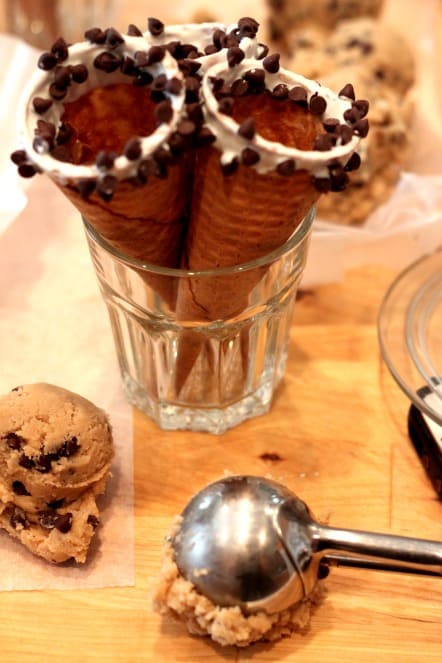 I portioned out two tablespoons of the cookie dough for each cone.
Once the white chocolate and mini chips dried on the cones, I filled each one with the scoop of cookie dough, then I pressed the cookie on top to press the cookie dough into the cones.
If you need to transport these, turn them upside down so the cookie is on the tray/box so they don't fall into each other.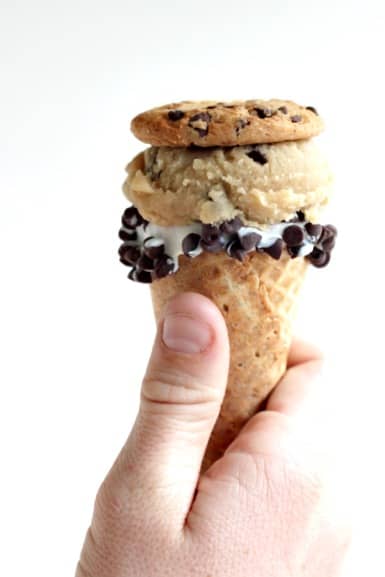 My kids couldn't wait to dig into these, but as we all know it's hard for anyone to resist cookie dough and they were enjoyed by adults equally.
This recipe is easy to double or triple to make larger quantities.
It's a perfect treat in the winter because it won't make you COLDER, it's great in the summer, because it won't melt. Let's face it, these are just good ANYTIME!

Chocolate Chip Cookie Dough Cones
Serves:
8 two tablespoon servings
Ingredients
1/2 cup butter
3/4 cup brown sugar
1 teaspoon vanilla extract
1 cup flour
2 tablespoons milk
1/3 cup mini chocolate chips + 1/4 cup mini chocolate chips for cones
8 sugar cones
1/2 cup white chocolate
8 chips ahoy cookies
Instructions
Melt white chocolate and dip cones, then roll them in mini chocolate chips and allow to dry before filling.
Beat butter with brown sugar until fluffy.
Add in vanilla, flour and milk and mix on medium until completely combined.
Stir in chocolate chips.
Scoop two tablespoons of cookie dough and place it onto of the cones and press down lightly.
Add a chocolate chip cookie on top and press down the cookie dough evenly.