Italian Turkey Mushroom Orzo Soup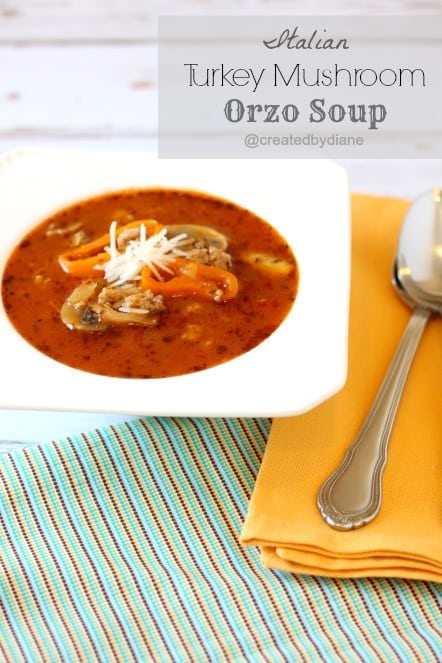 Before I know it the weather will be cooling off and it'll be time to grab a jacket as soon as the sun goes under.
This is a quick and easy meal that is ready within 30 minutes. Tell me…
you like that as much as I do, right?
Weeknights are getting busier and busier, and dinner needs to get on the table faster!
We've been eating a lot more ground turkey lately and this was a great recipe for ground turkey.
If you are hooked on ground beef, by all means, you can use it in this dish and it will be delicious too.
I remember eating lots and lots of soups when I was young. Soup has always been a favorite of mine.
I'm glad my family likes it. They are typically easy to make and in a short time, you have a hearty hot meal on the table.
This is one of those meals!
Soup is comfort food at its best if you ask me.
Some days soup seems to be the fixer.
It'll fix a bad mood on a busy night,
it'll get you all to sit at the table and enjoy a meal together.
It's a family fixer…yep they should market soup that way.
You don't see people standing up and hurrying out the door with a bowl of soup now, do you?
Ok, now that I fixed family dinner time, what else can I do?…
(listening)
……………..
ok, I guess it's time for the recipe.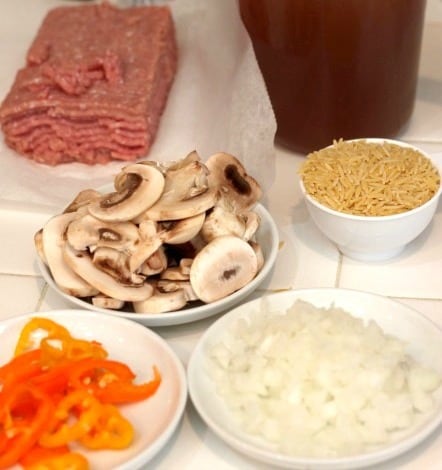 Get everything ready before you begin.
A huge time saver when making soup is having the stock hot.
Before you start cutting the vegetables heat the stock in a pot on the stove. This saves time rather than trying to WAIT for the liquid to boil later when you want the pasta to cook.
Really there is NOTHING worse than waiting for things to come to a boil. Is there? It always seems to take forever when you need it in a hurry.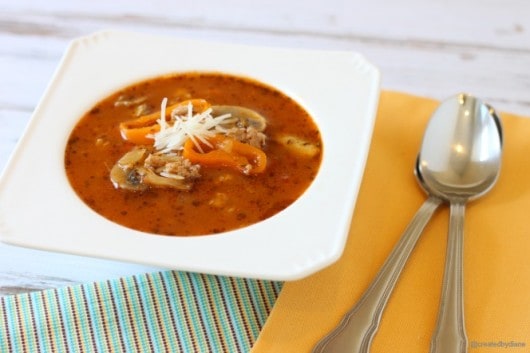 Dinner in under 30 minutes, YIPPEE!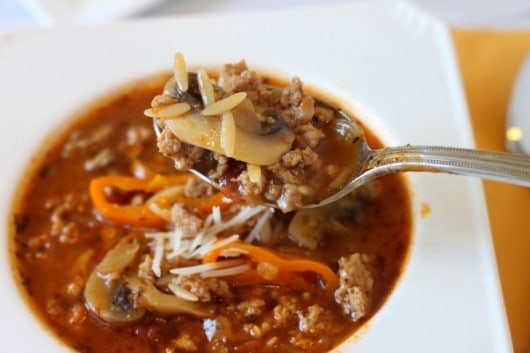 This is a hearty soup. I just love the mushrooms, peppers, and onions It's all fresh and delicious.
Italian Turkey Mushroom Orzo Soup
Ingredients
1 pound ground turkey
1/2 cup diced onion
1/4 cup sliced peppers
1 cup sliced mushrooms
4 cups chicken stock
1/2 cup orzo pasta
2 tablespoons fresh lemon juice
1 teaspoon oregano
1 teaspoon basil
pinch of rosemary
1/2 teaspoon garlic powder or 2 cloves minced garlic
1/2 cup tomato sauce
pinch of crushed red pepper if you like things a little spicy
Grated Romano Cheese for serving
Instructions
In small pot heat chicken stock until it comes to a boil.
In a large saucepan, brown ground turkey with onion.
Add peppers and mushrooms and stir.
Then add lemon juice, oregano, basil, rosemary, and garlic.
Pour in hot chicken stock.
Add orzo and stir.
Cook 8-9 minutes until pasta is tender.
Stir in tomato sauce. Add crushed red pepper now if you are adding it.
Add grated Romano cheese on top of each bowl of soup.