Mexican Rice with Elote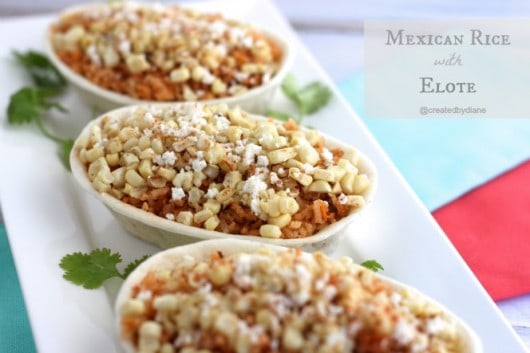 Elote, what a fun name. I would hear people say it and wondered what it meant.
It means Mexican Corn, typically the type you see at fairs or on the streets from a vendor.
Sometimes it's on a stick, and other times you grab it by the husk and start eating.
I love corn on the cob. Always have, I grew up with a large garden and Sweet Corn was one of my favorites. Although I wasn't much help in the tending of the garden part, I made up for it when it came to clearing off my plate of all the corn on the cob. Whether it was piping hot and practically burning my fingers and looking around for those tiny holders to stick in the ends of the corn or ice cold out of the fridge the next day for breakfast. I just loved corn.
Since there is an abundance of Mexican Food in Southern California, I'd find corn on the cob at fairs, swap meets and just walking down the boardwalk and delight in the fact that I could get corn on the cob. I saw people putting some pretty interesting stuff on their corn and wasn't sure what some of it was. To my surprise they were putting mayonaise on their corn on the cob. Ok to be honest, I don't love mayonaise, so I'm not going to be putting it on my corn anytime soon. Me, I'm a butter girl though and though. Corn on the cob, popcorn, corn muffin, yep butter tops them all very nicely for me.
I make roasted corn often. I also cut the corn off the cob, for easy eating.
I love roasted corn with lime, Cotija Cheese, Cayenne pepper and even chili powder on it.
Old El Paso came out with these fun flour tortilla bowls and asked me to fill it up with something…
Well, all I could think of is Elote.
I made some Mexican Rice using Old El Paso Roasted Tomato Mexican Cooking Sauce and topped it with Elote, it's delicious.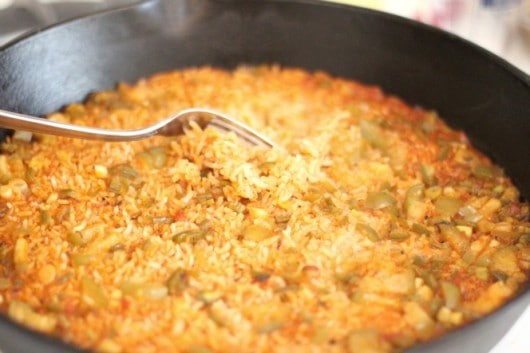 Mexican Rice with Elote
Ingredients
Mexican Rice
1 cup rice
1 3/4 cup water
1/2 cup Old El Paso Roasted Tomato Mexican Cooking Sauce
1 tomatillo, diced
1 jalapeño, seeded and diced
2 scallions, diced
Elote (Mexican Corn)
2 ears corn on cob
1/4 oz crumbled Cotija Cheese
1 tablespoon butter
cayenne pepper to taste
6 Old El Paso Stand and Stuff Tortilla Bowls
Instructions
Heat a tablespoon of oil in a hot skillet and sauté the dry rice.
Stir in the diced jalapeño, tomatillo and scallions stir until tender.
Next, add the water and tomato sauce, turn the temperature to low and cook until rice is tender.
In separate skillet heat butter, add corn that has been cut off the cob. Cook until golden.
Heat tortilla bowl as directed on package, add Mexican Rice and top with corn, cheese, and cayenne pepper.
Add lime on top for a tangy kick.
Serve chicken, beef, fish or shrimp on top of the tortilla bowls or place the filled tortilla bowls alongside your main dish.
I was compensated for this post, all opinions are my own.