Salmon Risotto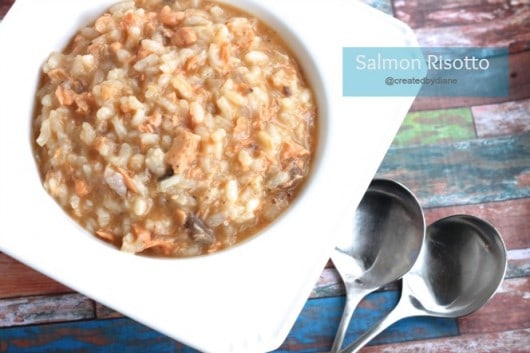 For the Salmon Lovers!
Do you love Salmon? How about your family?
It always seems to be a hit with mine.
I  bought a can of Salmon thinking it would be great to have on hand and my intention was to make a Salmon Mac and Cheese for them the next time I was going to be out of the  house for dinner.
If I'm gone, chances are Mac and Cheese is a good idea, it ensures they will eat dinner and not just snack on cookies and popcorn.
Well, I still may make Salmon Mac and Cheese, but I decided on a Salmon Risotto for now.
This was quick and easy and they really loved it.
I only added a little lemon as "someone" is not as big of a lemon fan as I am, I could have added the juice of a whole lemon, but I just topped mine off with a squirt and it was perfect. I was thinking of adding dill, but wasn't sure how well "someone" would like it…so I kept it simple and added a little mustard with was delicious!
I love fish and think I could really eat it everyday. I love how creamy and delicious the risotto turned out and the familiar taste of Salmon was a huge hit with my kids.
The empty bowls were proof!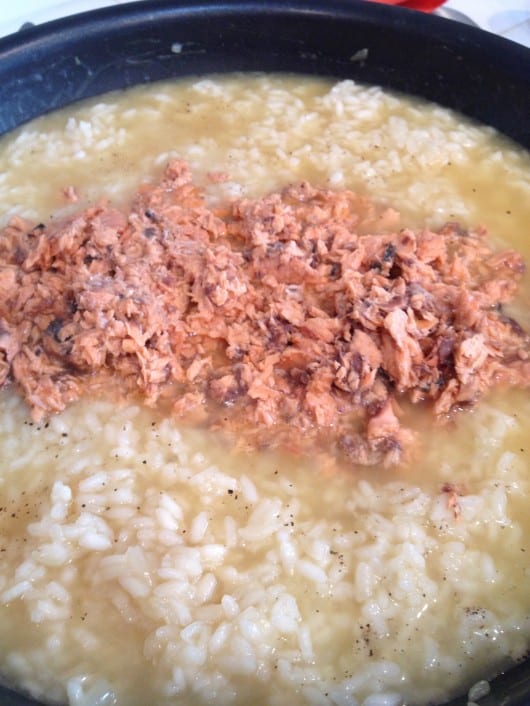 If you have Salmon left over from the previous nights meal, that would be perfect in this too. Or cook up a piece of two and put it into this. The canned salmon worked out well, I did go through it and picked out a few bones, so be sure to check the salmon before adding it into the dish.
Salmon Risotto
Author:
Diane Schmidt @createdbydiane
Ingredients
1 tablespoon butter
1 onion diced
2 cloves garlic minced
1½ cups Arborio Rice
7 cups chicken broth
1 cup white wine
1 tablespoon lemon juice
14 oz cooked salmon (I used Sockeye Wild-caught Canned Salmon)
1 tablespoon brown mustard
Salt and Pepper to taste
Instructions
Heat 7 cups of chicken broth in a pan.
Heat large skillet, add 2 tablespoons butter, onion, garlic, and rice. Heat until onion and garlic are golden.
Add lemon and wine and continue to stir until liquid is absorbed.
For the next 20 minutes or so, ladle in a cup chicken broth and stir until liquid is absorbed. There will be a thick, creamy sauce forming but you don't want to add more liquid until the previous liquid is absorbed.
There is a lot of stirring, but it really is worth it.
When you add the last ladle of broth, add the salmon and cook it in until the broth is absorbed and it's creamy.
Stir in mustard and add salt and pepper to taste.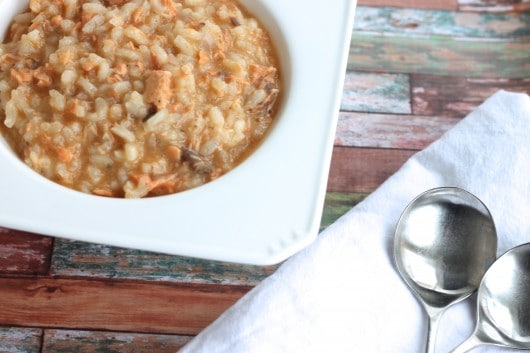 This Salmon Risotto reminds me a bit of a fish stew my mom made when I was a kid.
If you are like me, serve it with LEMON, yep….I'm crazy for lemon!