Thai Peanut Dip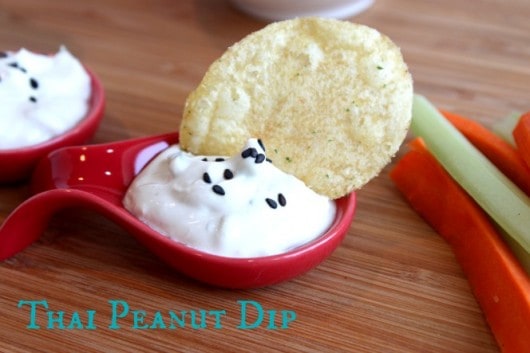 I am a true chip person
I buy bags and bags of chips each week
I think I'll have to join a support group soon.
Everyone at the grocery store thinks I'm alwasy having a party,
sadly no,
they are usually just for me!
Except this day.
This day others where here and the dip was enjoyed by many.
I was so happy.
For once I wasn't leaning over the counter with my hand in a bag of potato chips all by myself.
I put the chips in bowls and had this pretty little dip to go along with them.
I really love dip!
…and peanut butter. Do you?
Well then maybe you'll like this too. You did say yes, didn't you?
Thai Peanut Dip
Ingredients
1 cup sour cream
1/2 teaspoon sesame oil
2 teaspoons soy sauce
2 tablespoons peanut butter
2 scallions diced
black sesame seeds (garnish)
Instructions
Mix sour cream, sesame oil, soy sauce, and peanut butter until well blended and smooth.
Add in diced scallions.
Place in bowl and top with black sesame seeds.
Refrigerate until ready to serve.
I really liked the Spicy Thai Kettle Chips dipped in this, it brought out the ginger taste in them.
I may make it spicier next time with some chili oil.
If you serve this with plain chips you can add some ginger to this and it will be wonderful.
It's also a great dip on veggies too, for all you who don't have a potato chip addiction like I do.