Nutella & Peanut Butter Hand Pies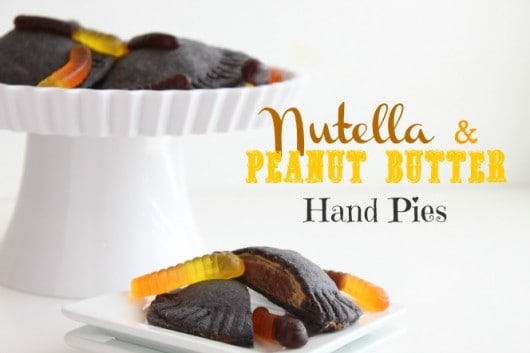 These could possibly replace Reese's Peanut Butter Cups in my house.
With all the chocolaty peanut buttery goodness are wrapped in warm pie crust, well you can see where these could replace the classic candy in the orange wrapper, right?
Halloween usually brings a whole bunch of Reese's Peanut Butter Cups into the house, so I guess if my kids, ok..ok..
If I don't eat them all the minute they come into the house, I should try to save at least one to put into pie crust next time and bake it all up yummy to see which would win….the Reese's or these Nutella &Peanut Butter Hand Pies.
I would have to come up with a snazzier name thought wouldn't I?
But for today we'll go with the thought that you don't buy Reese's Peanut Butter Cups either, because you will eat them ALL too.
They are THAT good,
but you know what else is good….
Nutella.
Yea, it is so creamy and delicious that partnering it with peanut butter in pie crust seems pretty wonderful.
Yes WONDERFUL.
I made these all full of wonderful Nuttella
and if you were wondering Skippy Peanut Butter, it's smooth and creamy and well yes I eat that off a spoon sometimes, ok..ok all the time!
Bake to the hand pies..
I'm not telling how many of these I ate, but luckily I saved a few to get a couple photos of them.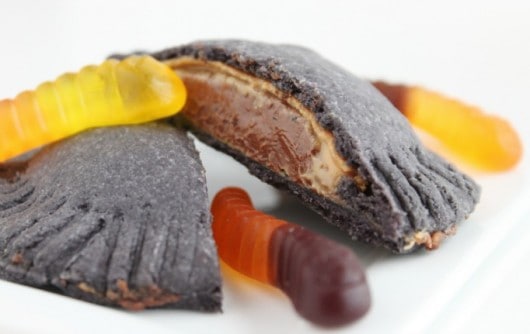 Nutella & Peanut Butter Hand Pies
Ingredients
2 cups flour
½ teaspoon salt
⅔ cup shortening
5-6 tablespoons COLD water
1 teaspoon vanilla extract
1/4 teaspoon black food coloring (Americolor)
1 cup Nutella
1/2 cup Peanut Butter
Instructions
Place flour and salt into a bowl and cut in shortening with pastry cutter until it all resembles coarse crumbs.
Mix water with coloring and vanilla and add it to the flour mixture.
Blend until smooth, then roll out on floured surface and cut with 3inch round cookie cutter.
Roll the dough as thin as you can, if you'd like it rolled thinner, cut the circles with the cookie cutter and re-roll each one and then re trim the excess, by re cutting each one with the cookie cutter again.
Spread a thin layer of peanut butter on each round of dough (about 1 teaspoon)
Then add on top of the peanut butter (about 2 teaspoon peanut butter)
Yes each dough round get filling and then you sandwich them together so there is essentially two portions of filling in each hand pie.
Add a small amount of water on your finger to the edges of the pie crust to seal them together.
Press the edges of the two pie crusts together with a fork.
Bake at 375 degrees for 15 minutes or until the pie crust is fully cooked and filling is heated through.
garnish with gummy worms, if you add the gummy worms to the tops of the hand pies when they are warm, they will melt a bit and stick to the hand pies. which I think look really cute.
Notes
I did try these with peanut butter and chocolate chips, but the chips didn't melt enough, so if you think chocolate chips would be a good substitution, well you may want to think again because Nutella-Chocolate Hazelnut Spread is the way to go.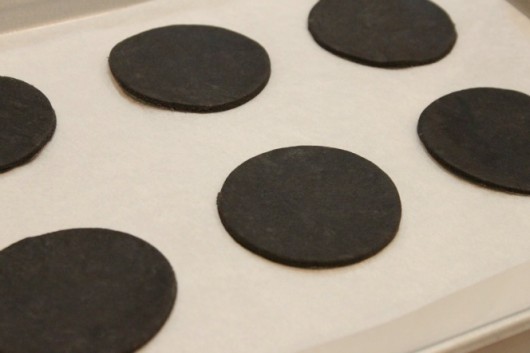 If the pie dough isn't as thin as you like it after you cut it into the round shape, roll it again to a bigger round shape and re cut it smaller with the cookie cutter, sometimes it's easier to roll it thinner when working on a smaller piece.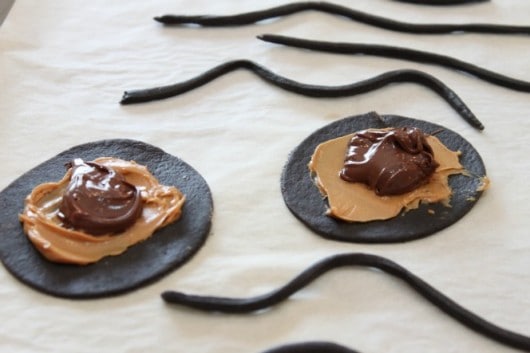 Then pile on the yummy filling and it's ok to sample the Nutella and Peanut Butter just to be sure you like it, but make sure you save enough for the hand pies. So maybe don't eat it by the spoonful until you're done filling them.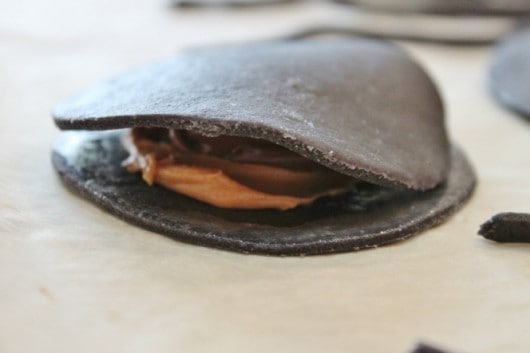 Press the pie rounds together with filling on both sides so there is peanut butter on top and bottom of the Nutella, trust me you will LOVE it!
And what are those thin pieces of pie crust….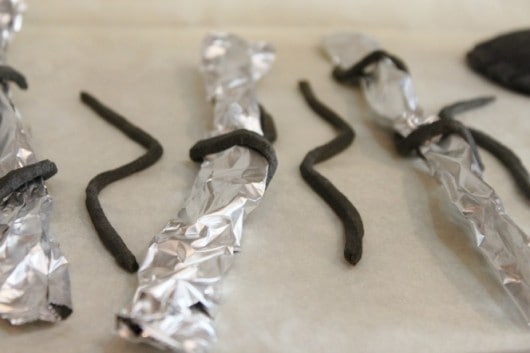 well they are worms of course. You see there is a song that gets stuck in my head at this time every year, and when I saw Halloween Gummy Worms I thought of the Hearse Song instantly!
If you don't have gummy worms and want to make some yourself, this is an easy way to do it.
I squiggles some on the parchment lined baking sheet and others I wrapped around some pieces of tin foil, then unwrapped them carefully after they were baked and cooled.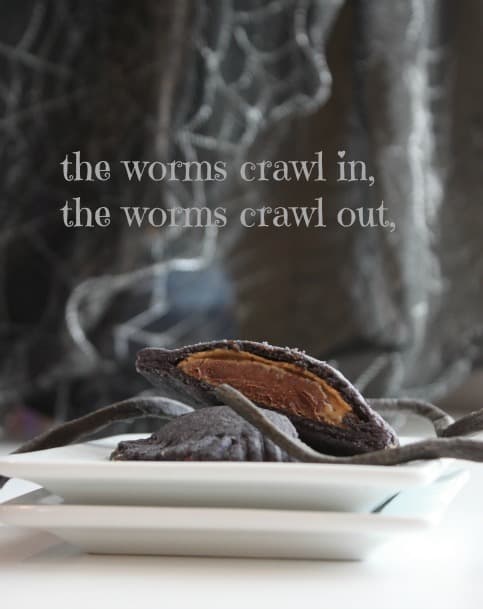 I'm not sure when I heard that song first, but I do recall it being on an episode of 90210 and I used to sing it to my kids when there really young, I skipped over the creepy parts and just hummed. I think it was the melody that I remember most, but every Halloween I seem to get that song stuck in my head. Do you know the Hearse Song?
The worms crawl in, the worms crawl out"
Yes creepy, but it is Halloween after all so it seemed like the day to share the creepiness with you. Here is the video to the version I mentioned and about 4 sections down on this list are the lyrics in case you want to start singing the creepy song too. I can't seem to get it out of my head now! Sorry in advance if you can't get the song out of your head all day, but there really is no better day to go around singing a creepy song than Halloween, don't you think?
Whether you go around singing today or not….
HAPPY HALLOWEEN!