scrambled eggs and french fries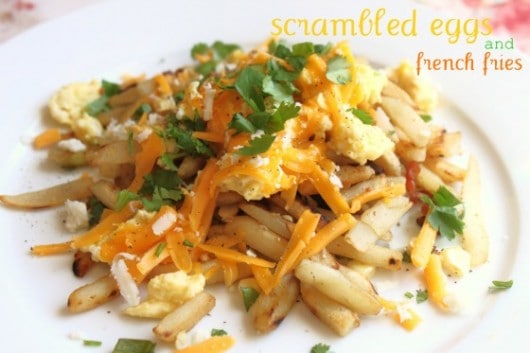 I just love potatoes at breakfast.
Hash browns are always a good thing.
But what about those days, you know the ones where you have no potatoes or hash browns anywhere in site.
You guessed it…use french fries.
I didn't want to heat the oven seeing as it's well over 100 degrees and we've been on conserve energy days so heating up the house for breakfast didn't seem right. After all I may have to make some yummy cookies later! LOL they would warrent heating the kitchen, right?
Here is an easy breakfast or dinner, yep this would make for a very fun BRINNER, (breakfast for dinner)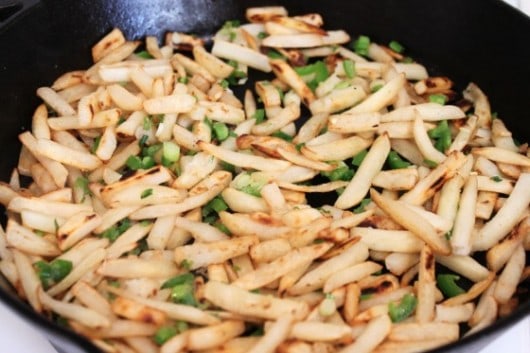 The french fries browned nicely in the cast iron skillet. These were thin french fries, if you use thicker fries, defrost them for a minute in the microwave so they don't take too long cooking.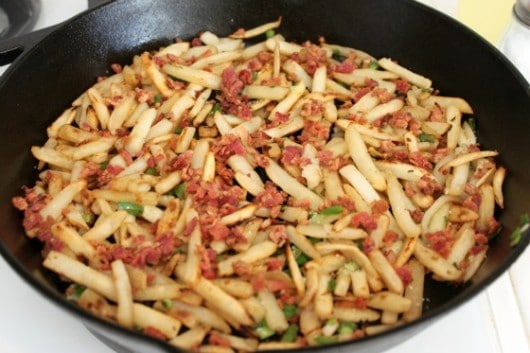 I love having cooked crumbled bacon on hand. It's to convenient  to add to many dishes.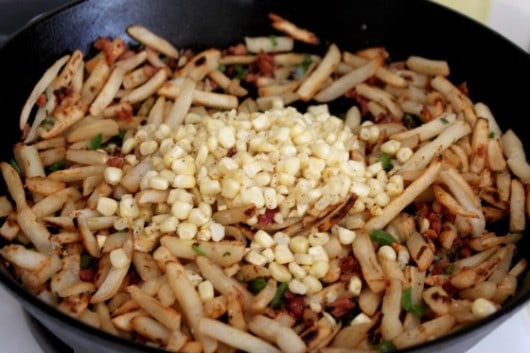 I cut the corn off a fresh ear of corn, frozen corn would work well too.

scrambled eggs and french fries
Ingredients
12 oz (approx) frozen french fries
3 scallions diced
2 jalapenos diced
1 cup corn, (cut corn off cob or use frozen corn)
1/2 cup cooked crumbled bacon
1/4 cup Cheddar cheese
1/8 cup Cotija cheese
1/8 cup chopped cilantro
4 eggs-scrambled
Instructions
Heat cast iron skillet
Place a tablespoon oil into skillet and add french fries
Cook on medium heat.
When the french fries begin to get golden, add scallions and jalapenos.
Add bacon and corn.
when all items are cooked add scrambled eggs, cheeses, and top with chopped cilantro.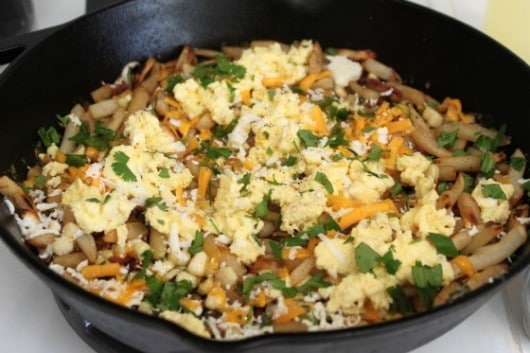 I really should have made more. There wasn't enough for seconds and we were all wanting more. I'm sure this will make it's way onto our dinner table too. It's quick and easy and a great idea for the nights when you walk in the house and realize you didn't plan out dinner. Often that happens with sports running over or meetings at school that seem to occupy our dinner time that we hadn't plan for.