Cilantro Lime Salmon Appetizer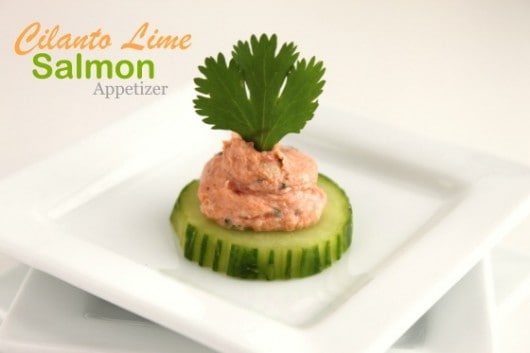 The weather has been so hot I feel like a fish!
Really I hardly want to get out of the pool for anything.
t's been over 100 degrees for over a week and as high as 110.
I did get out of the pool to make these.
But I did spend time in the pool while the salmon was smoking on the grill!
It's way to hot to stand around waiting for the cooking part to finish in this heat.
I just love easy appetizers like this, once the fish was cooked it was only minutes until it was all finished.

I just love the bright color of salmon! This is a piece of cooked salmon that we smoked on our grill to prepare for this recipe.
Cilantro Lime Salmon Appetizer
Ingredients
1/2 pound wild caught salmon
8 oz whipped cream cheese
4 tablespoons diced scallions
2 tablespoons chopped fresh cilantro
1 lime juiced (2 tablespoons)
salt and pepper to taste
*sriracha- 1-2 teaspoons if you like it a little spicy.
Instructions
Cook or smoke fish.
Place fish, cream cheese, scallions, cilantro, lime and salt and pepper in food processor with sriracha if using and blend until smooth.
Serve on cucumber, bread, crackers or bagel.
Keep refrigerated until serving.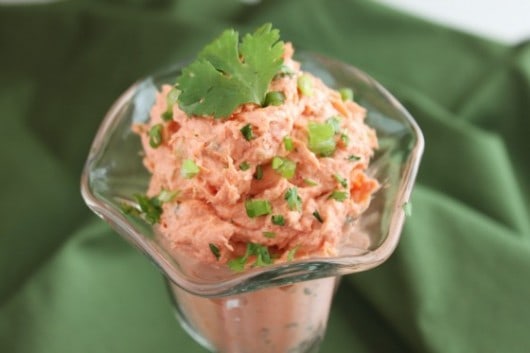 I love that this appetizer can be piped onto cucumbers, placed in a dish for crackers, bread or is even wonderful spread on a bagel in the morning 😉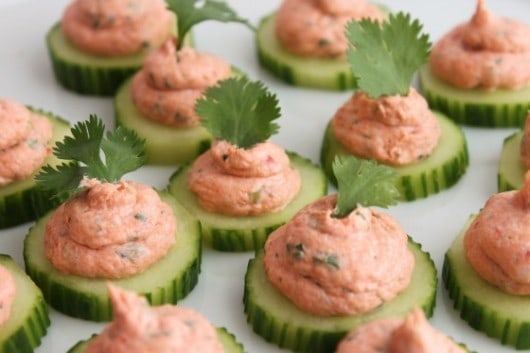 I placed the salmon mixture in a piping bag with an 804 round tip to pipe onto the cucumbers. and topped them with fresh cilantro.
California King Salmon are harvested using "trolling" (fishing one at a time with barb-less hooks). One hook, one fish!  Trolling is more environmentally friendly because fish that are not desirable (too small or the wrong species) can be returned, unharmed.
Salmon is high in Omega 3 fatty acids, low in trans fats, provides vitamin D, contains niacin B12 and B6. It is also a good source of lean protein.