Watermelon Cupcake Carving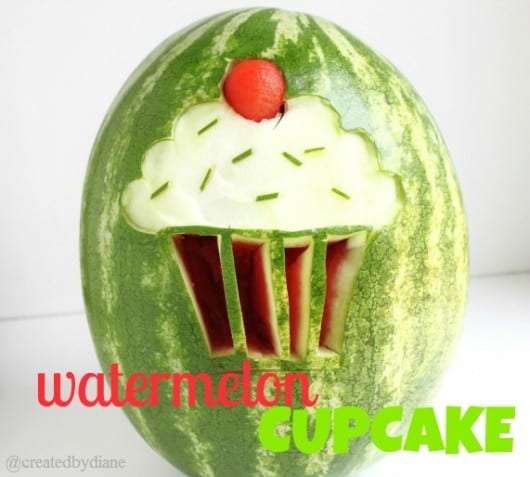 It's been too hot to bake, so I decided to make a watermelon CUPCAKE instead. Who knew it would be so much fun to make a cupcake in 110 degrees! Well I'm sure it was because I didn't have to turn on the oven. I think this would be a great addition to any dessert table, especially if it's filled with cupcakes.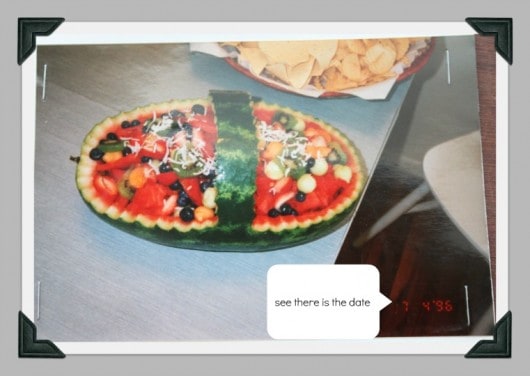 I remember carving my first watermelon before I even looked for the photo the day still stands our vividly in my mind. I remember wanting everything to look and taste great and the first thing I prepared that morning was the watermelon basket. It was 16 years ago for a 4th of July party. This pretty much proves that I've always been a foodie. I've been taking photos of food for years, so funny when I go through old photo albums, most have people and the places they've visited and such. Mine have food in them. This photo is in my recipe box, has been since I had the film developed. Wow that was a while ago, huh? Oh this post is making me laugh!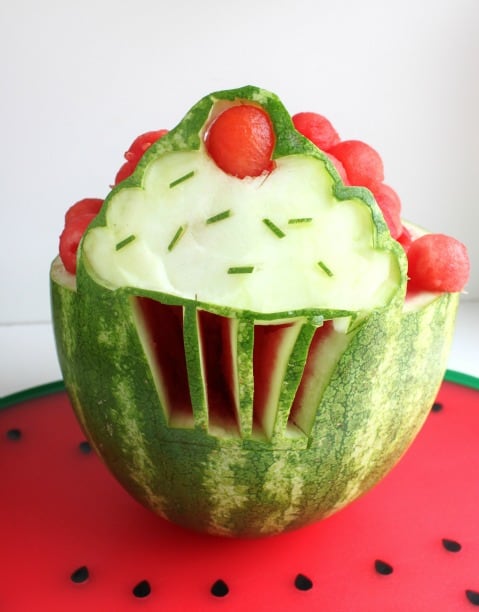 If you are looking for a good way to serve watermelon on a cupcake dessert table maybe this version would work.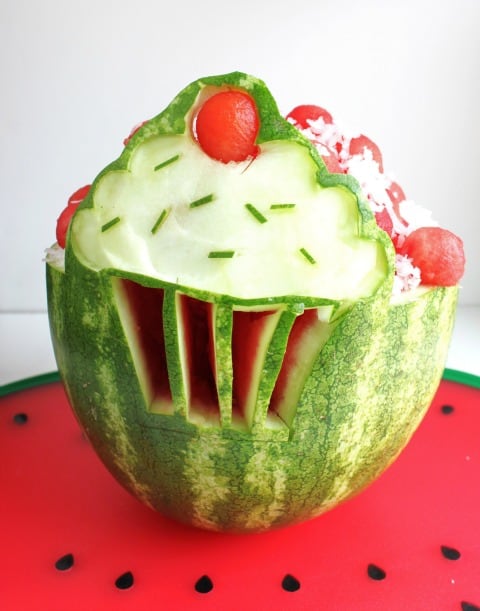 A little-shredded coconut and it's all dressed up for the party!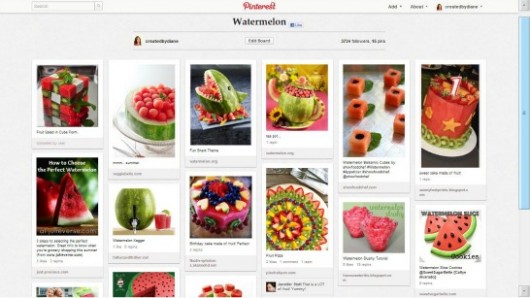 I have a Watermelon Board on Pinterest if you're on there, take a look at some more fun ideas with watermelon!
Pinterest is so great for inspiration! I knew as soon as I saw this pumpkin carving from Dollhouse Bake shoppe, I just had to give it a try on my watermelon.
I'm entering my watermelon in the National Watermelon Contest. I was provided with a gift pack but was not compensated for this post. All opinions are my own, I just happen to love watermelon! Do you like watermelon, go ahead and enter the contest too. Whataboutwatermelon.com has lots of fun watermelon inspiration.Don't forget to tell me if you do, I'd love to see what you make.