Mini Chocolate Filled Cake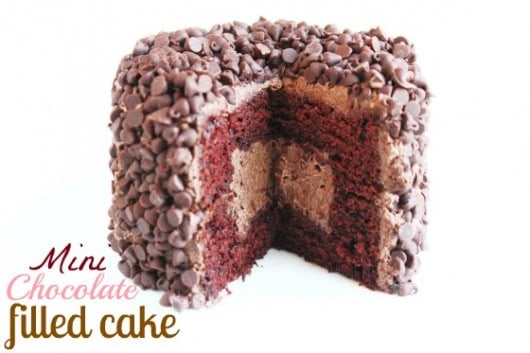 Mini desserts are just the cutest! This cake is no exception. The best part is that it's filled with chocolate whipped cream and mini chocolate chips. I couldn't help myself.
Once I got out the mini chocolate chips, it was all over.
Really it was….and so were they all over this cake.
I thought it was the right thing to do and yep as you can see it worked out PRETTY well.

Mini Chocolate Filled Cake
Ingredients
1 cup unsweetened cocoa
2 cups boiling water
2 3/4 cups sifted flour
2 tsp. baking soda
1/2 tsp. salt
1/2 tsp. baking powder
1 cup butter
2 1/2 cups sugar
4 eggs
1 tsp. vanilla extract
Instructions
Preheat oven 350 degrees
In medium bowl combine cocoa with water mixing with wire whisk until smooth. Cool completely. Sift flour with baking soda, salt, and baking powder.
In large bowl beat on high, butter, sugar, eggs, and vanilla until light about 5 minutes.
On low speed beat in flour mixture and cocoa mixture Do not over beat. Pour about 9 tablespoons of batter into each mini pan and bake 22225-30 minutes.
Let cake cool.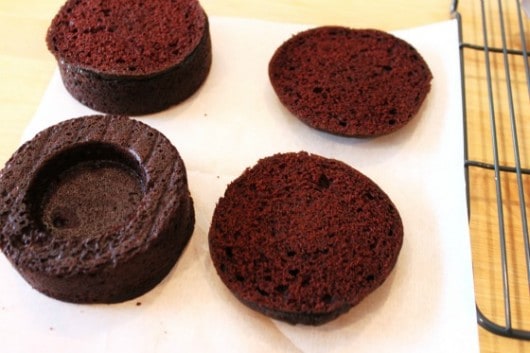 I baked the batter in 2 of Wiltons Tasty-Fill Mini Cake Pans that I received at Campblog Away a few weeks ago and what a cute cake they make. I can easily see me making these cakes again and again. They are great for those times when a big cake is too much.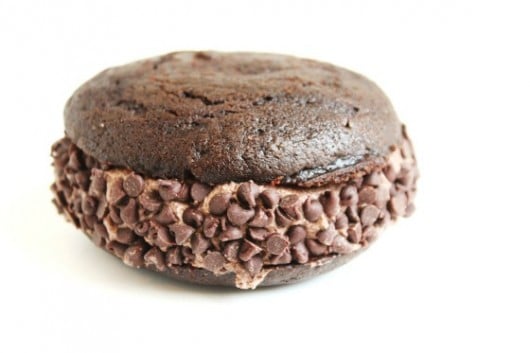 and the bonus is this chocolate cake recipe puffed up high enough that when I leveled each cake and I was lucky to have two muffin top sized pieces…
yes, I made a whoopie pie
See sometimes you really don't need to bake a level cake!
Chocolate Whipped Cream 
1 cup heavy cream
4 tablespoons powdered sugar
1 teaspoon vanilla extract
2 tablespoons dark cocoa powder
1/4 cup melted and slightly cooled dark chocolate
2 tablespoons mini chips
Whip cream, add in sugar, vanilla and cocoa Stir in melted chocolate and mini chips.
* 1 1/2-2 cups mini chocolate chips needed to decorate cake
On completely cooled cakes fill each cavity with chocolate whipped cream and then place two cavities together. Frost outside of cake, then press mini chocolate chips into frosting.
This amount of frosting frosted one mini cake and one whoopie pie. The cake batter made an additional 24 cupcakes. If you don't plan on baking cupcakes at the same time you can freeze the batter for another baking day.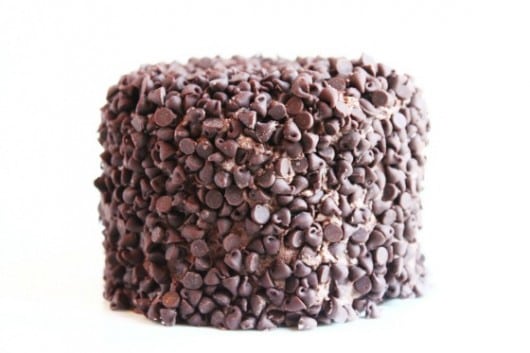 oh my, chocolate heaven!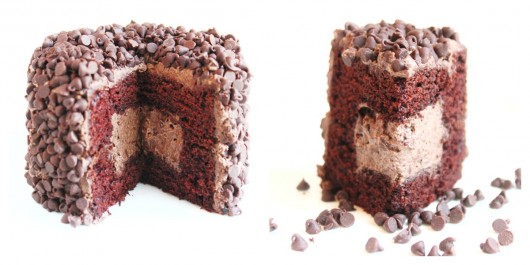 It really is just the cutest cake and I like that 1/4 of the cake is about the size of 2 cupcakes.