Rosette Cookies are light crispy fried cookies that you'll find irresistible You need to use a rosette iron to make them, you can find them at second-hand stores, and antique shops or you can find the cast aluminum irons here.
Although these are called cookies they are more like funnel cake and remind me of snowflakes, oh they are so light and crispy good! Rosette cookies are very common in Scandinavian and German culture for good reason. They are delicious.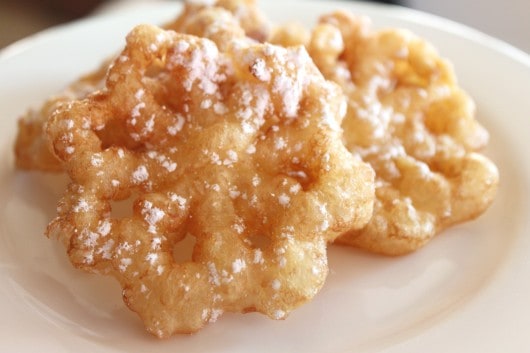 If you want another simple and fun "snow" type cookie try these Wedding Cookies, they look just like snowballs!
I found this Rosette Iron in an antique shop and thought I would give it a try. So glad I did! It was a dollar. So if you see one, grab it. You'll be happy you did.
I did look to see if these irons are still available, and they are, here are some.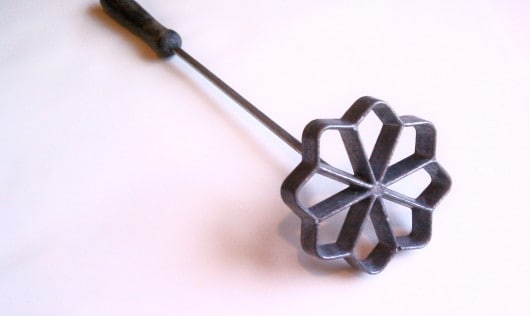 Onto the recipe, gather the ingredients:
eggs
sugar
salt
all-purpose flour
milk
vanilla
powdered sugar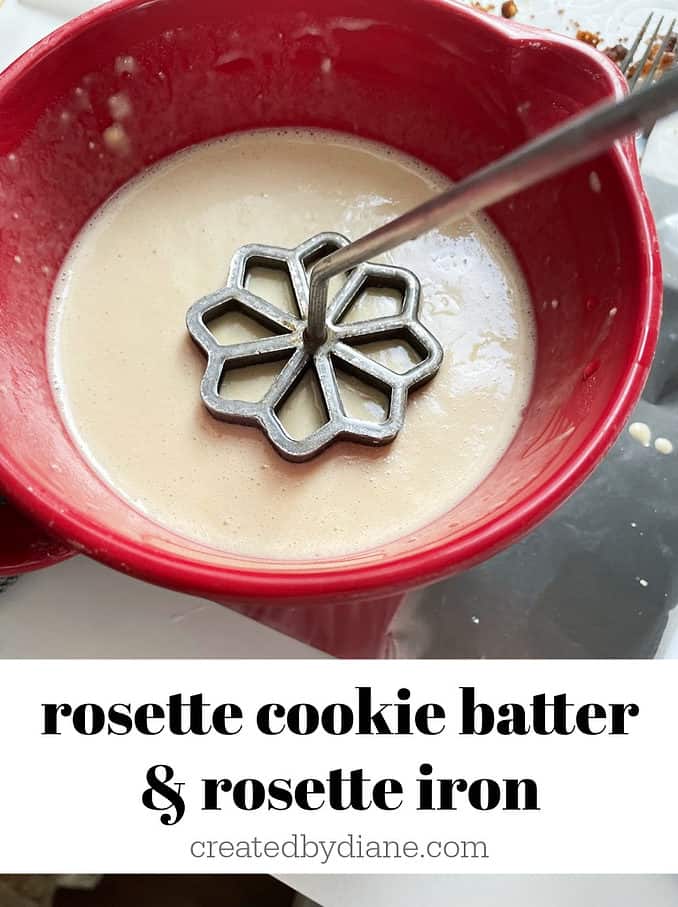 Whisk until smooth. I like using a medium sized bowl so the batter is a few inches thick, another option is a pie plate. 
You'll heat the oil in a skillet/pan, dip the iron in, so it gets hot, and coated with oil, for about 30 seconds. Then dip the iron into the batter being sure it does not wrap around and get on the top of the iron, or once cooked the cookie won't release easily.
I didn't think the amount of batter was going to make many rosettes, I was wrong it made over 50 fried rosette cookies.
To store these cookies, do not put them in a plastic bag, they get soggy. Keep them in a glass jar with a lid or a large plastic container like an old pretzel container from Costco, they seem to keep the cookies crisp if you have any leftovers after the say of making and serving them.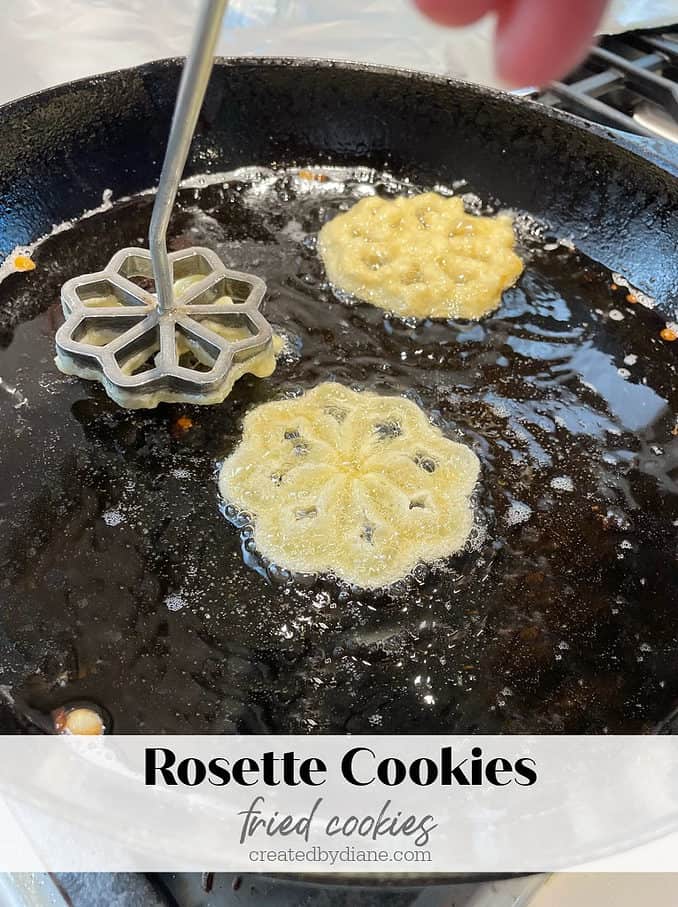 This recipe makes at least 50 cookies. 
I find it easiest to have someone help me make them. I dip the cookie iron into the oil to heat it for 10 seconds, then the batter for 10 seconds, then the cookie releases from the iron, then 5-10 more seconds. Then place it onto a paper towel. When completely cooled, dust with powdered sugar.
I have the other person help keep the oil at the proper temperature, and do the flipping and removing of the cookies as I'm constantly keeping the iron hot, and dipping it into the batter to keep things moving smoothly. Takes under an hour to make all the cookies.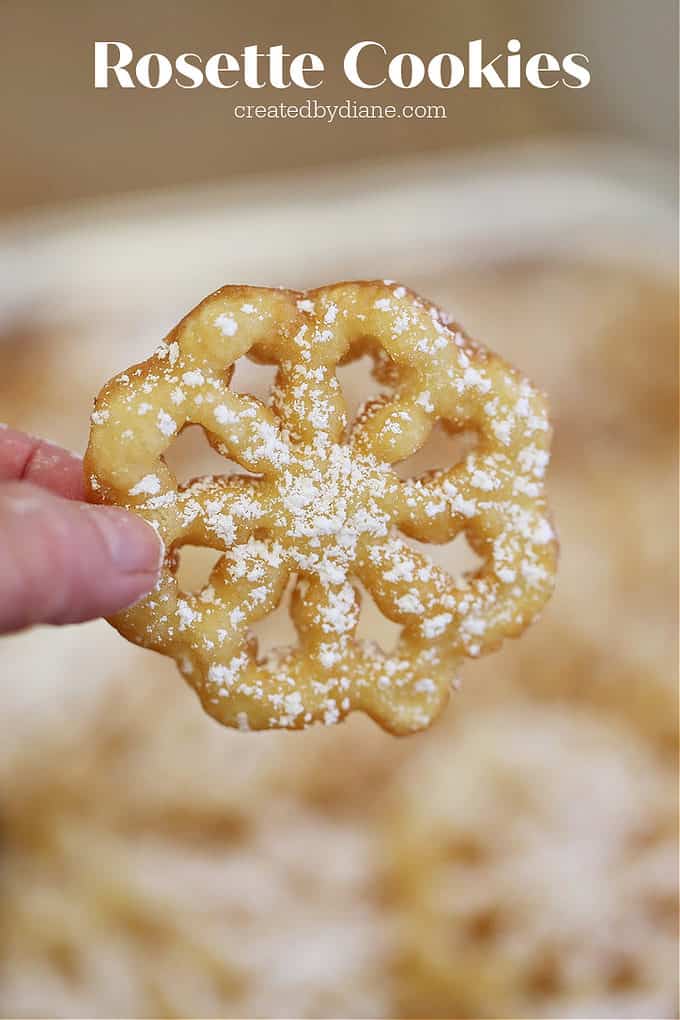 These are also known as Buñuelos de Viento (Mexican fritters), I've also seen them referred to as Swedish Rosette Cookies. No matter what you call them, they are a true winner!
You may have had these rosette cookies or have seen them around Christmastime. They are a popular fried cookie in the US, Germany, Sweden, and Mexico.
The batter is made from basic staples, and once you make them you'll want to make them all the time.
Rosette Cookies
These light crispy fried cookies dusted with powdered sugar are the perfect cookies, the batch makes 50 cookies. You'll need a rosette iron to make them.
Author:
Diane Schmidt, Created by Diane
Recipe type:
Cookies, Christmas Cookies, Fried
Cuisine:
Swedish, American
Ingredients
2 eggs
1 tablespoon sugar
1/4 teaspoon salt
1 cup flour sifted
1 cup milk
1 teaspoon vanilla
powdered sugar for dusting
Instructions
In a bowl, mix eggs, sugar, and salt. Add in the flour milk and vanilla and mix with a whisk until smooth.
It's best to place the batter into a flat pie-shaped dish or a medium-sized bowl for easy dipping, and so the batter does now go over the top of the edge, or the batter won't come off the iron easily.
Heat oil to 375 degrees. I poured 32 oz of oil into a four-quart pot and have also used a 12-inch cast iron skillet which I prefer filled with 1-2 inches of oil, about 2 cups.
Place the iron in hot oil for 30 seconds, then dip the hot iron into the batter but don't let the batter touch the top of the iron or it won't release.
Fry the rosette in oil until lightly golden, it only took 10-15 seconds, it'll peel off the iron as it cooks. Use a long wood skewer to help it release if it sticks.
Once the first side is cooked, the cookie releases, and flip each cookie over to finish cooking.
The cookies should be golden in color, light, and crispy.
Then take each cookie out of the oil and place it onto a paper towel-lined tray until all cookies are done.
Check the oil to be sure it's at the correct temperature as you fry the cookies.
If the oil is too hot they did not seem to swell up, they just cooked too quickly and started to burn. Oil temperature is key for these to turn out right. Low temperature won't release the cookies off the iron and they'll be "heavy".
When the cookies are cooled, dust them with powdered sugar.
Another option is to use granulated sugar and cinnamon, it coats them like a cinnamon donut.
I prefer powdered sugar.
You have to heat the iron in the oil for each rosette, it took some time to make them. But they were worth it. It's easier if someone helps monitor the oil and help with taking them out so that you can dip into oil, and batter and facilitate their releasing and get started again.