Mini Gold Kiwi Upside Down Cakes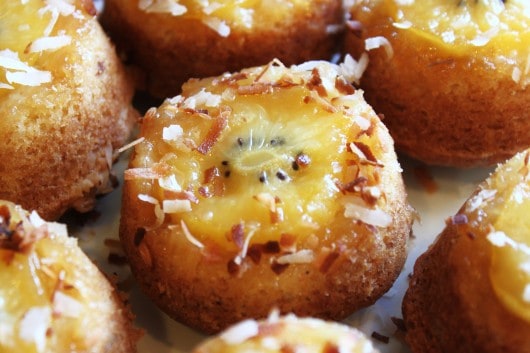 Gold Kiwi Upside Down Cakes
I love gold Kiwi and look forward to "season" which is from May-Oct. It has a more tropical flavor than the green kiwi that you typically see. The skin is smooth and you can eat it, really it's not fuzzy. Since this fruit is juicy and delicious and when sliced the size of a cupcakes pan, I thought about making little upside down cakes so the kiwi would end up on the top with a toasted coconut sprinkling.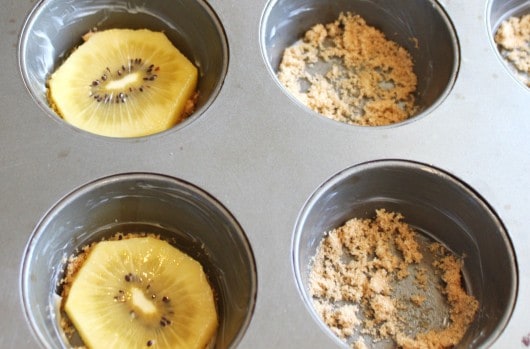 I was surprised that someone had already came up with this idea…bummer, thought it was going to be original. There was no photo, just a recipe in grams and ml, since I'm no good deciphering a recipe, I used it for inspiration.
It all started with a buttered pan, all good things start out that way don't they?
Kiwi Upside Down Cake Recipe
2 gold kiwi (peeled and sliced) I'm sure green kiwi will be delicious too
1/2 cup butter
1/2 cup sugar
1 1/2 cups flour
2 teaspoons baking powder
1 egg
3/4 cup orange juice
1 cup coconut
Makes 12 upside down cupcakes
Toast coconut in the pan on medium until lightly golden. Butter cupcake pan and place about a 1/2 teaspoon brown sugar in the bottom. Add a slice of kiwi into each compartment.
Blend butter and sugar until creamy. Add egg and mix. Next, add flour and baking powder along with orange juice mix on medium until blended.
Scoop 3 Tablespoons into each area and top with some toasted coconut.
Bake at 325 degrees (for dark pan) for about 18 minutes.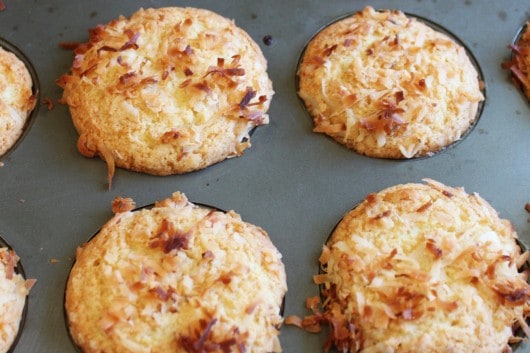 the coconut will get toastier…..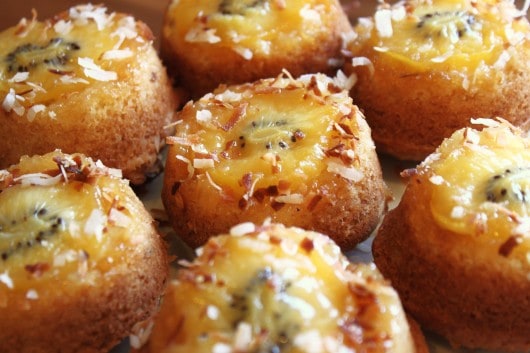 and when you invert the pan when cooled you can top the little cakes off with some more toasted coconut. I really love the tropical flavor of these with these and think I should have broke out the parasols!