Diary of a Wimpy Kid and the "Cheese Touch"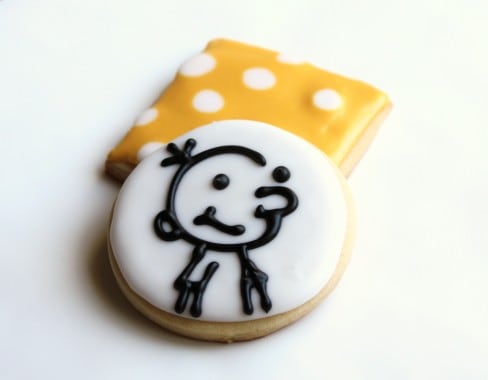 Diary of a Wimpy Kid
For a while now I've heard of the "Cheese Touch"
All I knew is it wasn't something I wanted as we'd be saying "NO CHEESE TOUCH" around the house for weeks.
Glad that phase is over!
My son has been reading the Diary of a Wimpy Kid Books for some time now. He enjoys them so much I even catch him reading them over and over again. They not only have Wimpy Kid books, ( and the new Cabin Fever book will be coming out in November) there is also a movie and a Diary of a Wimpy Kid Cheese Touch Board Game.
I'd heard him mention the "Cheese Touch" and there was a week a while back where a moment didn't go by where someone wasn't saying "NO CHEESE TOUCH"
So why would I make a cookie to look like something no one apparently wants? A repulsive piece of Cheese?
I really don't know.
Most likely to get a reaction from him.
One look at the cookies and he laughed!
He shared the cookies with his friends, there was a bunch of Greg Heffley Cookies and one Cheese Touch….I wonder who ended up with the "CHEESE TOUCH?
Printable Cookie and Icing Recipe
Now onto the game: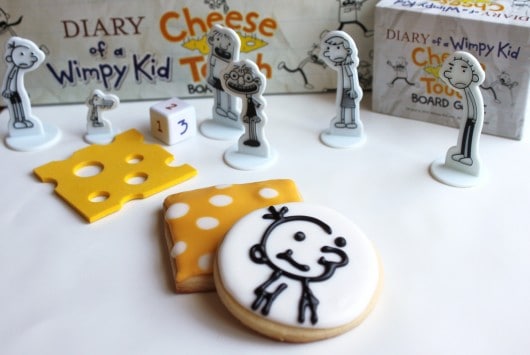 There are cards with questions, cards with things to act out, yes or no questions and more fun packed into this game. The player who finds his way around the board to the finish line without the "Cheese Touch" first wins.
*Disclosure I was provided a Diary of a Wimpy Kid Cheese Touch Board Game from Pressman Toy, all opinions are my own. Those are priceless.