Cookie Monster Cookies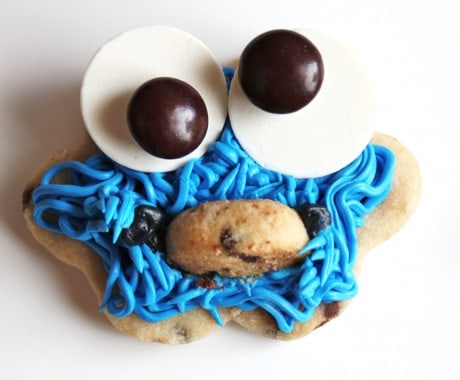 Cookie Monster Cookie
Cookie Monster will never go out of style in my book. He's been a favorite for as long as I can remember. I'm glad to see the same can be said for my son. At first I was a bit surprised to see that my middle schooler wearing a cookie monster shirt to school. You know how middle school can be, right? Teasing is something no ones needs, so I didn't want him to invite any situation he wasn't ready to handle. To my surprise he and my daughter informed me just how "cool" it was for the kids to be wearing Sesame Street character shirts in middle school.
OK if you're sure.
Could you imagine if it were my idea….
I can hear it now….
Hey, I found these adorable Sesame Street clothes at the store today and wouldn't you look so cute in them
really mom, at school… Do you think I'm in pre-school?
Do you want everyone making fun of me for wearing pre-school clothes to middle school?
I'll be beat up in two minutes wearing that…
why would you ever buy me that?
Well, at least that is how that conversation would have gone in my head…
I'm so glad they set me straight as to what is "cool" at school.
My son is my real life cookie monster, he can smell them a mile away and with his charm, some days manages to get me to say yes to cookies minutes before dinner. Well, some days not all days 🙂
These were made just for that boy of mine. I've seen cookie monster cookies all over like here and here.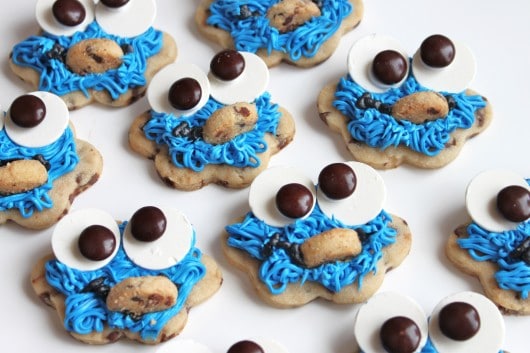 He really enjoyed them and even brought some to school to share with his friends, so I drop him at school and a few minutes later get a call from my daughter saying he is getting punched.
WHAT??
I said go in the office with him and tell someone. She says well mom that is what all the boys do when it's your birthday. They punch you for each year old you are. UGH, needless to say, the cookie were crumbled. He got on the phone and said he was fine, but the cookies weren't. I was sad….but told him to have the best birthday ever.
More proof you should have off on your birthday he told me (some days he is so right)
He wasn't really happy in the car on the way home later that day.
He didn't think there was going to be much going on, we had celebrated a few days before. But to his surprise when he got home, there were balloons and cookie monster cupcakes and more cookie monster cookies and snacks and homemade pizza for dinner (his favorite)
Yea, I had it all planned and was so glad one step inside the house and his day turned right around. It's funny how Cookie Monster can still bring happiness to kids of all ages! He even got a new Cookie Monster shirt 🙂 seeing as it's so cool and all.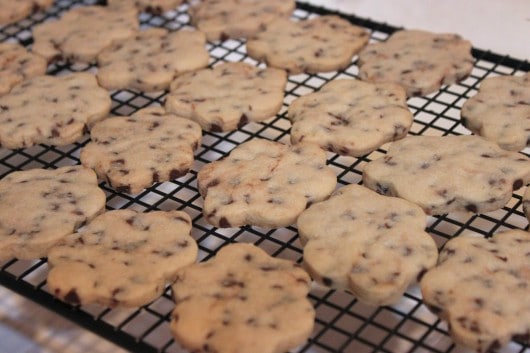 I used Sweet Sugar Belle's roll out chocolate chip cookie recipe and a great tip from Callye too. I didn't have the cookie cutter I really wanted, so I just bent the one I did have a little so that it would work. She is a cookie master 🙂 I piped on blue buttercream frosting with a grass tip and then placed, white candy melts for the eyes with a dot of frosting to hold on the dark brown m&ms, then piped on a black smile and added a mini Chips Ahoy Cookie.
Speaking of cookies, it was perfect timing that I saw Average Betty's Cookie Secrets Video today and just have to share it with you. Take a look at how wonderful she is on camera too, I hope next time I see her she shares some tips with me on how she does it all so well! By the way I'm not telling you any of her cookie secrets, I'm just sharing them with you, she told me not to tell 🙂
Decorating idea from Katrina