Taco Pizza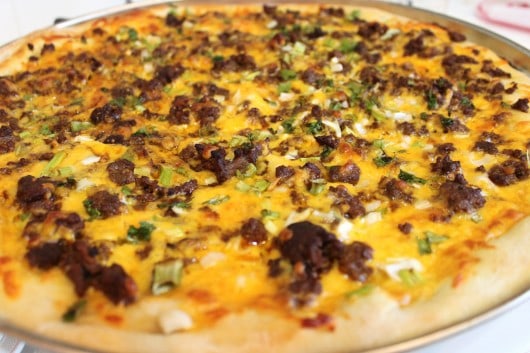 Taco Pizza
This is a quick and fun pizza to make. My family really enjoyed this unique version of a taco.
Taco Pizza Recipe
1 18 oz. fresh Pizza Dough
2 Tablespoons cornmeal
1 1/2 cups shredded Cheddar Cheese
3 scallions diced
1 pound ground beef
Taco Seasoning
1/4 cup water
Preheat oven to 450 degrees
Saute the ground beef, drain off any excess drippings, add taco seasoning (as much as you like) and mix with 1/4 cup water. You don't want a lot of liquid as it will make the pizza soggy, and soggy pizza is not very good.
Stretch your pizza dough and place it on top of the cornmeal coated baking pan. I use a round pizza baking pan that I found at Walmart for about $3.00. Sprinkle about half the Cheddar Cheese on the pizza dough. Next place the seasoned beef followed by the remaining Cheddar Cheese. Top it off with the diced scallions and bake at 450 degrees for 10 minutes or until crispy.