Vanilla Cooked Frosting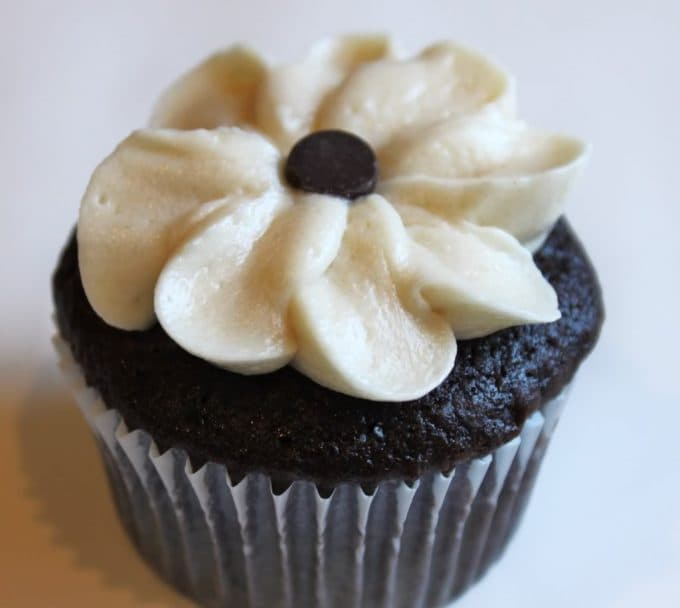 Vanilla frosting may often seem simple, but finding the right frosting to top off your cupcake or cake all depends on what you are in the mood for. I had some chocolate cupcakes leftover from a batch I recently made and decided to give the cooked type of frosting another try, I made the same recipe in mint for St. Patrick's Day but now wanted vanilla.
It has a consistency that reminds me of childhood, can't quite put my finger on it, but someone I know must have made something similar years ago.
It's not a very firm frosting. I did pipe it on with a #104 tip in short half circle with the smaller edge pointing out, and a flower pattern if formed! Topped them off with an upside down the chocolate chip.
Chocolate and Vanilla simple and delicious!

Vanilla Frosting
this cooked vanilla frosting is silky and easy to make
Author:
Diane Schmidt Created by Diane
Ingredients
1/4 cup flour
1 cup milk
1 cup butter
1 cup sugar
1 tsp. vanilla
Instructions
n a saucepan heat 1/4 cup flour with 1 cup milk on medium heat until thick. Stir in 1 tsp vanilla.
cool flour milk mixture (I spread it onto a large plate with a spatula to speed it up a bit and place it in the fridge)
Cream 1 cup butter with 1 cup sugar
then add a small amount of flour milk mixture and blend together. Adding small amounts of the flour mixture until all is incorporated, then beat until smooth. About a minute.
I used regular vanilla extract and love how the cream color, if you prefer a whiter color use clear vanilla. I prefer the taste of real vanilla, but it will not be white.