Princess flavor cookies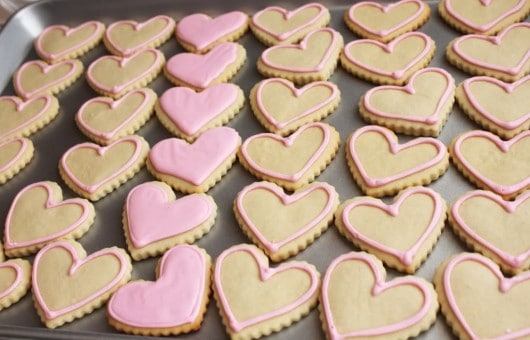 Great "Bakery Cookies" from delicious bakeries often have a flavor that is unique. I have seen Princess Cookie and Cake flavor emulsion for a while now and thought I'd give it a try.
It is described as having a light, nutty taste, accented with overtones of citrus and rich vanilla. Sounds good to me. Although I did wonder how it would be since all those flavors are combined together.
The verdict: really delicious.
I do think I've had cookies from bakeries with this flavor. Hmm…this just may be a bakery secret 🙂
It is a combination of almond, lemon, and vanilla.
Three wonderful flavors on their own, combined together to make a special flavor good enough for a princess.
These cookies are actually for me…and a few deserving friends who are real life princesses.
I used this cookie recipe and made the adjustments on the bottom for this particular flavor.
I keep telling myself to get more wax paper bags, well I did just that I found 1,000 of them at Smart and Final and didn't bat an eyelash to get them. I love how they keep scones and muffins fresh without pulling the moisture out to make them sticky. I punched two holes in the top of the bag and tied my favorite red twine through and they are ready for all my pretty princess friends to enjoy!