Root Beer Floats are always a fun treat.
My son loves them so much, that I knew it was time to make him a Root Beer float Cake.
I tried to make it look like a giant root beer float. It must have worked because as soon as he saw it he knew exactly what it was. With the foam flowing over! I love root beer floats and nothing beats them made with soft serve ice cream!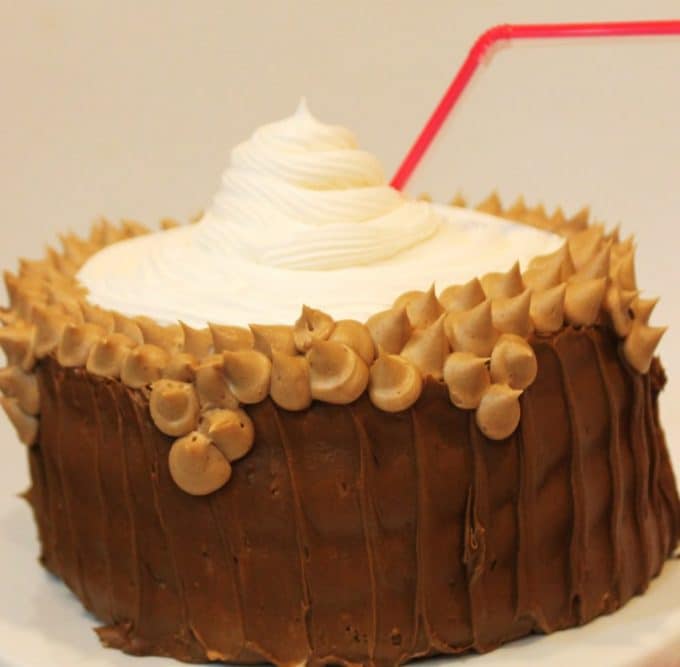 I started with a vanilla cake mix and added one teaspoon of root beer concentrate. I found it in the extract section of Walmart. I was intending to replace the water with root beer soda also, but I didn't plan that well as I didn't have any when I went to make this cake. (I wonder who drank it 🙂 really the root beer concentrate is such an intense flavor I'm not really sure if I would need it. I also added a half teaspoon of vanilla extract. I replaced the oil that the recipe called for and used non fat yogurt. I followed the rest of the instructions on the package and couldn't wait to try it once I began to smell it baking. It was great to have a lower fat version of an all time favorite.
For the frosting I made two flavors of buttercream. Vanilla to resemble vanilla ice cream and the root beer buttercream. I began by mixing one cup of butter with one cup of shortening, added six cups of powdered sugar mixed with three tablespoons milk. I split the frosting in half and mixed Americolor white food coloring with one teaspoon clear vanilla extract. The root beer frosting was created with brown Americolor food coloring along with one teaspoon root beer concentrate. (LoRann Oils also makes Root beer oils if you are unable to find the root beer concentrate) I tinted some light brown and added more to make a darker brown color.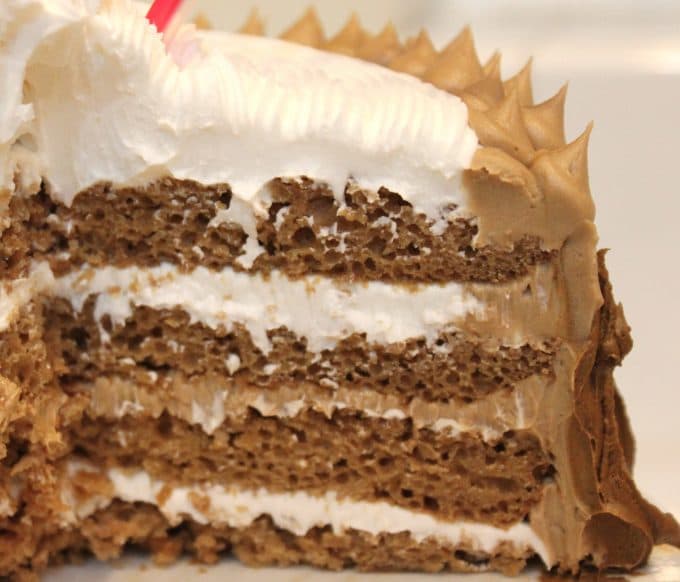 I baked two cakes and cut each in half, creating four thin layers of cake.In between the layers, I alternated the frostings and decorated the sides with the darker color root beer, the lighter color root beer to represent the foaming root beer and vanilla for the top.
This was a fun cake to make and really did taste like a root beer float.