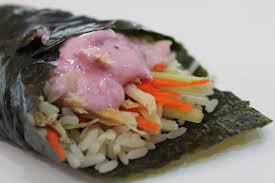 Thanksgiving
leftover
sushi
!
Well, there is no fish in it, but it looks like a hand roll to me 🙂
Rice, carrot, celery, turkey and cranberry sauce mixed with plain yogurt, wrapped in seaweed.
Sure doesn't look like you typical Thanksgiving leftovers.
There are other options than turkey soup.
Hope you had a wonderful Thanksgiving and find creative ways to eat all the leftovers.