Diaper Cake… No baking required!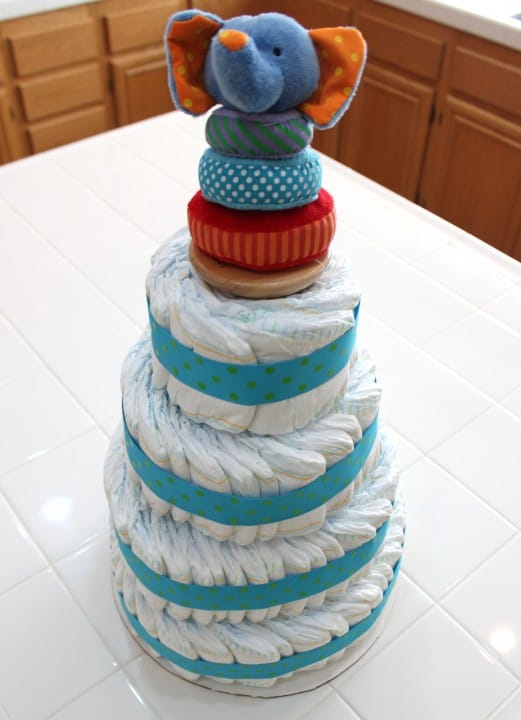 What a fun project.
I was surprised how quickly this was to assemble.
I started by just fanning out some diapers like you do with a deck off cards,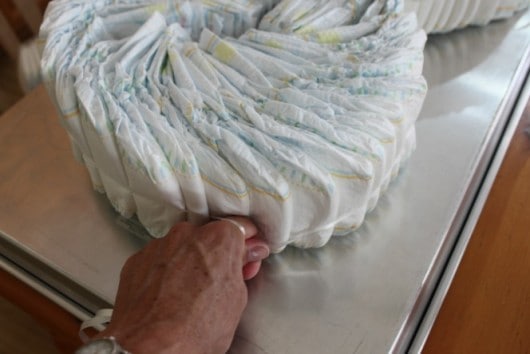 but after the first layer realized it wasn't so critical.
Once I secured them with a ribbon,
I could adjust them a bit, if they weren't lined up exactly.
Placing them on their side in a circle, the ribbon cinched them together as I tightened it.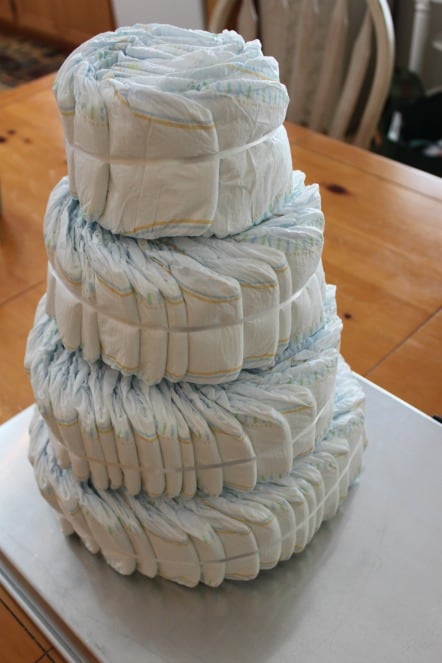 This is a simplified version of the diaper cakes I've seen
with all of the diapers being rolled and fixed with rubber bands.
Three reasons this diaper cake is not made with rubber bands!
1. I didn't think rolling 100 diapers would be fun.
2. I didn't think giving a gift that the mom would have to work so hard at to unwrap would be fun for her.
3. The thought of 100 messy, unrolled, crinkled up diapers that you couldn't stack up when you took it apart was no so appealing either, especially if you like things neat (yes I'm picky like that).
Two tiers down and wasn't sure how many to go….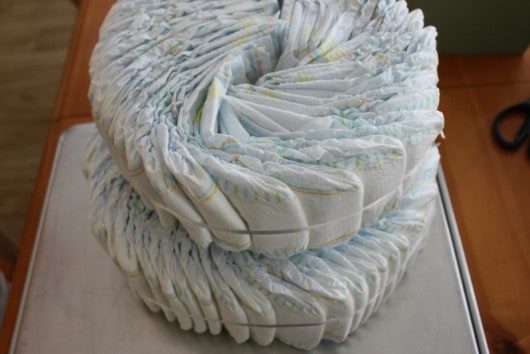 Three tiers and just a few 10 for the top…
I alternated these so they would form a smaller circle for the top tier.
Depending on how many diapers you have this cake would be cute with just two small tiers as well, with a smaller package of diapers.
To cover the ribbon I secured the diapers with, I chose a wider more decorative ribbon that I pinned with a straight pin in the back weaving it in and out of the ribbon only, not poking into the diapers.
I was so happy to find a cute elephant toy to top this cake off with.
(any type of topper would be cute, rattles, baby bottles or other stuffed animals)
I was searching for an elephant….
Click
HERE
if you missed the seeing the yummy desserts.
I pinned a piece of ribbon to the back of the toy on the fabric area and looped it down to attach it to the ribbon on the top tier. I placed the diaper cake onto a piece of cardboard to carry it.
I used size 2 diapers so that it wouldn't have to be taken apart right away.
The assembly on this cake took under 20 minutes!