What a great treat to make to kick off the Halloween Season!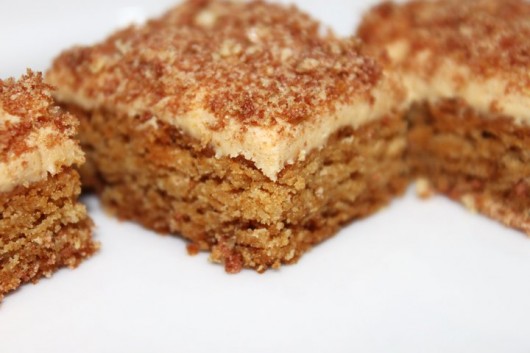 I'm excited to be working with Betty Crocker and General Mills on this project. When asked to develop a recipe that includes one of their popular cereals, it was easy to choose. Reese's Puffs! I always look forward to getting Reese's Peanut Butter Cups at Halloween. Who can resist the chocolate and peanut butter combination? I know they sold candy year round, but the orange wrapper would remind me of Halloween. Now the same is true for Reese's Puffs Cereal, and it doesn't melt!
You'll need, General Mills Reese's Puffs cereal, Betty Crocker frosting, Betty Crocker Peanut Butter Cookie Mix along with the ingredients it calls for; red food coloring, a pastry bag, licorice, peanut butter, 13×9 in baking pan, and nonstick aluminum foil.
Line your pan with nonstick aluminum foil.
(This makes it so easy to remove after baking)
Prepare the cookie mix as directed on package.
Bake at 350 degrees for 20 minutes.
While the cookie portion is baking,
measure 4 cups Reese's Puffs cereal and put into food processor.
(or plastic bag and use a rolling pin to crush)
Small crumbs are what you are looking for.
When the cookie is done baking and cooled for 5 minutes, remove to a cooling rack by lifting the foil out of the baking pan and allow it to cool completely before applying the frosting.
Mix the frosting with peanut butter I used 5 tablespoons.
(reserve 1/4 cup frosting to be tinted)
Tint the reserved 1/4 cup frosting with red food coloring to match your licorice.
Frost the cooled cookie,
then add Reese's Puffs crumbs on top and sides then decorate with licorice and pipe on the words with frosting.
The cookie is chewy, not extra firm since it was baked in a deep sided pan. Cut into small pieces, it cuts beautifully, if you prefer small treats bags.
The peanut butter flavor was delicious.
It reminded every one of those cute peanut shaped cookies, we all enjoyed as kids!
My family has already asked when I as going to make it again.
At Halloween time, my mom would follow behind my friends and I in the car with paper bags on the floor of the back seat with each of our names on them, for us to unload all our Halloween loot. We all loved it, as soon as our bags would get heavy, there she was to save us. She even had extras, just in case someone joined us. Always loved that about my mom she was always planning ahead. It was especially nice on the rainy Halloween evenings, we could hide out until the rain calmed down before we went to get more yummy treats!