This is not ordinary salsa.
It is GREAT with tortilla chips.
But…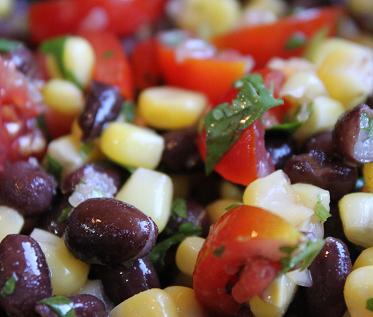 It is also WONDERFUL as a side dish.
Simple to make a double batch if you want left overs to dip some chips into later-there won't be any left if you serve it as a side dish and hope to have some left over to dip chips into later or the next day, it gets devoured pretty quickly.
Black Bean Salsa Recipe
One can drained black beans
two diced Roma tomatoes or 10 quartered cherry tomatoes
one and a half cups frozen corn, thawed (simply put corn in bowl and fill with warm tap water-a few minutes later, it's thawed)
bunch of fresh cilantro chopped
half an onion diced
the juice of two limes
1 tsp cumin
salt and pepper
4 Tablespoons red wine vinegar
1 Tablespoon olive oil
if you don't like a very acidic taste you can heat the vinegar and lime juice with the cumin and it will not be as strong tasting.You don't have to put the vinegar in and it's still delicious.
This has been a favorite of mine for years.
I also love having it in the fridge and to serve along side quesadillas for an easy lunch or snack!