Blackberry Scones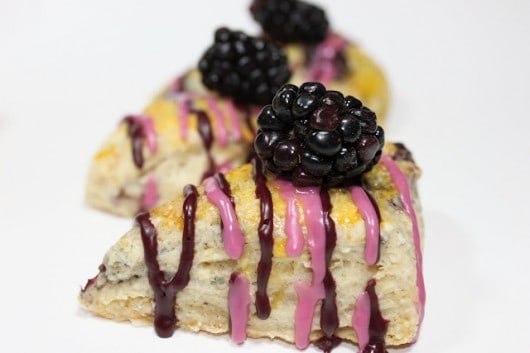 Blackberries never tasted so good!
I can't get over how delicious these scones came out.
I know have a new favorite scone recipe.
To my surprise this one did not call for eggs.
Funny thing is I brushed the tops with egg yolk instead of the egg white like I should have and once I did it, I KNEW! UGH guess I'll just have to make them again 🙂
3 cups flour
1/3 cups sugar
2 1/2 tsp baking powder
1/2 tsp baking soda
3/4 cups butter
pinch of cinnamon
pinch of nutmeg
1 cup butter milk (or one cup milk with 1 T vinegar)
1 cup blackberries
Mix flour, sugar, baking powder, baking soda and then cut in butter. Then add cinnamon and nutmeg then buttermilk. Gently stir in blackberries. Form into a rectangle the cut into triangles. Brush tops with egg white (not yolk like I did)
I sprinkled some vanilla sugar on top.
Then baked at 350 degrees for 20 minutes.
Icing
powdered sugar
milk
food coloring
and drizzled the tops with two colors of icing.