Have you had gourmet chocolate popcorn?
mmm…it's good right,
Here is a simple version and you don't have to coat each piece to get that delicious taste.
I guess if you add chocolate to anything it's bound to taste good right?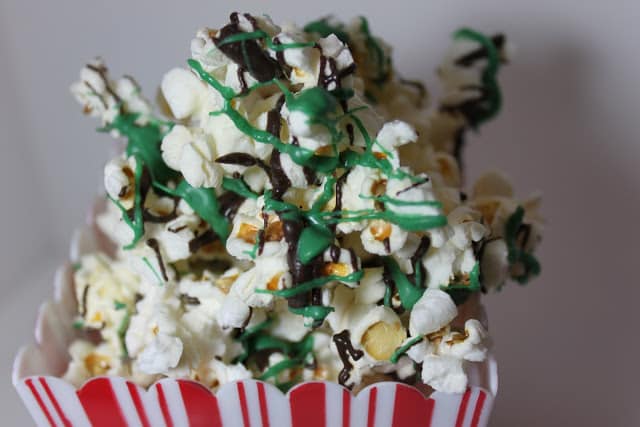 St. Patrick's Day Popcorn
First pop some popcorn,
I love how Orville's popcorn pops so big, that is what I always use.
I also love my big popcorn popper it holds quite a bit and is quick and easy.
Place the popcorn on a baking pan.
I lined it with a silicone baking sheet so the chocolate wouldn't stick.
I melted dark chocolate and drizzled it across the popcorn
then it was time for the melted green chocolate
candy melts it's colored white chocolate.
Merckens is available at a local store near me and I like the taste-it's not waxy.
This was the part I didn't want to forget to tell you.
Salt the popcorn on top of the chocolate, it sticks because the chocolate isn't hard yet and it gives it that sweet and savoy taste that I love from a chocolate covered pretzel, or any gourmet snack I've had that sweet and savoy kick to it.
You can certainly add a lot more chocolate and any color of white chocolate, it's like a party in a cup!
Put the tray into the refrigerator for a few minutes for the chocolate to cool and harden.
They brake it apart and enjoy.
I am hosting a
St. Patrick's Day Party
I hope you will link up your
St. Patrick's Day
food
or
craft
idea for all to see
click
HERE
to get to the linky.
I linked this idea up over at ABC and 123, they were kind enough to feature my green shamrock pancakes and have lots of great ideas and a linky too. What fun these green days have become.