Artichoke and Spinach Appetizer.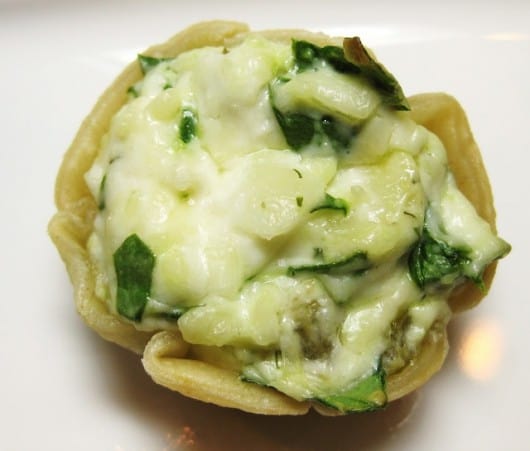 First I roll out pie crust
cut 2 1/2 inch circles
place them in a lightly greased mini cupcake pan
I love that tool, $4.00 and saves so much time and frustration when making all types of mini treats.
filled with a small scoop of artichoke and spinach dip
for the spinach and artichoke dip when I plan ahead I make it with this recipe
2 cans artichokes in water (drained and chopped)
1 package cream cheese
1 cup mayo or plain yogurt
2 cloves garlic minced
1 cup grated Romano cheese (or Parmesan)
(1 small can diced jalapeños/green chiles if desired)
1/2 package frozen spinach thawed and drained
or a large bunch of fresh spinach chopped
mix all ingredients well
If I aware I will not have time to make it I have purchased it at Costco,
it has the jalapeños and gives it that extra touch of spice. I just add the spinach.
once the filling is added into each mini cup area
bake at 350 for 10 minutes
A nice bite sized warm and delicious appetizer!